On the evening of May 27, Dayton was rocked by a storm of biblical proportions.  Eighteen tornadoes ravaged Riverside, Trotwood and Beavercreek, among other areas.
Thousands of citizens were affected, losing access to power and water, and facing massive damage to their homes and property (if not losing their home altogether).
A plethora of local businesses and individuals have come together to support the victims, and it has been a rallying point for the city.
Sinclair Community College has done its fair share in this department as well, offering a varied and timely response to the ever-evolving needs of those in the diaspora of the storm.
During a town hall meeting on June 3, Dr. Steve Johnson, president of the college, gave a detailed timeline and summary of the efforts put forth by Sinclair faculty to relive those in need.
Woody Woodruff, Director of Facilities Management, and Laura Mercer, Chief of Staff and coordinator of Sinclair's disaster response team, were instrumental in these efforts.
Woodruff, in particular, started the process of cleaning up the streets for residents after running into difficulty getting to Sinclair's campus.
He assembled a team of 15 facilities workers to cut up downed trees blocking roads such as Needmore, Wagner Ford and Dixie.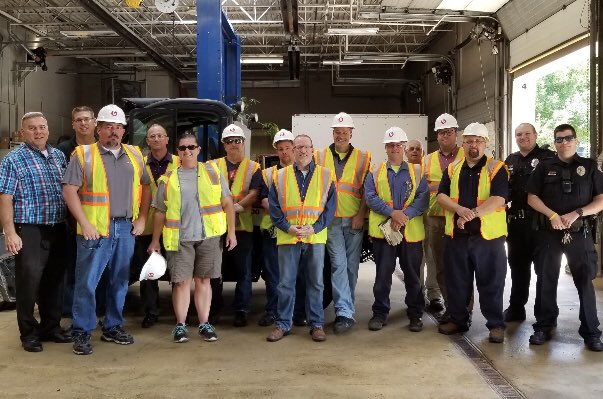 After surveying the damage Johnson held an emergency meeting with the board of trustees to compile the resources and assets the college could use to offer help to the victims.
"What do we have to offer the community," Johnson mused. "We have vehicles, we have food preparation, we have storage, we have warehousing, we have loading docks, purchasing power, we have entertainers, counselors, we went through every asset we could possibly think of and we started to create an emergency resolution plan."
Woodruff continued the relief efforts by taking a rotating 15 person team out to clear streets and properties following the onset of the tornado.
Staff members arrived on the scene, being carried in the back of pickup trucks and dump trucks. The team's cut down trees, freed up power lines and removed debris from the remains of homes.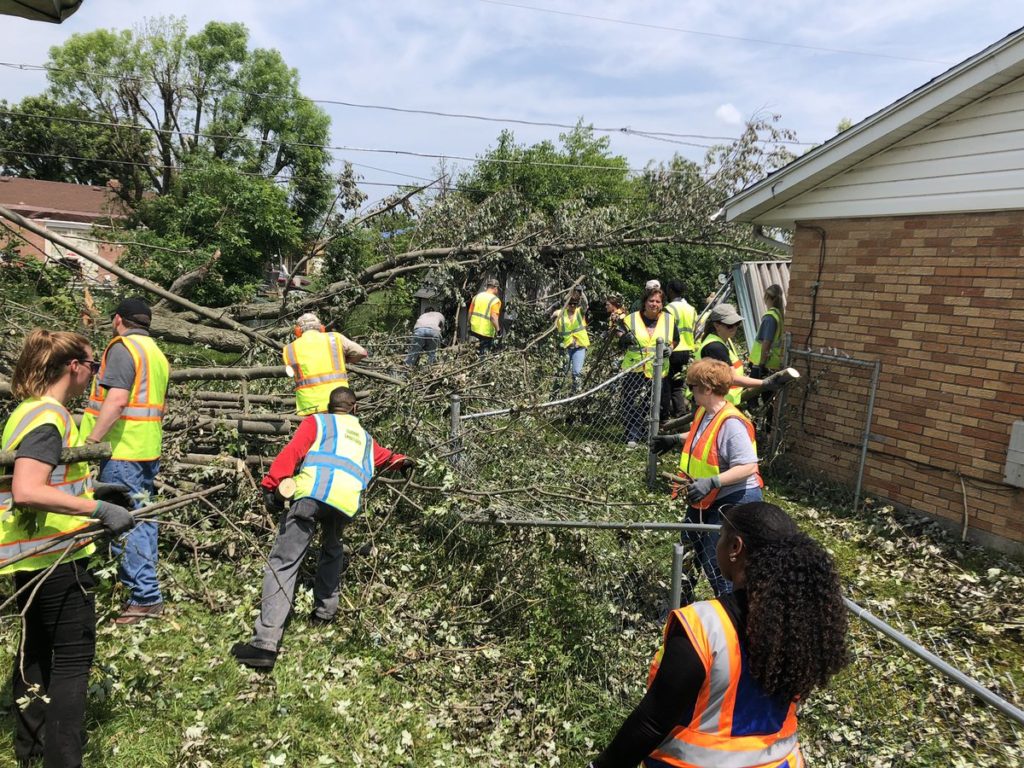 Mercer started a water drive on May 28, and as of June 3, over 20 pallets worth of water were sent to the Dayton Foodbank, which is now at capacity.
After the water delivery plant in the city suffered damages, Dayton was under a boil advisory for three days. During this time the college sent bottled water out throughout the city and made it readily available on campus.
The college approved $250,000 to be used for disaster relief. With this the business division collected supplies and put together over 550 food boxes and snack bags to distribute to victims, containing sustenance for those that may have lost everything.
Mercer later established the Montgomery County Volunteer Center, converting the entire lobby of building 20 into a response center and giving aid to local residents. Volunteers from across the U.S. have offered their service to the cause as well.
Johnson explained the philosophy behind creating the center and what they plan to accomplish.
"We're not trying to create systems that are somebody else's jobs," Johnson said. "There's already Red Cross and FEMA… we're just trying to fill gaps because people will fall in the cracks. We have our ears and our eyes out, trying to find gaps where there's need."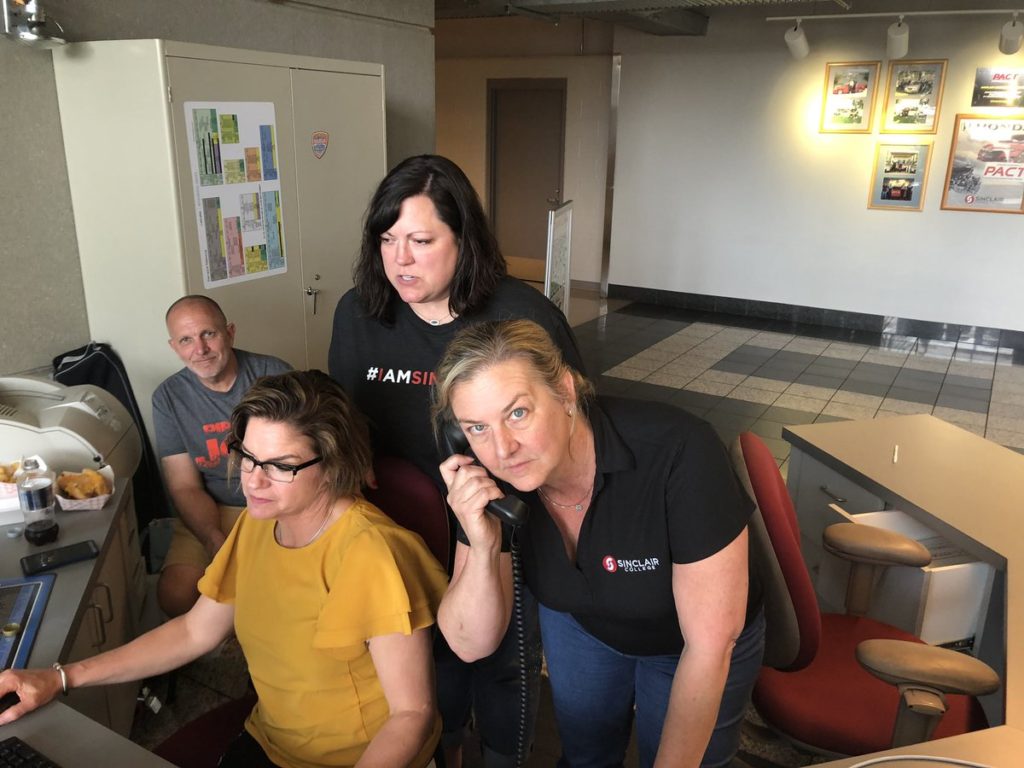 In addition to the food boxes, the center is also distributing personal hygiene bags containing diapers, pacifiers, deodorant, toothpaste and much more.
Other services provided by the volunteer center include lawyers offering citizens legal advice and assistance filing insurance claims and performers providing entertainment to children stuck in the center without anything to do.
Sinclair also hosted a free dinner for victims of the tornado damage and their families from 12-3 p.m. in the Great Hall of building 12. Over 200 Daytonians attended.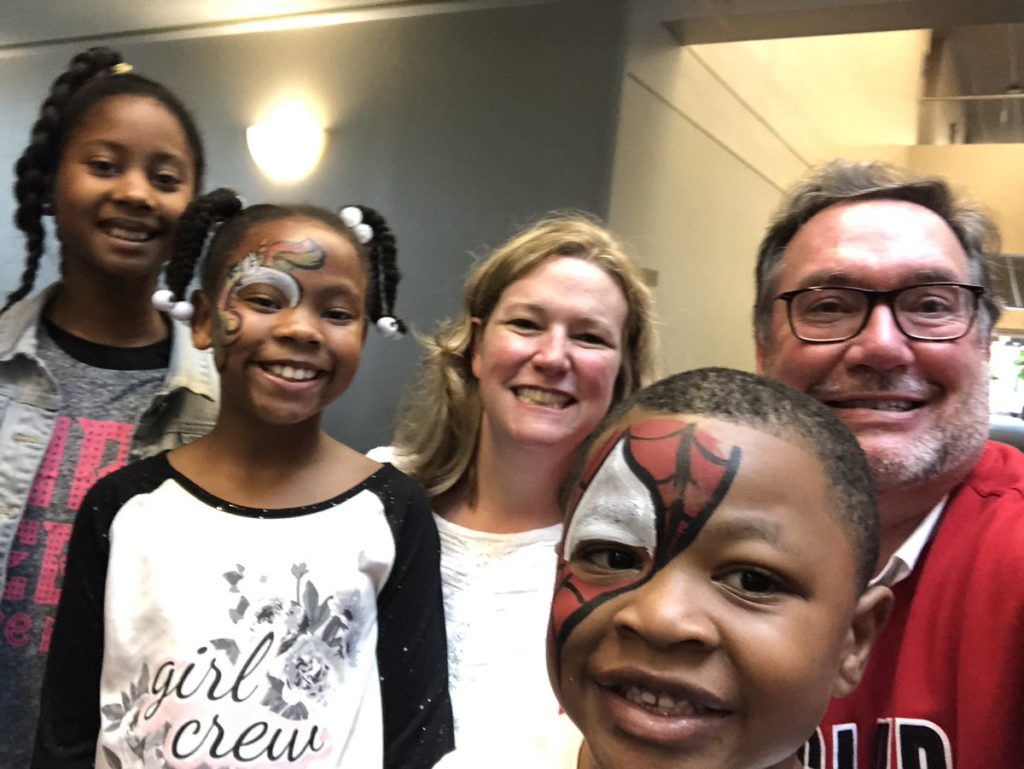 These dinners will continue in the foreseeable future, and college staff will be on hand offering resources for victims to turn to in their time of need.
In total, Sinclair has fielded over 400 unduplicated volunteers and the teams cleared trees from residential properties on over 70 streets.
Johnson acknowledged that the needs the people of Dayton face will take time to fulfill, and that Sinclair is committed to the relief efforts further down the line.
"We're in this for the long haul," Johnson said. "A lot of the groups that are out there the first 3-5 days they won't be out there in two weeks. Sinclair's on your side for 132 years, we're gonna be here if it takes 132 more years to clean this up."
Henry Wolski
Executive Editor