Returning in a new format, Sinclair Theater returns this October with the classical Greek play "Antigone" with a modern translation by Anne Carson. Originally slated for a release during the Spring semester, production was cut short and moved to the Fall due to COVID-19.
"It was very different from everything else we had done that semester," said co-director Kimberly Borst. "We had done 'Treasure Island', and a musical with 'Joseph and The Technicolor Raincoat', 'Slut, The Play' which took place in the Black box theater."
They decided on something classical. Antigone's themes and ideas seemed the most crucial during an election year. "The theme is how one person's voice can make a difference," said Borst. To compliment this, the play has a contemporary 21st century setting.
The play, which originally took place in the Black Box Theatre, was moved to Blair Hall in order better meet COVID-19 guidelines. Borst was brought onto the project, taking over for the original director Gina Neuerer who had scheduling conflicts. 
Borst took on the difficult role of re-staging the play for the larger setting, while also minimizing contact between actors. In order to meet CDC guidelines actors rehearsed with 8-foot long poles, using them in their movements to keep the required distance. Excluding the chorus, a group of five and a key part of Greek theater, only two to three actors rehearsed onstage at a time.
"Actors rely on intimacy and the energy they get from each other," said Borst. To try and keep that same energy Borst put a heavier influence on symbolism to capture each character's thoughts and emotions.
To further protect actors and tie the play to a modern setting, all actors wore masks as a part of their costume. Actors were also encouraged to wear their own clothes to stress the importance of the play's themes in today's world.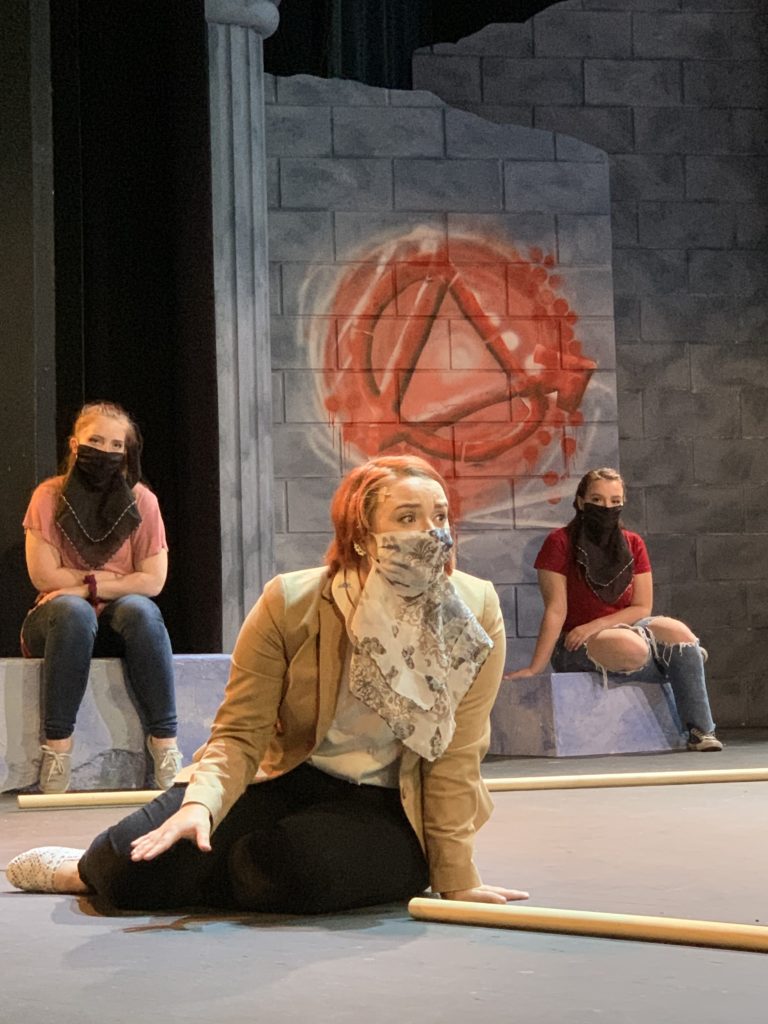 The production has been filmed and will be streamed on BrushfireOnline. When asked whether they had considered doing a live performance through Zoom, Borst said that it was not the type of experience they wanted to give the students just yet. They wanted to keep as close to the actors' traditional training as possible.
When asked if there were any surprises we could expect, she said that they had put a lot of fun detail into the set. They had mixed ancient Greek architecture into the setting, along with adding different graffiti tags to parts of the set.
Antigone will stream from Oct. 1-4. Tickets cost 10$ and can be bought at www.sinclair.edu/tickets. 
All attendees will receive a code for the performance. Anyone seeking tickets for 20 or more people or instructors needing the code for classroom viewing should email patti.celek@sinclair.edu
Joshua Fadare
Reporter