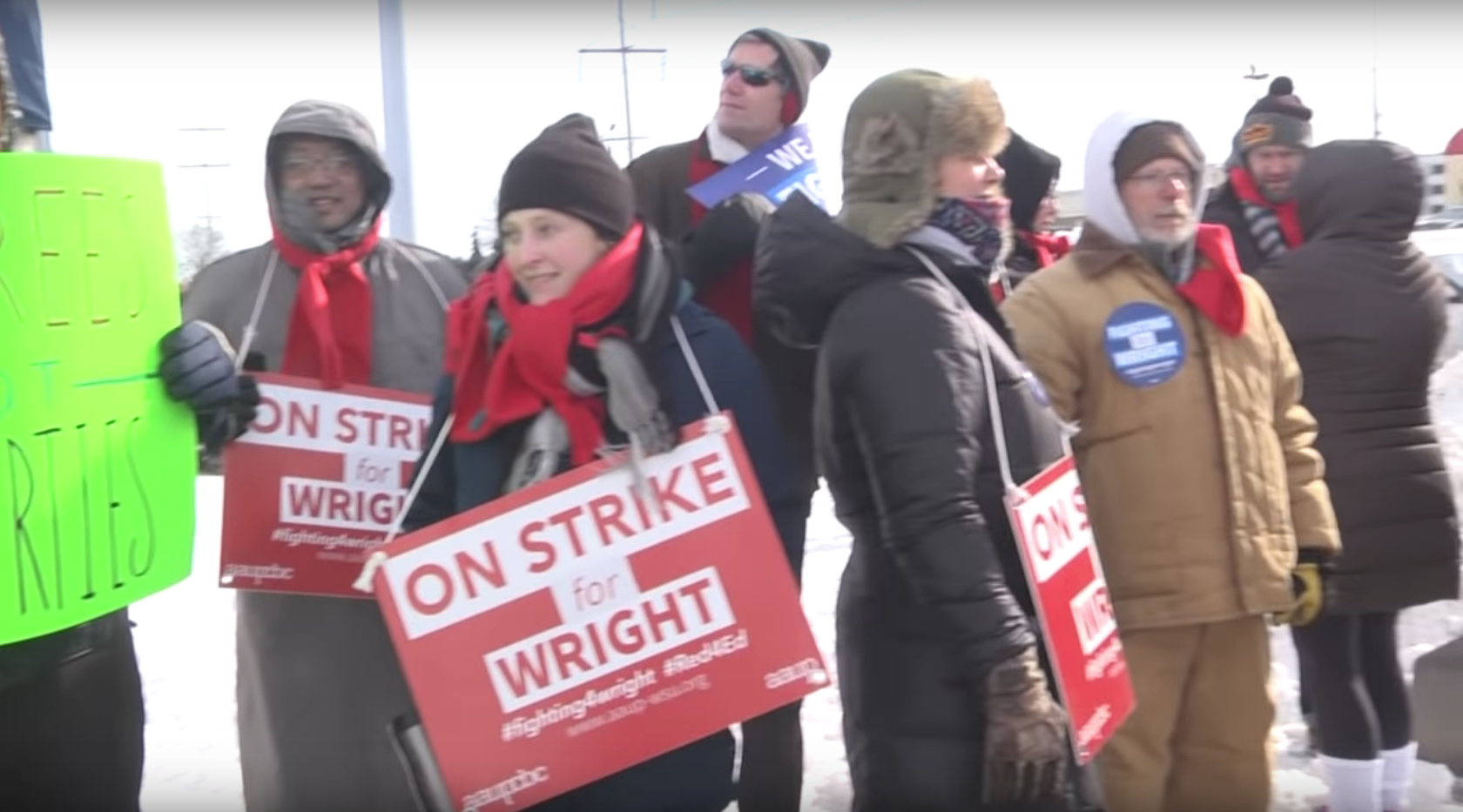 Students at Wright State University are facing faculty changes and outright cancellations of their classes due to the ongoing strike between the University's unioned professors and the college administration.
   The roughly 560 members of AAUP-WSU have been on strike since Jan. 22. As of this writing, the strike has gone on for 13 days, the longest in Ohio history.
   The primary issues of the strike are related to health care policies, cut benefits, faculty taking on larger class sizes and teaching more courses and changes to employee contracts that include a furloughed clause, allowing professors to be cut as a cost saving measure.
   On Friday, Feb. 1, negotiations continued between the university and the union and an offer was made by the administration.
   Wright State's new offer would maintain previous contract language when it comes to layoffs and workload. It would also limit possible furlough days to one a semester and includes a guarantee of up to a 2.5 percent pay raise for union faculty each year of the final two years of their contract.
   However, the caveat is that the union must agree to the uniform health plan for all employees. Professors would also be paid less for teaching summer classes.
   Union members have stated that the increase in pay would still represent a pay cut when compared to the money lost in the health care plan. It would also eliminate their bargaining rights for health benefits.
   The administration has said that implementing a separate health care plan for unionized faculty has cost the school millions of dollars each year.
   On Feb. 3, the university's board of trustees voted to approve the contract offer, but the picketing will continue, as the AAUP-WSU did not agree to the terms.
   AAUP-WSU offers their side of the story on the Fighting for Wright website:
   "…What you might not know is that the base salaries and benefits of the WSU faculty—who generate almost all of the university's revenue—account for just 17% of the university's budget," the site reads. "But, since early 2016, we've suffered a net loss of 92 full-time teaching positions."
   Wright State University has been in the midst of a budget crisis due to several years of overspending and lawsuits costing millions of dollars.
   A notable example of this was the university's bid to host the first presidential debate of the 2016 election. They were selected from 16 other schools to host, and spent nearly $3.5 million to renovate the Nutter Center. Later, they backed out, citing a lack of funds and issues involving security.
   These financial struggles have caused significant cuts to Wright State's budget, with $30.8 million slashed in 2017 and $53 million in the 2018 fiscal year.
Henry Wolski
Executive Editor