Mother nature is trying her hardest to get in the way of the Men's Basketball season. The Tartans have had three cancellations so far this season which takes them into February playing 11 games in the next 29 days. Yet that hasn't stopped their momentum at all.
   I sat down with head coach Jeff Price to ask him about the team and their season. One challenge that spring sports are faced with is winter break.
   Although the team still has games throughout the month of December the players aren't in the classroom, Sinclair doesn't have campus housing and the excitement of no classes for close to a month could be a potential interference with playing ball.
   However, winter fever doesn't affect r this team. Price is adamant on the three C's that he instills in his players: classroom, community service and competition. This is what his players focus on for individual growth as young men and players.
   Earlier this month a new law was passed for the NJCAA which will allow players to practice in the gym and on the court throughout the summer. If a student is enrolled in at least one class, they will be able to have up to eight hours of gym time a week.
   This will also allow other coaches to come in and watch players for recruitment purposes. Changing this law gives students more opportunity to focus on their individual growth as student athletes which our athletic programs take pride in.
   There are three players on the team this year who transferred from different countries. Javell Redwood and Nicoloy Bailey are from Jamaica and Nicolas Phillips is from Belize. Price beamed when he spoke about how well these three young men have matriculated into the program.
   "Communication I think gets overlooked in athletics it is such a critical and crucial part of what we do," Price said when asked about team chemistry.
   Price also said how this team has matured a lot this season with the help of each other. The team started their season with a 9-hour bus ride to Washington D.C. for a series of games and a bonding experience.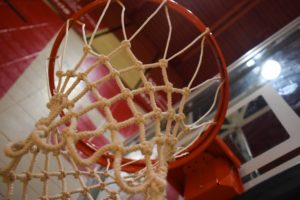 One thing that makes this year's basketball team more unique than others is that Sinclair's very own Sean McNeil is the leading scorer in the entire nation. McNeil averages 31 points a game, has been named player of the week four times this season and had two double-double games, his first scoring 22 points and had 10 rebounds and his second scoring 28 points with 14 rebounds.
   Price has a list on his whiteboard in his office of easily 30 division one schools from the range of Texas Tech, West Virginia,  Ohio State and the University of Kentucky that have traveled to watch McNeil play. When asked if McNeil was an overall leader on the court Price explained him to be a "selfless and silent leader."
   "When [he] gets out on the court he's very competitive, he will be the first one to dive on the floor for a ball, he leads that way, by example," Price elaborated.  
   Price shared a story about McNeil that portrayed his love for the game and selfless playing skills. Sinclair played Owens College after coming off winter break. McNeil had two recruits there to see him, one of which was on their second visit to watch him play.
   There were 40 seconds to go in the fourth quarter and Abe Batman, a non-scholarship athlete who doesn't get much playing time, was in the game.
   McNeil was having a tough shooting game with only 20 points which is close to 12 points lower than his game average. McNeil gets the ball on the wing and sees Abe wide open in the corner but still had a shot himself.
   He chose to not take the shot for himself and the recruits there to watch him but to make the right play and pass to Batman in the corner who made the three and Sinclair won the game.
   "That's the kind of young men we try to recruit here, who get the big picture," Price said.
   It's all about teamwork. Students and fans can show their support for the Men's Basketball team by attending some of their upcoming home games this coming week in the building 8 gym on Saturday at 3 p.m. vs. Bryant and Stratton, and on Wednesday vs. Owens at 7:30 p.m.
Lindsey Elam
Sports Editor