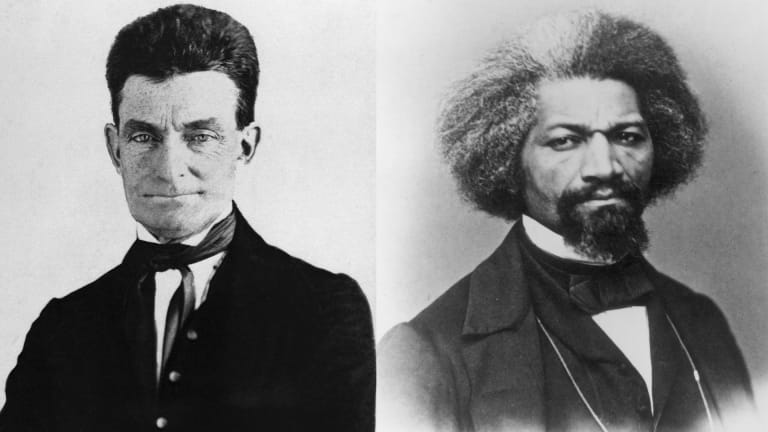 On Nov. 15, SHOWTIME's limited series, "The Good Lord Bird" concluded with its final seventh episode. Throughout its run, the series received stellar reviews and remains to possess a perfect score of 100% on Rotten Tomatoes. Similarly, its source material – a book of the same name by James McBride, received equally astounding attention during its time of publication in 2013.
During that time frame, the book went on to win the National Book Award For Fiction with the National Book Award judges going as far to refer to McBride as a, "a voice as comic and original as any we have heard since Mark Twain."
This specific, unique praise caused me to purchase it. I was a teenager at the time, looking for a book that would resonate in some form or fashion, but ultimately, the book served as a history lesson for an important American man I was never taught about – John Brown.
John Brown was a deeply spiritual man who believed that God called upon him to end slavery in America. The means that Brown felt he was to do so was by committing gratuitous violence with a gang that consisted of his sons, freed slaves, and fellow abolitionists.
He would meet his end by being hanged on Dec. 2 1859 after his raid on Harpers Ferry was unsuccessful. Notably, just a year later the American Civil War would begin. It is generally agreed by historians that Brown's actions were the key point to kickstarting the historical event.
"The Good Lord Bird" depicts Brown's crusade to end slavery as well as his disastrous attempt in raiding Harpers Ferry. It also simultaneously fictionalized the event with the inclusion of a fictional enslaved character named Henry Shackleford – who is also known as Henrietta Shackleford. But for much of the series, Henry is simply referred to his unisex nickname, "Onion."
After his father dies, Onion is taken in by Brown – essentially as an adoptive child of sorts. Having misheard his name as Henrietta, Brown proceeds to purchase the child a dress believing that he is a young girl.
Talk of "The Good Lord Bird" being made into a series can be traced online just a year after the novel's release. In 2014, multiple outlets stated Jaden Smith ("The Get Down," "The Karate Kid") and Liev Schreiber ( "Ray Donovan," "Into The Spider-Verse") were cast to respectively play Onion and John Brown. There is no information as to why this original casting did not occur, but one can assume that Smith exiting his teenage years played a factor in the delay of the series' production.
Replacing Smith and Schreiber are Joshua Caleb Johnson ("Black-ish") as Onion and Ethan Hawke ("Training Day," "Boyhood") as John Brown who are absolutely phenomenal in their roles. Another big-named cast member is Daveed Diggs ("Hamilton," "Blindspotting") who portrays Frederick Douglass.
Each episode begins with the caption, "all of it is true," followed by, "most of it happened." While this humorously implies many creative liberties have been done in the name of comedy, I have discovered that for the most part that the series simply has its own interpretation of why the raid on Harpers Ferry was not a success.
That, and Frederick Douglass actually did not have two wives living in his home at once. Otherwise, history is followed closely enough.
While viewing this show I realized early on that scenes closely aligned with the source material. The closeness to the book, I believe, stems from McBride's presence on the staff, as he is listed serving as both a writer and executive producer for all 7 episodes.
Hawke's portrayal of Brown enriches him far more than the book did. Personally, when reading "The Good Lord Bird," I envisioned him as a loud, eccentric character. His long-winded (and often comical) dialogue gave me a hard time taking him too seriously, let alone properly understanding the thought process that motivated his actions.
It goes without saying that Brown is an eccentric, larger than life character in the series – capable of bringing the most laughs – yet Hawke additionally gives him humanity in how he captures Brown's sincerity and his occasional sullen moments.
Diggs was definitely interesting to see cast as the eloquent, calculating Douglass – especially considering that the previous historical figure he portrayed was a boisterous, race-swapped version of Thomas Jefferson.
However, his portrayal of Douglass may be deemed problematic as McBride felt "his life was rife for caricature," ultimately meaning that Douglass was ridiculously vain as opposed to Brown and his more down to earth gang. 
Needless to say, history itself shows that a clash did exist between Brown and Douglass, as Douglass did not show up to Harpers Ferry. In real life, Douglass is quoted stating in an 1881 speech honoring Brown: "I could live for the slave, but he could die for him."
Johnson has been applauded for his portrayal of Onion, the observant young narrator. In portraying this fictional character, Johnson bounces between conveying fright and constant inner confliction for the life he leads besides Brown. 
However, Onion's back-and-forth thought process on where he wants to be – and who he wants to be, do not come across as annoying when you recognize he is a young child growing up in a dangerous and merciless time for African Americans.
First and foremost, Onion wants to be safe by any means necessary. However, the seven episodes show a gradual evolution of his character. Though the countless deaths of loved ones are shown to affect him deeply, Onion, all the same, becomes self-assured and even loyal to Brown's cause. 
On social media, some viewers have notably taken issue with the fact Onion chose to present himself as a girl. But it should be noted that Onion, young and scared of Brown, decided to go along with this for the sake of surviving his ordeal. I find this choice interesting as, from a historical perspective, drag has been used to make black men less intimidating to the public. 
The renowned performer Little Richard is stated to have worn flashy, vibrant clothing complete with makeup in order to not have white men think he was a sexual threat. Even in the modern-day, many black actors have crossdressed at a certain point. 
Whether or not this is offensive has been debated, yet an enormous reason why people feel that it is offensive is due to the historical connotations of slavery. During that time, it was fairly commonplace for black male slaves to be emasculated in various forms in order to not be a threat in some form. 
So it is doubtlessly interesting that when it comes to crossdressing, Onion has told other characters that he is simply doing what he has to in order to survive.
However, something interesting is that the prologue of "The Good Lord Bird" not only describes Onion living to be over 100 years old by the '60s but even in adulthood he was believed to have been a woman by his community until caught in a risque accident. Although this is omitted from the series, it shows that with age, Onion may not have aligned with the traditional gender binary.
Going hand in hand with this possibility, during Brown and Onion's final conversation, he is given this heartfelt statement in regards to his crossdressing:
"Whatever you are, Onion. Be it in full. You were made by your Maker and he loves you. And I love you, too. I don't care what clothes you wear any more than I do the size of your shoes."
"The Good Lord Bird" is presently only accessible through a SHOWTIME subscription. The book, however, is available at multiple realtors such as Amazon and Barnes and Noble.
Ayzha Middlebrooks
Executive Editor