Anyone who grew up in the mid 2000s remembers when those three dark haired boys took over the airwaves with "Year 3000." Nick, Joe and Kevin Jonas, aka the Jonas Brothers, had just begun their rise to fame.
   Disney latched on to their newfound success by putting them in EVERYTHING, as Disney tends to do with those they've got their eye on.
   From new albums, to starring in their own TV show as well as made for Disney Channel  Channel movies such as "Camp Rock," the Jonas Brothers left their mark.
   Perhaps the weirdest and most memorable of these was when they played the singing Cherubs in "Night at the Museum 2." Fans had their posters, their merchandise, and their CDs. The 2000s were the era of the Jonas Brothers, and it was a wonderful time.
   Then, in 2013, tragedy struck; The brothers announced their split following a hiatus in 2009. It was a rough time for fans, as we had only what they left us with to get by.
   Streaming and playing those same songs over and over to get us through, with all of us silently hoping it was just a temporary split. After all, they were just about college age. Maybe they wanted to go to school and then come back?
   Years passed, and it became ever more apparent that the split wasn't temporary. Nick moved on and launched his solo music career, which at first surprised people with his sultry sounds.
   Eventually, he became a hot topic, and Joe followed his lead by launching the band DNCE in 2015 with "Cake by the Ocean." The song's popularity started off slow but eventually rose through the top ten charts. In 2018, DNCE released their four song EP, "People to People."
   Throughout all of this, Kevin remained fairly quiet, focusing on his ever growing family. Kevin married Danielle Deleasa in 2009, and the couple has two daughters as of 2019.
   Kevin chose not to go the musical route, and instead founded a construction company called Jonas Werner. He became the co-CEO of The Blu Market, a social media influence company, and also starred in "Married to Jonas"," a short lived TV show about his life with Danielle.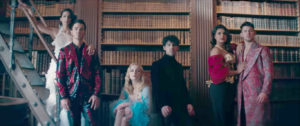 Finally, after six years, Jonas Brothers fans felt a disturbance in the force. On Feb. 28, the Jonas Brothers' social media account went dark, and all posts were deleted from their Instagram, causing a frenzy among fans.
   Rumors of a reunion swirled and were finally confirmed with the release of "Sucker," the Jonas Brothers' first single in six years. The band was finally back, and if anything proved the loyalty of fans, "Sucker" debuted at number one on the charts, a first for the band. The closest they had gotten previously was in 2008 and 2009 with three number twos.
   The "Sucker" music video dropped on March 1, 2019. It featured the brothers as well as their wives (or in Joe's case, wife-to-be) in a mansion type setting, with elements of an "Alice in Wonderland" type feel.
   It features the wives in lavish dresses doing different chores and the boys almost mimicking what the girls do. It's always a bold move to feature significant others in videos, as fans tend to be the jealous type when it comes to boybands.
   However, the fans of the Jonas Brothers seem to be a different breed altogether. Since Danielle and Kevin, fans have always supported their choices in significant others. They're also the first to defend them when someone tries to tear down the boys or their wives.
   The Jonas Brothers didn't stop at just a song release, however. They took to the TV, spending a week being featured in segments on James Corden's "The Late Late Show."
   From "Carpool Karaoke" to "Fill Your Guts, Spill Your Guts," the boys were all about promoting their new song and their return. They even parodied "Year 3000" with a new version called "Year 2019."
   The interview during "Carpool Karaoke" gave us what we'd been lacking – the reason behind the split. While some details are still murky, it is now known that Nick was the reason for the split.
   The release of "Sucker" comes on the heels of talks of a tour as well as a full-length album to come soon. Whatever comes, fans know; they'll always be a Sucker for more Jonas Brothers.
Jeri Hensley
Graphic Designer