This past October, Netflix released a new spin on the story of Sabrina Spellman in a Netflix original, "The Chilling Adventures of Sabrina." So far, ten episodes have been released for its first season and a Christmas special is scheduled to come out on Dec. 14.
   Sabrina is originally a comic book character from Archie Comics. She is from Greendale which neighbors the town of Riverdale.
   The show is centered around teenager Sabrina Spellman, played by actress Kiernan Shipka and her quest to become a witch and member of the Church of Night.
   As her 16th birthday approaches, Sabrina is supposed to leave her mortal life behind and pledge herself to the Dark Lord by signing her name in the Dark Lord's book. In the show this part is called her dark baptism.
   This decision is a tough one for Sabrina, as she does not want to leave behind her friends and boyfriend Harvey, played by former Disney Channel star Ross Lynch.
   When Sabrina signs her name in the book she would not be allowed to have any contact with mortals, that even means moving schools and going to the all witch academy to learn about her powers and serve the Dark Lord's wishes.
   This new spin on Sabrina was a shock. It is nothing like the show "Sabrina the Teenage Witch" from the 1990s. It is dark and has very heavy occult overtones. In this version the witches and warlocks serve Satan himself, this is a stark contrast to the bright bubbly comedy from the '90s.
   There are a lot of gory, creepy moments in the show. It came out around Halloween for a reason. Sabrina goes on many chilling and dangerous adventures: such as hunting down and eating a malum malus, also known as the forbidden fruit. Or even trying to perform an exorcism on her friend's demon possessed uncle.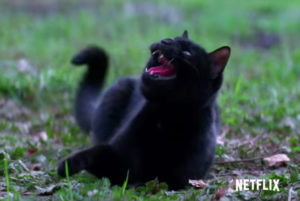 Even with this new dark twist on Sabrina, it shows the importance of family. The aunts go to extreme length to protect the well being of their niece, even so far as to defy their promises to their Dark Lord resulting in one aunt being banished from the church.
   The role of Sabrina's cat Salem is staggeringly different from the Salem fans were expecting. He does not speak in this new Sabrina and his role is primarily a guardian one. Salem acts as Sabrina's familiar and is one of the many protecting Sabrina's well fair.
   Instead of Salem being the character on house arrest, as is the case for the past version of Sabrina's story, Sabrina's cousin Ambrose is not allowed to leave the Spellman house for his crimes. He is Sabrina's bad influence and helps provide her with the tools she needs to figure things out for herself.
   Ambrose assists Sabrina in most of the dangerous things she does throughout the show. Most, not all but definitely most, of Sabrina's bad ideas have been planted or at least supported by her cousin Ambrose.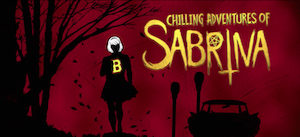 The Harvey Kinkel in "The Chilling Adventures of Sabrina" isn't the airhead jock from the 90's Sabrina show. He is an artist with a love for comic books. Harvey is also more involved in the world of witches than the previous Harvey. He also is not the only love interest Sabrina has in the recent version.
   The show has earned some controversy, due to the satanic imagery used and some uncomfortable scenes.
   The Satanic Temple filed a $150 million lawsuit against Warner Bros. and Netflix in November, claiming copyright infringement on a statue of Baphomet seen in the show that they claim is their property. Both sides reached a settlement on Nov. 23.
   Others are concerned with the message the show sends to younger viewers, specifically a scene in episode seven that depicts an orgy with some of the characters, who are teenagers. The use of gore and dark themes are also points of concern to critics.
   However, according to showrunner Roberto Aguirre-Sacasa's the show is by no means pushing any type of religious agenda or even painting a nice image of Satan.
   It simply follows the adventures of a teenage girl making some very big lifelong decisions about who she is and what she wants from her life.
Briana Spurlock
Reporter