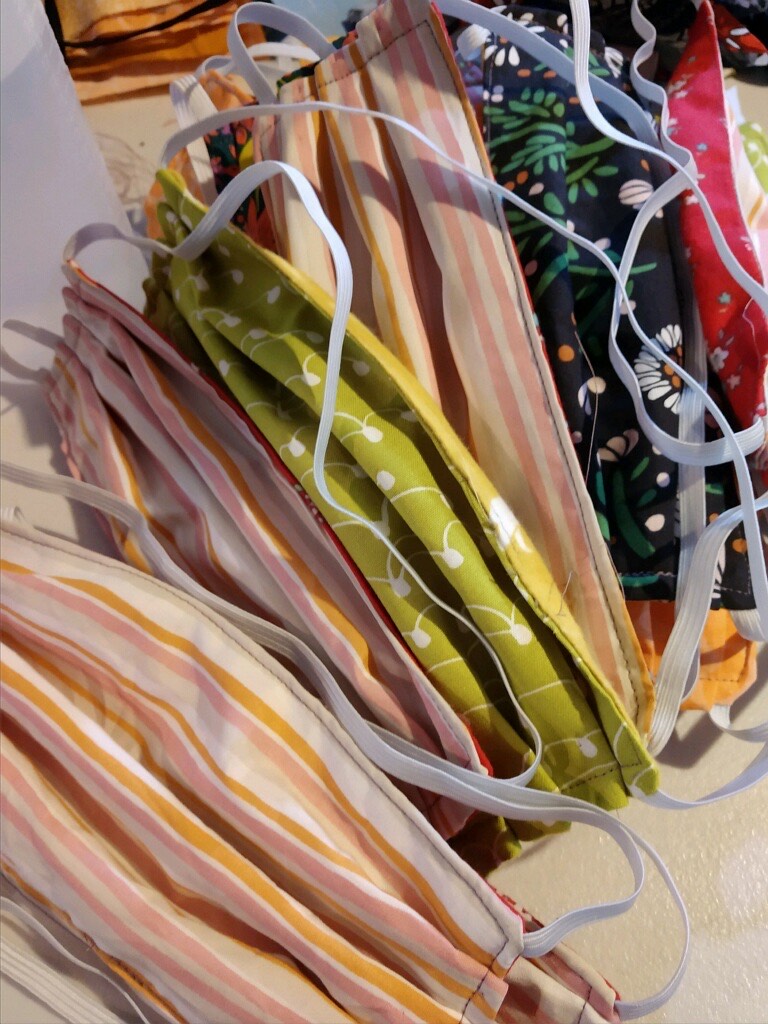 In the wake of COVID-19, hospitals, nursing homes, government buildings and a plethora of businesses are requesting surgical masks during a national shortage. One group of students and staff at Sinclair Community College has stepped up to do their part in this time of crisis.
In total 15 Sinclair employees and 11 students at both Sinclair and Wright State University have given over 1150 masks to 20 local establishments in need. It is estimated that 1400-1500 masks will be delivered by the project's end.
Kathleen Hotmer, costume shop manager and adjunct faculty member of the Sinclair Theatre department, Terry Stump, theatre manager at Sinclair and Carly Kimmins, costume shop manager at Wright State University teamed up to sew and deliver masks to local businesses in need.
Hotmer and Kimmins started the process by creating video tutorials for students in the group and ordering supplies to create a mask-making kit for the stitchers. Once students finish an allotted amount of masks the two collect and sanitize them before sending them off to facilities in need.
Stump handles logistical matters, such as communicating with the students involved and keeping track of where completed masks are sent.
Sinclair student and costume shop assistant Aurora Azbill is one of five student workers employed by the college taking the situation in stride and contributing to help fellow Daytonians.
"Costume design is my focus for my major, so I already spent a lot of time in the costume shop," Azbill said. "We were working on our spring play 'Antigone' before all of this happened and all involved were super excited. So when our shows were postponed and the shops closed it was really hard.
"But this gives me something to work on at home that really helps the community, which in my opinion is what doing theatre is all about. Even if we can't gather for a show, something to help out everyone and bring them together in some way or another is the very basis of what theatre thrives on, even if the show can't go on."
The crew makes two versions of masks. One style is form-fitting and the other is a general rectangle-shaped piece.
"Both have a layer of flannel, which is this soft fabric and then a layer of cotton, and then elastic on either side," Azbill said. "The two styles have a different shape and the fitted ones usually have a ribbon on the bottom half so you can fit them better to your neck area. They do line up with CDC issued standards and are safe to wear."
Another project the team is working on is replacing the worn down elastic straps of otherwise usable N95 masks in Montgomery County.
"We're hoping that that's a helpful contribution, cause otherwise, these masks would go unused in a time where we need them desperately," Hotmer said.
The team is focusing on distributing masks to people in the community who are out of the house and still work and interact with people in confined spaces, in addition to the needs of hospitals in the area.
Hotmer and her team have received donation requests from hospitals, Sinclair campus police, hospice centers, Planned Parenthood, St. Vincent de Paul and YWCA shelters, the Dayton Fire and Police departments, various senior home healthcare facilities, Veterans Affairs centers and local post office branches.
"A lot of our masks are going to places like shelters, where people don't really have the needs or resources to provide their own masks," Hotmer said. "It feels like we're doing something really important to contribute to the overall health and wellbeing of our community."
The team submits 20-40 masks to each center at a time, depending on the number of completed masks available. Donation requests are not being taken at this time as remaining masks will be held for Sinclair students, faculty and staff.
For other students that desire and are able to contribute to helping those affected by COVID-19, Hotmer suggests volunteering at food banks, pantries and shelters. Many of the elderly individuals that usually volunteer are staying at home due to their high risk of contracting the virus.
"If you have any way to make masks, do it," Azbill said. "It's a fun and easy project that's helpful to the community and your own families. There are so many different patterns and styles online, it's almost impossible to find one you can't do, even if you don't have a machine."
During an uncertain time for Dayton and the world at large, Hotmer, Kimmins and their team have done their part in finding the need and endeavoring to meet it.
"I'm extremely proud of our students for initiating this effort and working together to fight this pandemic," said Sinclair President Dr. Steven Johnson in a statement. "The project our students are working on is not only aligned with the work they are expected to do in the theatre program, but also an incredible effort in meeting a critical need in our community."
"Things are incredibly scary right now, but being safe is the top priority," Azbill said. "Hopefully sooner rather than later we can all get back to our lives, and that includes seeing some theatre."

Henry Wolski
Staff Writer