West Dayton is occasionally dismissed as an impoverished area where crime runs rampant; however, this is not the case. There is more than what meets the eye to this community as the West Side is an area with many untapped resources and is filled with many people who strive to make the community better.
To take a closer look into the heart of the city and listen intently, one will hear the voices at Edison Elementary echo throughout the class: "All of you are champions! Each of you will help each other become champions!"
These are the words from a Sinclair student who serves as a motivational speaker, life coach and consultant. This student also has a YouTube platform entitled "Talkative Toni C" where she addresses issues of domestic violence, bullying and holds camps and events for children of all ages.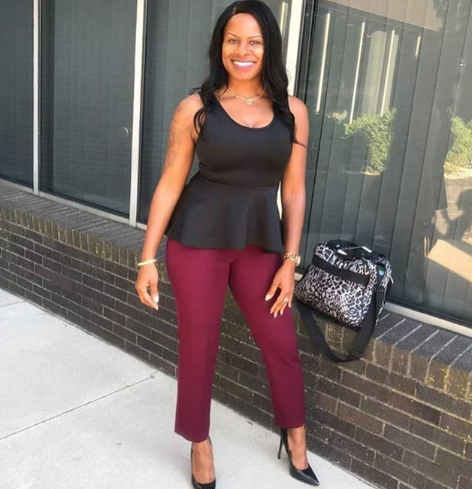 Toni Holmes was raised in west Dayton and is the youngest amongst three sisters. Both of her parents were present in the household but money was often scarce. Holmes describes a household where she and her sisters were the targets of verbal abuse and spectators to their mom's physical, emotional and verbal abuse.
"Life sometimes felt like a dark cloud," Holmes said, shaking her head.
Holmes took refuge in the Shontee Home where she gives credit to her best friend Cicely and her family in helping her see a united family. Not only was Cicely a true friend but often Holmes would use her place as an escape zone from the neglect and abuse she was dealing with.
It was at the Shontee Home where she first witnessed a loving family structure, financial stability,  positivity and encouragement. With a huge grin on her face, Holmes says: "with Cicely's family there were cookouts, they traveled and attended amusement parks."
In high school, Holmes excelled in track and field and cheerleading at Belmont High School where she was an honor roll student. Her teenage years were different from her childhood years, as she could now leave the house and become involved in school functions. However, life took a turn after high school when she became pregnant with her first child.
She had been going down the wrong path. A series of events and misfortunes landed her in prison after a fight where she was attacked by several women and utilized a weapon to defend herself.
"Prison is the ultimate test of character," Holmes said, "either you tighten up and change your ways or you will go back."
After Holmes was released from prison in 2003, she was put on probation for five years. She described life as "horrific" at times as she tried to adjust to life as a convicted felon.
"I felt rejected from society; I couldn't find a job."
Holmes worked odd jobs and toiling at factories to make ends meet until she changed up her game plan. Toni enrolled in Sinclair Community College in 2018 where she majors in communications.
Her goal is to follow the blueprint of Orpah Winfrey and become a talk show host and multimedia tycoon. Holmes has already started on her dream as she hosts the YouTube online platform Talkative Tonii C where you can follow her mentoring, volunteering and even passing out chili to the homeless.
Adding to her already decorated resume regarding her community work she is also the owner of the "Make a Sound Organization," whose goal is aimed at empowering women of all ages to become effective leaders globally. 
This organization has an annual event in its fourth year entitled the Cancer Pampering Party where cancer survivors and treatment patients have a day of makeovers, food and encouraging positive seminars. A mother of three, now Holmes enjoys shopping, traveling and spending time with her kids.
"Life for me is just getting started," Holmes said. "It's not about how you start but how you finish!"
Eugene Powell
Reporter