"Joe Pera Talks With You," a show created by the show's titular character is, in theory, the sort of show that would never typically appear on Adult Swim, Cartoon Network's late-night programming block that debuted at the dawn of the century back on '01.
Adult Swim, though not as "adult" as its moniker made it out to be (except in some cases) is often filled with irreverent, absurdist cartoons, live-action shorts and tv shows, anime, repurposed Hanna/Barbera shows and has twice revived dead network cartoon shows in "Family Guy" and "Futurama." In other words, it was a weird hodge-podge of creativity that has, over the years, blossomed into a major brand in entertainment.
In the early days of the programming block, Adult Swim created shows like "Space Ghost: Coast to Coast," "Sealab: 2021" and "Harvey Birdman: Attorney at Law," repurposing old, long-forgotten Hanna/Barbera properties that had been acquired by Ted Turner and Cartoon Network.
From there it moved onto fully original programming like "Aqua Teen Hunger Force," "The Squidbillies," and "Robot Chicken," among other shows that blossomed out of minuscule budgets that allowed creators to make weird, lo-fi, transgressive television for young audiences. It was, in some ways, what MTV was to older generations who came of age in the '80s.
"Adult Swim is probably the riskiest and most inventive block of television you'll find today," said Max Castleman, a Dayton resident who has written for several film and TV blogs and now runs a regularly updated blog on Medium.
"Though channels like HBO and AMC pride themselves on being bold and mature," continued Castleman. "Their programming has become increasingly safe and derivative of their most popular work. In contrast, Adult Swim is just as weird as it always was, and it gives programs that would probably not be accepted anywhere else a chance to succeed on their own terms."
Related Articles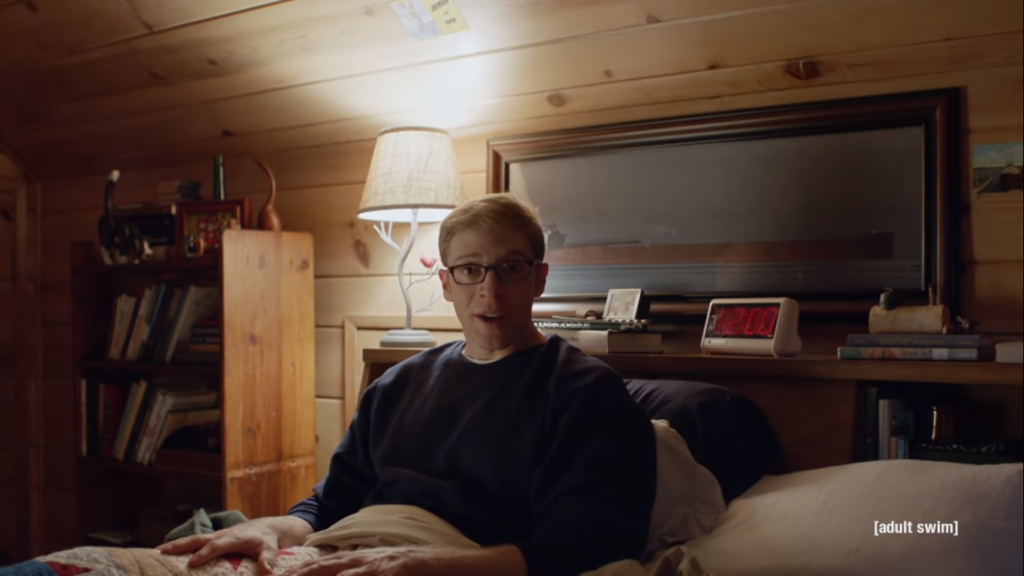 The programming block now features some of the most quoted/memed, whether annoyingly or not, shows on TV with shows like "Rick and Morty" and "The Eric Andre Show." What was once a small, fringe block of TV has since grown into a cultural touchstone for an entire generation, now attracting big names from network TV like Dan Harmon, Matt Groening and Seth MacFarlane.
Enter Joe Pera, an unassuming, quiet, painfully awkward comedian from Buffalo, New York, who delivers jokes in his clipped whispered way that just shouldn't work, except it does.
You could definitely describe him as wholesome, which is jarring on a TV block populated with Tim Heidecker, Eric Warheim, Eric Andre and Seth MacFarlane, all of whom create comedy that is neither wholesome nor by any means heartwarming.
Not to say that there is anything wrong with those shows, obviously. It's just noteworthy to point out that bizarre juxtaposition because that just might be Pera's intent.
Take for instance, the first season's third episode, entitled: "Joe Pera Takes You on a Fall Drive."
Each episode features this sort of framing device, in which you accompany Pera as he either teaches you about something or has you experience something with him. Though, it's not an educational show, not really, instead it has this framing device and in it, the action and comedy ensue.
So then, back to "Joe Pera Takes You on a Fall Drive," in which Pera, due to his fear of pumpkins ("even though he's bigger and more powerful than them…and he owns a credit card.") drives a pumpkin, firmly secured in a seatbelt, on a drive around the Upper Peninsula of Michigan, where the show takes place, so that he can lay to rest the one-sixtenth of his soul the pumpkin has taken.
To explain, his friend and fellow Iron enthusiast (it's explained in the first episode), Gene, tells him at the beginning of the episode that when he carves a pumpkin, he gives it a piece of his soul.
"It's a bit like how your grandmother puts a bit of herself in her cookies," says Gene to Pera and his grandmother, both dressed up as the albino dread-locked twins from the Matrix films as they wait for trick r' treaters.
The episode then ends with Pera taking the pumpkin to one of the "300 estimated waterfalls in the U.P.," and dropping it into the river while a swell of folksy violin, drum and guitar play in background in what can only be described as a strangely beautiful moment that certainly has the capacity to drive the viewer to tears.
It's surreal and absurd but also sweet and wholesome. The show's aesthetic harkens back to the early days of Nickelodeon, with shows like "The Adventures of Pete and Pete," in the way it consistently breaks the fourth wall and tells surreal stories about small-town America and the inherent weirdness of suburbia.
It seems to be a show designed to just make you feel better, something Pera credits to his fellow cast member and writer, Jo Firestone. In fact, Pera, much like the character he plays in the show, seems to be a very kind, gentle guy.
"It's unfair that I have my name on it," said Pera in a Vulture interview. "Because it's so much Marty Schousboe, the director, and all of the writers, and the design team. I think you can see every writer's different style, and the kind of jokes they like to tell, in the script if you look for them."
"I just wanna give a better answer for Conner and Jo," said Pera in an interview with Paste. "…I would love to have my character on the show drive off a cliff or something and have it just be Jo Firestone's show, and just have me be able to write for her because she's a better performer and more interesting than I am."
"Joe Pera Talks With You" is currently in the middle of its second season, with new episodes airing every Friday but you can also watch the show's first season and most of the second season for free on Adult Swim's website.
Richard Foltz
Executive Editor