The leaves are changing along with outfits as winter approaches fast.
Summer leaves crop tops, festivals and baseball behind only to say hello to the height of football season, holiday decorations and heating bills. Along with fall comes the climax of Tartan Pride volleyball.
The Sinclair volleyball squad has battled through adversity all season in the locker room and on the court but has still persevered to a spectacular 24-6 record. But the most grand of obstacles still lie ahead.
Every day Sinclair inches towards the Great Lakes District Tournament in Port Huron, Michigan that begins on Nov. 7.
This year's campaign marked coach Kum Chee Gan's 20th season, and he believes that this year's team has the chance to be one of the best he's ever coached.
Gan, who has been intertwined with the sport of volleyball for about 48 years, has noticed the improvement of his talented team and his heavily recruited star player, Nicole Sicking. He believes his coaching in October has prepared his team for districts and with the talent already there, this group of young women are prone to withstand the ruthless postseason they approach.
"If we get into the nationals, I feel like we can compete with the top eight in the country," Gan said.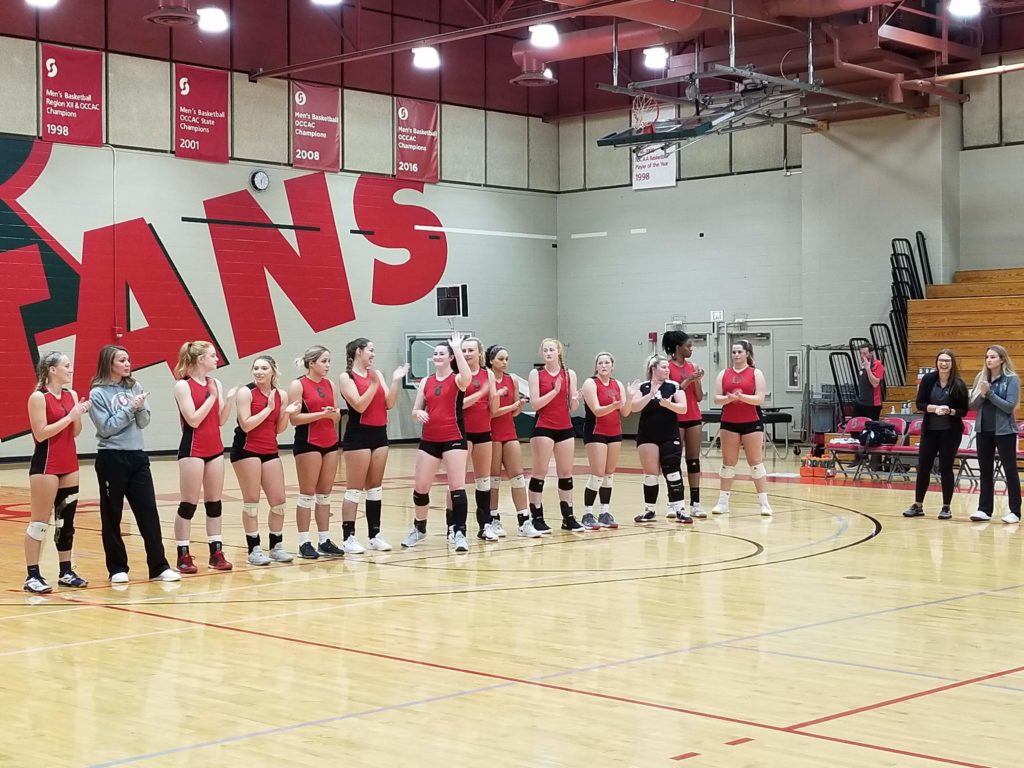 Related Articles
They've no doubt come a long way from Coach Gan's preseason absence due to personal obligations back in August. Gan said when he came back the team was at a 3 out of 10 where as in mid-October, they were an 8.
One player who went with the flow regardless was freshman setter, Madison Simon. Recruited through a camp from Dixie High School, Simon wasn't even expecting to play Volleyball in college but was ready to adapt to any situation.
She already knew assistant coach, Kayla Bertke and stated that she has benefited by meshing together two different coaching styles.
Simon has adapted to the college game well, playing 83 sets but still ranking fourth on the squad with 149 digs.
Although the team has had tremendous collective success and solid individual success, the team still has gone through personal ups and downs.
There have been many girls talk about some attitude problems within the team, but some say that is the territory with a competitive group of females.
Despite any issues that have occurred, Simon stands by the toughness of her team and their ability to put their game face on when it's called for.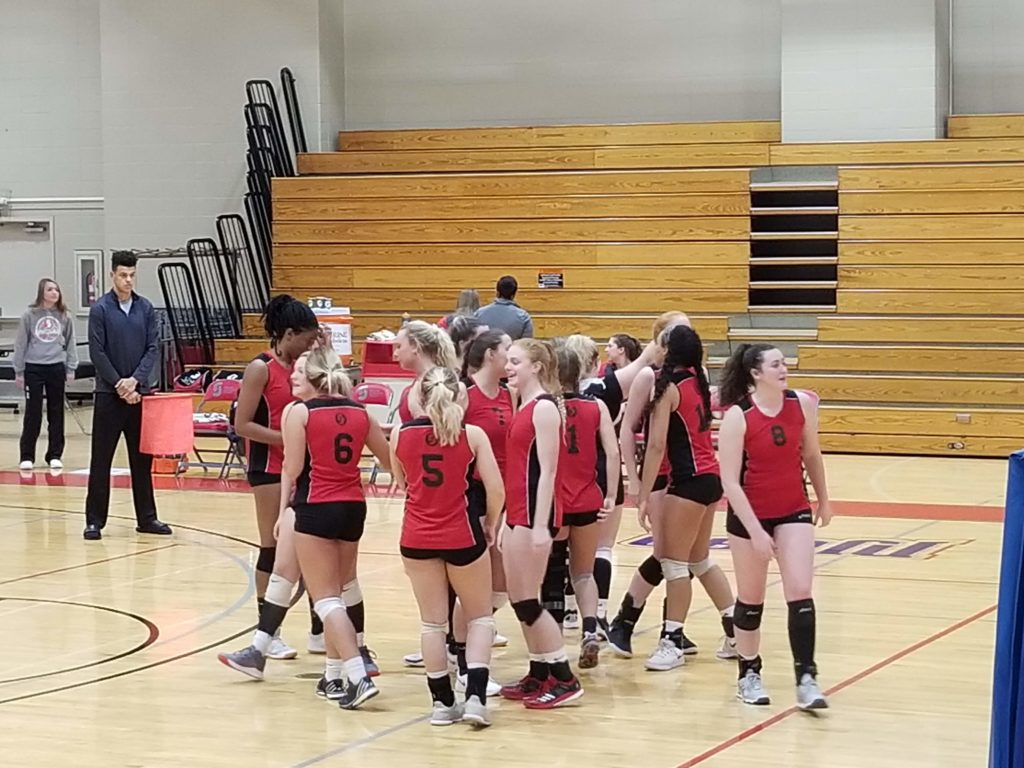 "We're very good at adapting, we always start off kind of slow. But we make changes and beyond the frustration, Coach's changes obviously help," Simon said. "Sometimes there is tension but we're good at letting that go once we play."
Simon acknowledges the team's ability to put petty situations aside for more important reasons.
"Despite any issues we can always count on each other to be there. It's nice to have those people," Simon said.
Another talented freshman, Lydia Conley, replicates the same energy.
"I think we're good at coming together. We're not good at first sets or morning games," Conley said. "Coach is pretty good at making in game adjustments and the team is good at reacting."
Conley, a solid contributor, usually plays middle for Tartan Pride and contributed well playing 84 sets, racking up 66 kills but was ranked third on the team with 48 total blocks.
She was a product of Sicking and fellow captain Hallie Holbrook's collective effort to make incoming freshmen feel more welcome as Conley was welcomed into the group as one of their own and established a strong relationship with some of her teammates over the summer.
The sophomores definitely fulfilled that goal of becoming more welcoming as most of the freshmen felt comfortable and accepted. Most freshmen knew their teammates before the season started due to social media group chats.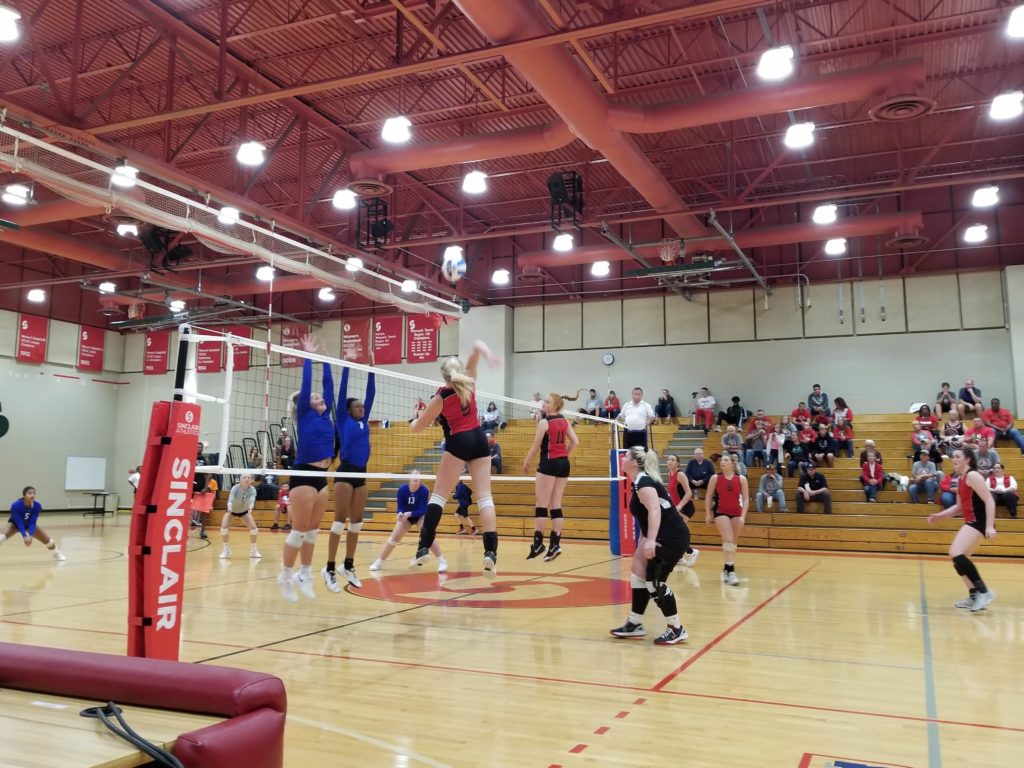 One sophomore that didn't hesitate to get acclimated with her new teammates and has refused to be anything but a bright spot for this team is role player, Lydia Metallinos.
Coming from being the best player at Chaminade-Julienne, Metallinos continues to never grow sour even though she plays the least out of everyone on the entire team. Nonetheless she is easily found within the game but not for her plays on the court.
Metallinos is constantly on the sideline cognate to a steamroller of enthusiasm. She's not just a cheerleader but an essential vocal leader on this team. No matter the situation, or her team's emotions, you can always locate her by listening for her trademark "YEET!"
She continues to radiate positive energy throughout the entire season and that's something every coach, player and bystander can appreciate. Simon and Conley were two freshman who were quick to smile when Metallinos was inserted into the conversation. She is no doubt an overlooked and excellent presence on the team.
This team is sprinkled with intriguing personalities and talent but so far they have managed to prevail against all odds.
Coach Gan takes a more individualized approach to developing his players. He is quick to pull out sheets of statistics and rave on the improvement to each player's skills. He is very organized and focused on team development.
He makes the team record their opinion on how they played and why they played the way they did in a journal that everyone has. Gan said that after each game, they gather around and discuss their journals.
Then in practice, Gan separates girls into groups by what they need improvement on.
Gan has stuck by his system centered around sophomores Sicking and Holbrook, but puts great emphasis on adjusting the strategy according to reactions from the season.
"Come to this point in the season, if you don't know your system, you're going to lose," Gan said. "So basically we've been improving the system which has been successful."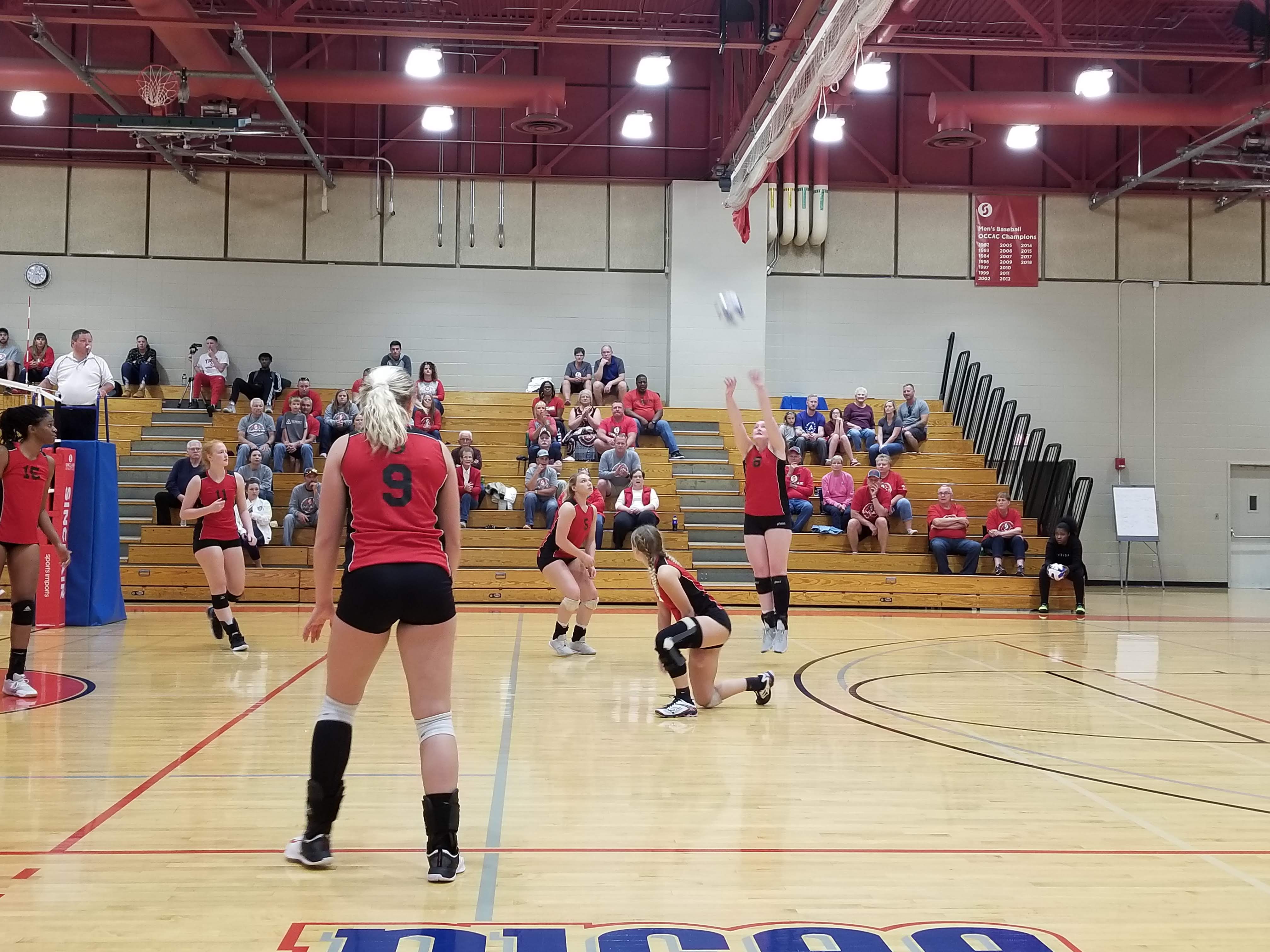 Despite the tough schedule that lies ahead in facing the best teams in their district, Gan expects to be fully prepared because he teaches so much of the mental aspect of the game. He feels like his team is already really talented and if they perfect their fundamentals, they can hang with the best in the entire country.
He also exudes maximum confidence in his district trump card, Nicole Sicking. She's among the best in NCJAA's D-2 kills and percentage of success. Gan believes she is the best player in the entire conference.
Gan still isn't over confident in his team, and knows they can be beat. But this team is special and he feels he has prepared them for success.
Another special aspect of this year is K.C. Gan achieving his 400th win. Although it is an elite milestone in volleyball, Gan looks at the bigger picture in his record itself and pegs much of it on recruiting.
"400 wins compared to 300 losses sucks," Gan says. "I average 18 wins a year, but coaching depends on the talent I have. This team has a lot of talent."
The Sinclair faithful will see the fruits of Gan's coaching strategy and later this month in Purt Huron.
There's still some things to clean up before then, such as their defensive fundamentals and passing, but according to Gan, the biggest weakness of any team has already been hurdled.
"The biggest challenge is understanding every girl and getting them on the same page," Gan said. "You can't see their emotions but communication is a strength."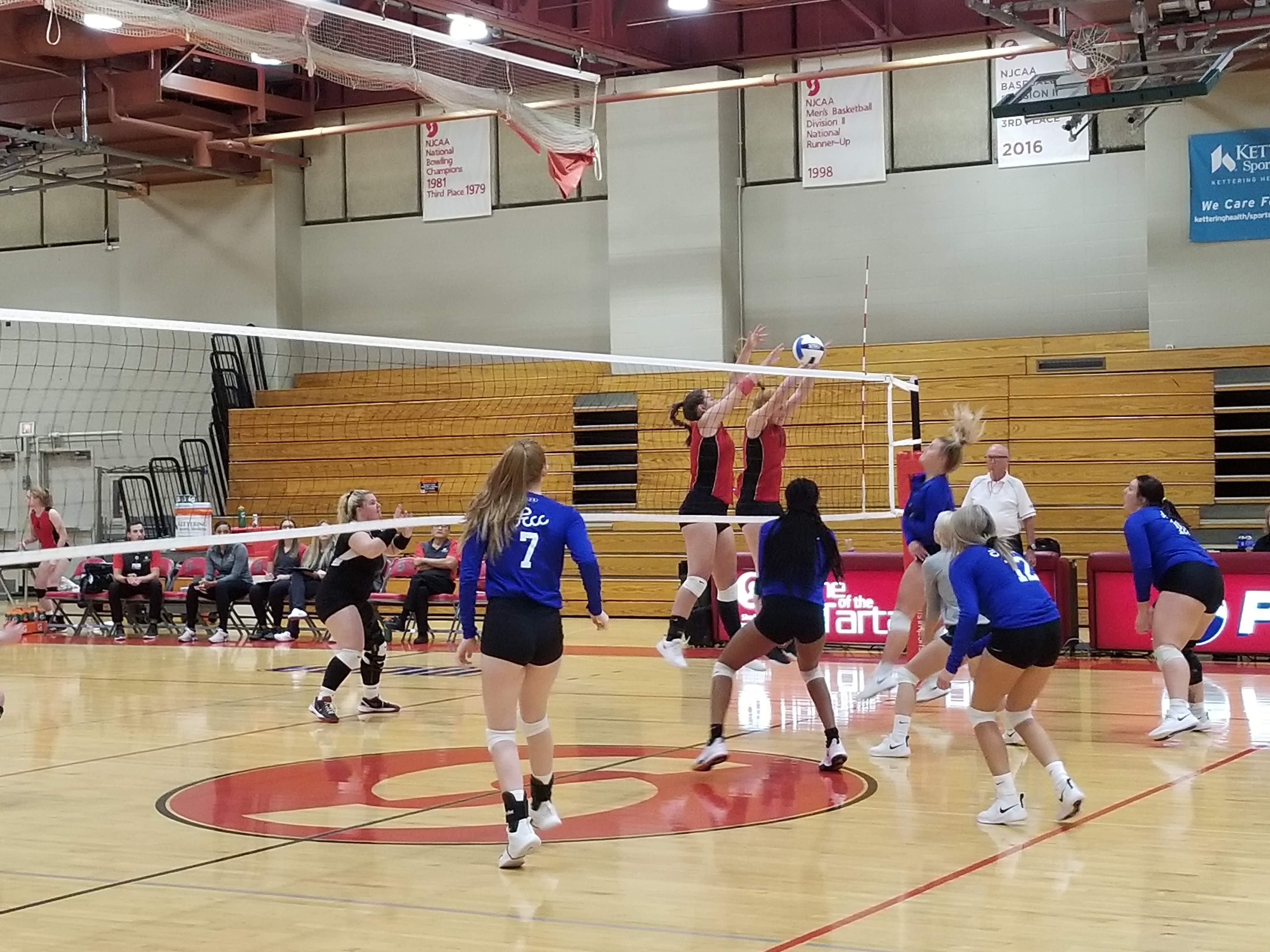 The growth of this team can be observed in two different matchups against the toughest team they've faced: Owens. In the first matchup, their rival took the game with ease, 3-0. But the next game Sinclair met them with resistance and eventually lost a 5 set war 3-2 that was back and forth the whole time.
But what they showed in that game is the same intensity and competitiveness that Conley, attributes the team's winning ways to.
"We all really have that want to win, we don't like losing," Conley said. "We're willing to do anything it takes to figure out how to win. Even if it's not necessarily in the best fashion. We know what we can do and we believe in each other. Even when a really tough team comes in, we're able to pull it out."
Jeff Allen
Sports Editor