21 years is a very long period of time, in which countless of processes could just happen and almost anything could evolve.
Evolution is exactly what happened after Sinclair's softball program was pulled in 1991. As sports took off to a new height, consistently capturing the eyes of the masses thanks to technological advancements, it exponentially blew up platforms that no one paid a lot of attention to.
That includes bowling, poker and of course, softball. As softball became its own platform and started making noise, the enthusiasts became more ample and vocal, which resulted in more people curious about the sport, and more popularity than it had ever seen.
Along with the growing awareness, the local talent is what Sinclair head softball coach, Steve Beachler said attributed to the comeback of the softball program as a whole.
When they made the decision to bring back softball, Beachler was selected to be the heart of the revival in 2012.
Before that, Beachler a Sinclair alumni, had been a varsity assistant coach for Miamisburg's very successful softball program for an exceptional 23 years.
Softball has clearly been a core of his life. His daughter played at the University of Dayton and his step-daughter played for Wright State.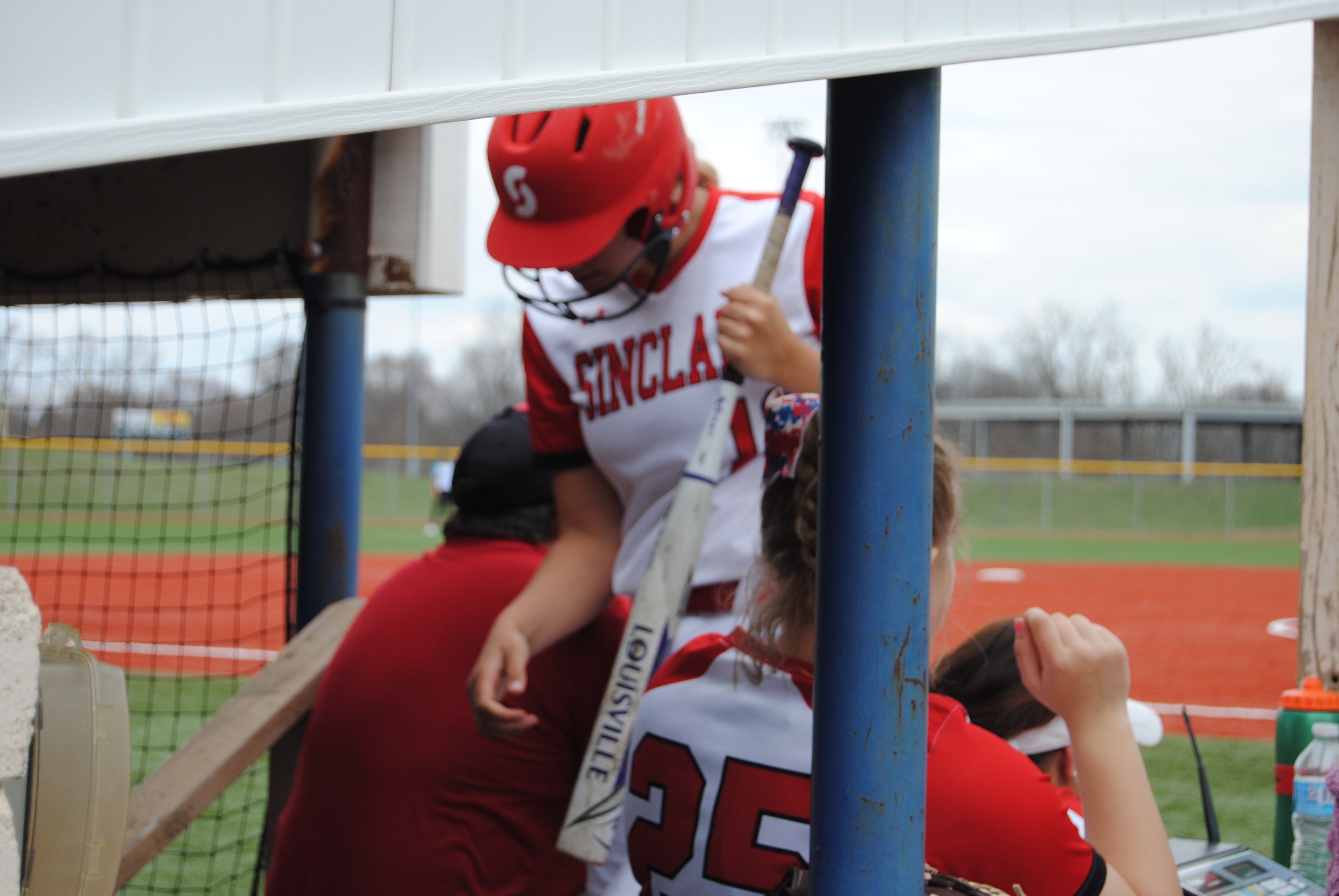 So far he's proven to be the man for the job. Other than 2016 and 2017 where they went under .500, Beachler has slowly built this program back up from nothing to be almost a consistent regional contender.
Tartan softball has qualified for regionals the last four out of six years, last year finishing second in the conference and performing spectacularly.
"We're making strides and heading in the right direction, sometimes it's not as fast as we want it to go. But we are getting better every year," Beachler said.
One of his goals for the team, since the resurgence of the program, has been to help players gain Academic All-American status. Last year Beachler attained that goal when six girls won the honors, three who are still on the team.
He hopes to do the same with this year's team but with consideration that all teams are unique. The 2019 group has its own path to pave, boasting the best pitching staff Beachler has ever coached.
A staff that features tough and versatile Kiera Teserovich, freshman reliever Cassidy King, three-time pitcher of the week, Ashley Brown and one-time pitcher of the week and vocal leader of the team, Cierra Chastain.
Not only is Chastain essential to the makeup of the team's production and performance, but to the culture and attitude.
A sophomore from Beavercreek, she originally didn't picture herself going the JUCO despite aspirations to play college softball. But when she navigated her future through Sinclair, she knew that this was the smartest decision.
Chastain knew it was an early program, that had just restarted coming into her college career. Even though they're gradually making noise, she's proud of the team's performance and slow establishment of a reputation.
"We still haven't made it to the world series but had a good start last year, and we're doing good this year. I think it's just a building process. We're going up, Chastain said. "I don't think we're as known as the baseball team but we're going to get there."
She acknowledges the process and is impressed with the team's improved emphasis on scouting and on mistakes from prior experiences.
But the process is so broad and starts with each individual team. This year's team is a fantastic example of perseverance.
The Tartans are a well-rounded group containing a lineup laced with girls who can just straight out hit the ball, like Kenedie Cox, Hailey McEldowney and Bailey Pennington, all batting over .300.
It's a pretty nice balance with the aforementioned talented pitching staff. Talent is also complimented by the relationship they have with the coaches. Chemistry with Coach Beachler is great, and former UD player and graduate Rebekkah Potter has even inspired a team tradition.
Before every practice or game, a player will pick up a random "quote card" with sayings and motivation, and they will apply it to their performance. They change every day.
It has just started this year but has helped the team and adds some fun according to Chastain.
With Chastian's presence, the Tartans are playing near peak level and are 16-13 through a difficult schedule, but nothing has been easy for the team, and especially not for Chastain.
Last fall, Chastain broke her foot. While she was trying to start pitching again, during the winter, she had hurt her arm. It's safe to say, she was over injuries by the time spring rolled around and the season came closer.
But just as she had started coming back, two weeks before the invitational in Florida over spring break, Chastain began the toughest road to recovery she has ever walked.
While pitching live in practice, without a mask, Chastain was hit by a line drive that came back straight up the middle and struck her right in the face. On impact, it split the bridge of her nose wide open, instantly breaking it.
Anyone who has ever played knows that her situation is a nightmare, it's ruined the game for some players. She blames herself for the freak accident.
"It was my fault, I hung a changeup over the middle, it just all happened so fast," Chastain said.
The surgeons immediately called for emergency plastic surgery. Recovery was very discouraging for her due to the fact that the season was on the horizon, and she had just spent most of the offseason recovering.
Chastain sat in the house for a week straight after the surgery, due to her pain and appearance. But her teammates and coaches were avidly supporting her the whole time, empathizing with the situation and allowing her to come back and get comfortable at her own pace; a pace that no one expected.
The start of the season was right around the corner, and Chastain traveled with the team to Florida. The trainer had given her a choice to play at her comfort due to the fact that it was a face injury protectable by a mask.
Of course, Chastain being the competitor that she is, she hyperventilated and put on a mask.
Even though she played, she labels that the hardest thing she's ever experienced. It affected her pitching immensely, as she was having anxiety attacks on the mound, was playing more cautious than she had ever thought possible, allowing a walk an inning.
Chastain continued to play, while jumping after most of the hits, fighting week after week to gain her confidence back. After over 30 games, she finally feels like she's getting back to mental speed and not letting it get to her as much.
"It's been a struggle to begin the season, but my pitching is definitely coming along," Chastain said.
Despite the gruesome scene and the discomfort that resulted from it, she has taken this whole thing on the chin.
Never backing away from the challenge, Chastain was laughing and cracking jokes as soon as the incident occurred. Right afterward, things settled in a bit, but she thinks she is still in shock sometimes.
That's the kind of toughness that cannot only bring a team together but can inspire one. Her bravery and will to play is admirable.
The team has been positive during the ups and downs of the season, really coming together as a group and bonding after the Florida trip. Chastain was actually surprised at how well the team's chemistry flowed.
But nonetheless they're very close, always picking each other up, and according to Steve Beachler, very supportive and competitive.
"They're loud and vocal, they want to win, our goal is to find a way to win, we stress that to them," Beachler said.
Finding a way to win was tested in the competitive NFCA leadoff classic, an invitational in Georgia that followed the one they attended in Florida to begin the season. Facing the best teams in the country is beneficial at the start of a campaign, so they embraced a 1-4 record there, content with the experience.
"I'm satisfied with how we played down there, it gave our players a sense of what it takes to play with the best," Beachler said. "Shows the coaches and players where we are with nationally ranked teams and where we need to be."
Since then, Sinclair has a 15-9 record and as they headed into conference play they dropped two very big key games in a double header against rivals, Cuyahoga Falls. Despite flashing their toughness and talent, they came up short.
But best believe that this competitive bunch will be back, prepared and determined for the next task. Nothing about the team has surprised Beachler, including their adhesiveness, toughness and ability to keep their eyes on the goal of winning regionals, and getting the National tournament.
"They accept all challenges, they're all playing well right now, and they're all working hard trying to get better," Beachler said. "We all know what our goal is, and we're trying to do everything we can to achieve that goal."
Jeff Allen
Reporter