Inside a light blue building at the corner of Wayne Ave. and Clover St. is the home of Ghostlight Coffee. This business has served patrons coffee and espresso drinks since November 2011.
   "I had wanted to open up a coffee shop for a while," Shane Anderson, the owner, said. " I wasn't set on a downtown location, but when I was approached with the available space I took the chance."
   Ghostlight Coffee's story is not about one man doing all the work himself though, rather it spotlights the community coming together to make it a place anyone could go.
   "The owners of the building started renovations way back in early 2010," Anderson began. "They wanted it to be a gathering place for the community. There were taverns nearby that were doing well, but the area lacked an alternate option."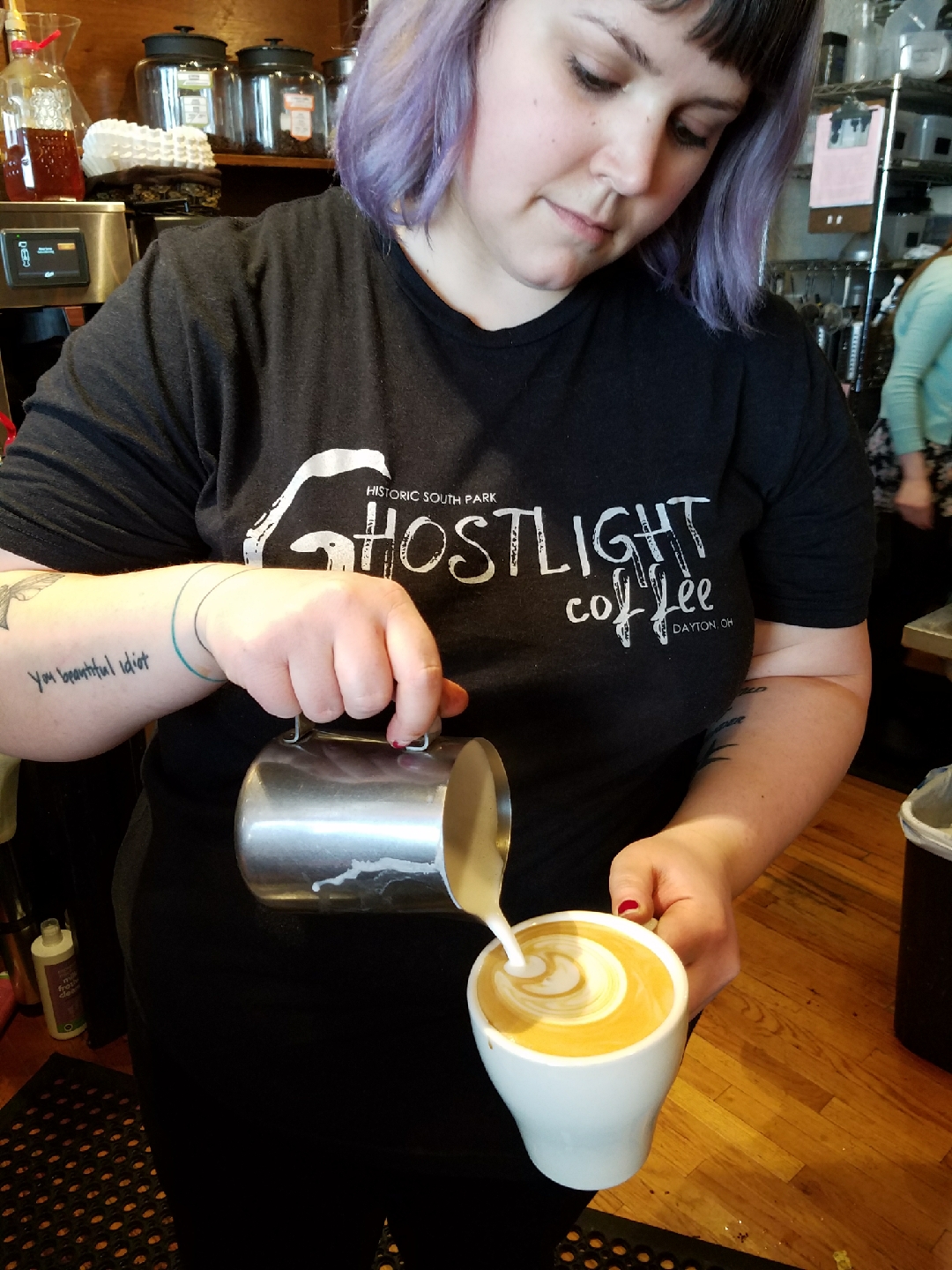 Since then, Ghostlight Coffee has built up a large community following, which Anderson will tell you does not simply start and stop inside the shop.
   "I had a display before that showed all the hands coffee had to go through," Anderson said, "It is not something that just happens in a lab."
   Shane is of course saying that coffee is not just about the cup to customer relationship, but rather all the people involved starting with the farmer.
   "Our roaster that helped us open, Deeper Roots, is a non profit located in Cincinnati." Anderson said. "At the time they were not even a roaster yet if I remember [Laughs]. Deeper Root's focus is on direct trade with coffee growers. What this means is that the roaster knows and works with the farmers directly. This leads to much higher profits for the farmer. These higher profits translate into more equipment and care that can be put back into the coffee."
   This direct relationship has led to Ghostlight sampling some very interesting coffee, such as the one they currently have, La Armonia Hermosa, which translates to The Beautiful Harmony.
   Ghostlight's relations do not end here though, they take it a step further and make sure they know where all of their product is coming from.
   Flavored lattes have syrup of course, and it is very easy to procure coffee syrups from companies like Monin. Instead of doing that, Ghostlight employs people who make syrup  in Dayton, in Ghostlights own kitchen. Syrups that can't be made here are purchased from another local business, Jo Snow.
   If that wasn't enough, Ghostlight is flooding the world with highly trained barista's, some of which go on to do incredible things.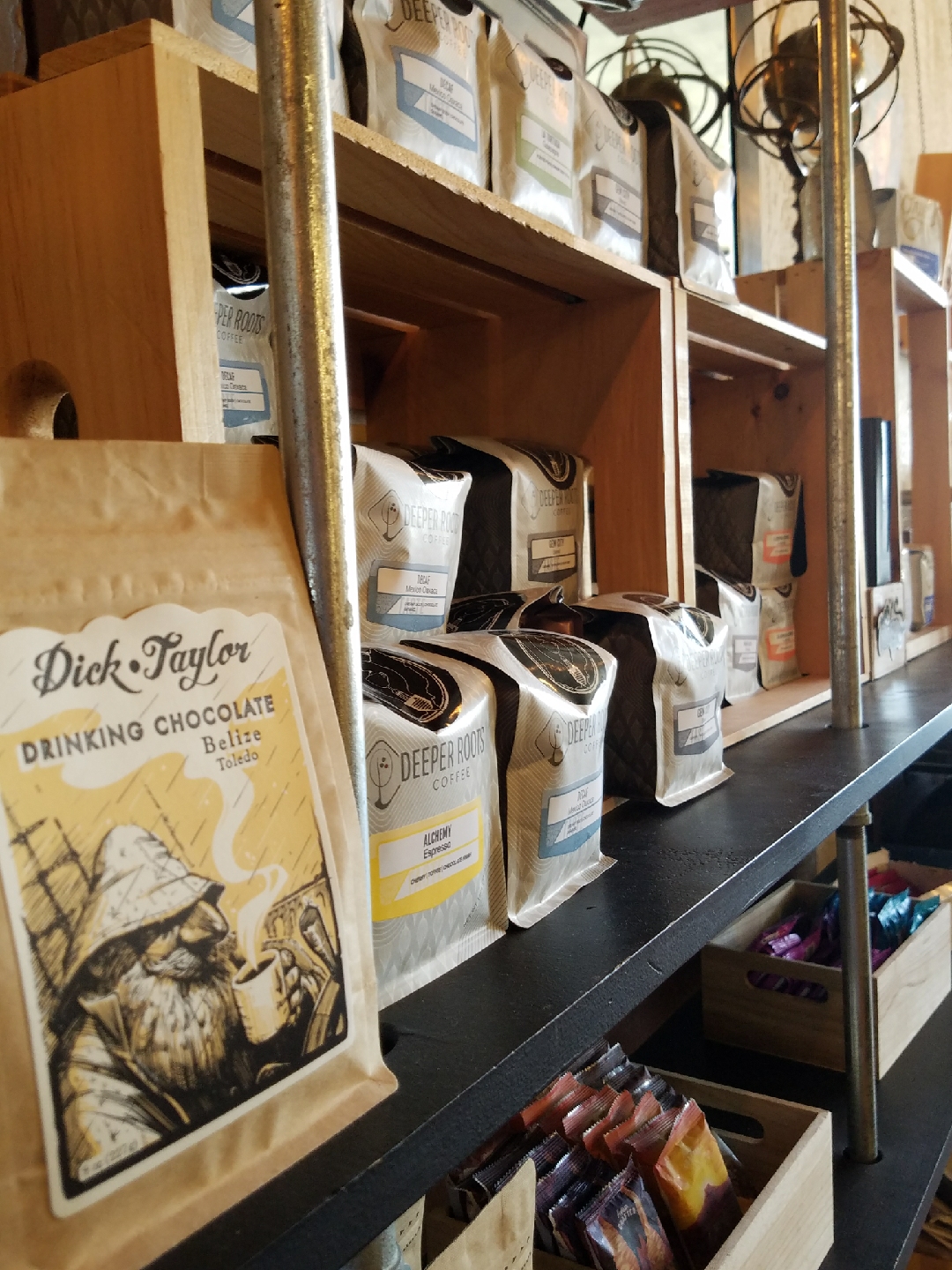 One example is  Kendra Kallhoff, who has started her own local Chai Tea business. She is currently supplying Ghostlight with Chai Tea and will soon be expanding to do more. For more on her business you can search Nectarie Chai on Facebook, or on Dayton.com.
   This sourcing is one of the details that stands out to Ghostlight patrons. Knowing where their bean is from, who roasted it, and who flavored it has left an impression on many customers. Several of which were previous Starbucks drinkers who have gone on record saying they will never go back.
   All of this has not gone without notice by the customers of course. Several customers are more than happy to talk about their experience at Ghostlight.
   "[My] Husband and I have been neighbors for years, and when we first got here it felt more like home than our actual home." Said Alexis Zappia.
   "I love the atmosphere and the people, it really feels like you can talk to anyone. And it tastes good!" Aimee said.
   With all this in mind it becomes quite apparent that community building is very important at Ghostlight. So much so that every year Ghostlight hosts a Thanksgiving meal where baristas are allowed to invite anyone who is a part of Ghostlight Coffee, be it guest or supplier.
   "One of my favorite things," Anderson began, "Is seeing regular customers interact with each other. It is funny how when they first come you will see them sitting on opposite sides of the room, then the next day a table closer, and before you know it they are meeting here as friends to go get sandwiches later."
   "Coffee is community, through the entire process. Not just sitting down and chatting over a Mocha, but where it is from and where it is roasted. We strive to make a community at Ghostlight." Anderson said.
Jake Conger
Reporter