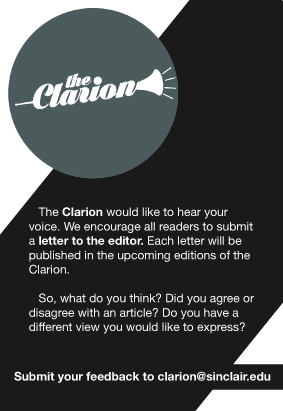 Dear Editor,
I have had the great pleasure of attending Sinclair and not only learning from great teachers but also working with students in the tutoring department. It is incredible how Sinclair reaches out to help students in need of basic necessities such as food and shelter. The paper lunch Hunger campaign through Nutritional Services is an excellent example of helping ensure students can eat food while on campus.
However, there is an important step which Sinclair could take to help a significant number of students: Accepting food stamp EBT cards on campus. Aramark, the vendor contracted to operate the cafeteria, is (according to Wikipedia) an $8 Billion multinational corporation. I have spoken with some of their workers and some of them have food stamp cards themselves. Many students and part time faculty also rely on food stamps. I am confident that the college could request Aramark to make some qualifying food available to students to purchase with EBT cards.
Gas stations offer prepackaged sandwiches, orange juice, milk and salads available for EBT purchase. The University of Oregon and Humboldt State University have made food available for EBT purchase. It's time for Sinclair to do the same. If local gas stations and other colleges can accept EBT cards, I'm confident that a huge company like Aramark could find a way to do so.
I attempted to raise this issue in my recent campaign for the Student Senate but my speech with grossly edited and all comments about this matter were deleted prior to the campaign video being placed on the college Facebook page. My censored speech also addressed the need for lowering textbook prices in the bookstore and pointed out the great work Cedarville University has done in this regard. I will address the bookstore prices another time.
Now is the time for students, faculty and employees to communicate the need for a commonsense measure of allowing food stamps to be used on campus. I encourage all to join me in this endeavor and share your views with the President of Sinclair, Dr. Stephen Johnson.
Sincerely,
Forest Wilson
(forest.wilson@my.sinclair.edu)
Member, Phi Theta Kappa
Member, Student Senate