The end of 2016 is going to be packed with movies release around and between the holidays. There are movies set to be released that range from animated Disney films to movies based on video games. With the semester coming to an end, and winter break starting soon, this would be the time to get out and go see some upcoming films.
One of the most anticipated movies is the Disney animated "Moana," pronounced, MOE-ahna. The trailer shows the story of a young woman on the search for a demigod named Maui. Together they will have to defeat a fabled monster in order to save Moana's home island. Notable voice actors include Dwayne Johnson as Maui and Auli'i Cravalho as Moana. "Moana" will be released to theaters on November 25.

Billie Bob Thornton is making his comeback as the terrible Chris Kringle in "Bad Santa 2." The trailer shows a laugh out loud comedy featuring Thornton, along with Kathy Bates and Tony Cox, going across the country to steal from a charity organization. "Bad Santa 2" will be in theaters on November 25.
Following with the holiday spirit, "Office Christmas Party" will be hitting theaters on December 9. The movie is centered around a branch manager, T. J. Miller, throwing a Christmas party to close a deal with a customer so the CEO, Jennifer Aniston, doesn't shut down his branch. With a cast lineup also including Jason Bateman and Kate McKinnon, the film previews alone offer audiences plenty of laughs between guests having access to an open bar and furniture flying through windows.
For all the Star Wars fans there will be a new film coming this winter. "Rogue One: A Star Wars Story" is not part of the latest trilogy that includes "A Force Awakens," but it does take place within the Star Wars timeline. The film follows the Rebel Alliance as they attempt to steal the plans for the Death Star so "Rogue One" is set in the timeline before "A New Hope" (which is part of the original trilogy.) The cast features Felicity Jones as the lead, Jyn Erso, along with Forest Whitaker and James Earl Jones reprising his role as the voice of Darth Vader. "Rogue One" will be in theaters on December 16.
Fans of action and romance get a combined theatrical experience with the release of "Passengers." Set in the future, "Passengers" shows a spacecraft transporting hibernating people to a distant planet colony when a malfunction occurs waking just two of the people. Played by Jennifer Lawrence and Chris Pratt, the film follows their love story and action as they connect and overcome more obstacles and malfunctions within the spacecraft. "Passengers" will be released to theaters on December 23.
"Sing" is another animated comedy coming out this winter. From the creators of "Despicable Me" and "The Secret Life of Pets" comes a heart-warming, laugh out loud film about a koala trying to restore his theatre by producing a singing competition. The powerhouse cast includes Matthew McConaughey as the aforementioned koala, Reese Witherspoon as a mother pig to 25 piglets and Seth MacFarlane voicing a mighty-mouthed mouse. Scarlett Johansson, John C. Reilly and Tori Kelly will also be voicing animals. Get ready to sing your heart out on December 23 with this vocal cast.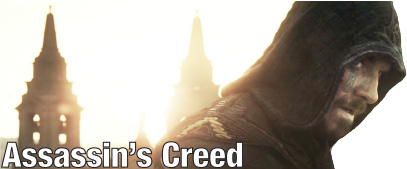 Fans of the fantasy/action video game series "Assassin's Creed" will be delighted to know that the movie based on said video game will hit theatres on December 23, as well. The film follows Callum Lynch, played by Michael Fassbender, as he explores memories of his ancestor Aguilar (also played by Fassbender) and gains the skills of the Master Assassin. The trailer for "Assassin's Creed" gives audiences the thrill of an action-packed adventure while still offering the fantasy of forgotten lands and times.

James Franco and Bryan Cranston will be going head to head in the comedy "Why Him?" this winter. Cranston plays a father trying to protect his daughter, played by Zoey Deutch, from her young, rich boyfriend (Franco.) The film follows Franco's antics of trying to woo the family and Cranston not buying into the kindness. The film is set to release December 23.
Whether audiences are looking for laughable comedies, exciting adventures or family-friendly animated movies, this winter is sure to be full of cinema dates.
Brittany Fletcher
Designer/Intern