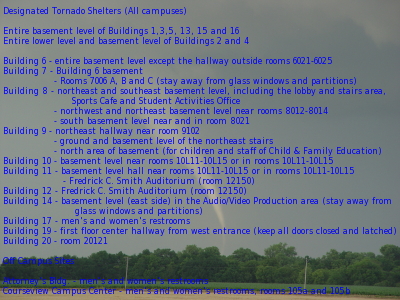 April through June typically has been Ohio's tornado season. Sinclair Community College students should familiarize themselves with the safest places on campus, should a twister touch down.
The basement level of any building would be the best place to be during a tornado. Stay away from large, open areas such as atriums, the gym, the field house, Blair Hall, the Building 12 auditoriums or any wide, free-span roof.
A classroom or office away from outside walls would be the next best place to be. Take cover under a sturdy piece of furniture and assume a curled position to protect your head and eyes.
The elevators should be reserved for physically challenged persons and any able bodied persons should use the stairs to avoid the elevators becoming overloaded. An announcement will be made when the all-clear signal is given.