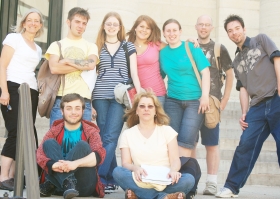 On June 10, 2008 Professor Adrienne Cassel's creative writing poetry class took a wild trip on the RTA.
In Cassel's poetry class the students are required to read their poetry in a public setting. Cassel left the choice up to the students, who chose the RTA as the setting where they would read the poetry aloud. Student Thomas Valentine reasoned that reading poetry on the RTA, "Might be a chance to brighten somebody's day."
The students traveled several blocks down W. Third St. to the RTA Downtown Hub to catch Bus 16. After waiting roughly 20 minutes, Bus 16 arrived at the Downtown Hub. Cassel and her students all entered the bus and sat at the back.
As soon as the bus started driving away from the hub the students began to read their original writings. The noise of the bus drowned out the sound of the students reading their poetry but some of the bus patrons looked towards the back of the bus with very bemused looks. All of the students clapped after each poem was read which drew more attention to poetry reading. One of the bus patron's came to back of the bus and complained about the loud clapping. She then decided to join the students at the back of the bus. She introduces herself as "Linda" and after hearing some of the poems decides to read an E-mail she had received. The bus patrons were less than receptive to poetry with some of the patrons shouting a couple of belligerent statements at the students.
Professor Cassel realized that it is time to start heading back to Sinclair Community College. All of the students exit the bus.
After walking 2 blocks up Fernwood Ave. the class reached the bus stop. A few minutes later Bus 7 arrived and the class all climbed aboard the bus. This time the students sat toward the front of the bus and resumed the poetry readings.  The patrons on Bus 7 seemed less hostile and more intrigued. Some of the students began reading poetry by different people. One student read poetry of the late rapper, Tupac Shakur.
Bus 7 reached the Downtown Hub not too long after catching it. Student Megan Paugh said, "[she] wasn't too excited about it," at first, but expressed that after going through it "[she] really liked it."
The students and Professor Cassel walked off the bus and prepared to head back to Sinclair. After setting out on a simple journey to read poetry on the RTA, the students and Professor Cassel walked down W. Third St. away from a weird, yet memorable trip.