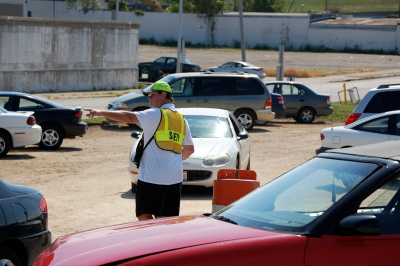 Parking can get hairy on a campus where the majority of students commute.
Sinclair Community College students flock to the main campus, especially the first few weeks of each quarter, making it almost impossible to find a good parking spot.
"In four years of attending Sinclair, this is the most traffic I have ever seen," said student Erica Allen. "Everything seemed organized, it was just the volume that was the problem."
The main parking garage (Lot A) has 2,750 parking spaces. Lot K, which sits next to Building 13, holds 383 cars. Overflow lots are used for the remainder of student parking.
Lots F and G sit just off the main campus and holds 566 cars (including the top lot). Welcome Stadium also is used and holds 1,000 cars, with a free shuttle providing transportation to both.
"The first couple of days, some students look like deer caught in the headlights," said Gale Wagner who works part-time as parking security.
Wagner worked in Lot F the first day of classes and said cars started pulling in around 9:30 a.m. and the lot was full in about an hour. He also said that the first weeks are when traffic is the heaviest.
"Students start dropping classes or sharing rides with friends and around the middle of each quarter, traffic falls off somewhat."
First-year students often never see the parking problem coming.
"I believe everyone should be able to park in the garage close to campus," said first-year student Whitney Johnson. "It is ridiculous."
Even long-time Sinclair students were shocked at the amount of traffic the first day, but some understand the problem of cramming so many cars in a small place.
"It is an inconvenience, but there are so many students, I don't know how they can improve it," said student Stephanie Perry.
There is really only one tip to get those prime parking spots.
"If you have morning classes, get here early," said Richard Kirkendall, general manager of parking management. "The earlier you get here, the better shot you have at closer spaces."