Dayton Poetry Slam, the area's premier event for local poets and fanatics of the spoken word, serves up freshly written syllables and timeless works bimonthly at a location not far from campus.
On the first and third Sunday of each month, artists from the Dayton area congregate in the Yellow Cab Tavern at 700 E. Fourth Street for rounds of open mic poetry and featured artists from across the country as well as slam poetry competitions.
This year marks the twentieth anniversary of the Dayton Poetry Slam, even though it hasn't occupied the Yellow Cab for two whole decades.
"It originated in 1999 over at Canal Street Tavern," mentioned Lincoln "Link" Schreiber, a professor at Strayer University and co-host of Dayton Poetry Slam. "It was originally hosted by Bill Abbott and Drew Perfilio, and there was another open mic called the Dayton Poetry Slam that was really just an open mic before that one."
"Link has been hosting for about 17 years; it's been around for about 20," Breanna "Quiet Storm" McGowan, another co-host of the slam, said. "Almost 21, almost legal to drink. We'll see."
In addition to Schreiber and McGowan, the slams are also co-hosted by Dayton poet Johnathon Gallienne.
During a month's first slam event, two rounds of open mic are split by a featured versemaker. These artists can be local or from across the region or country. Earlier this month, Cleveland-based poets Damien McClendon and Ephraim Nehemiah traveled to Dayton for their spotlight.
Meanwhile, Kwyn "Kwynology" Riley, a Chicago-born poet, journeyed to the Yellow Cab last November to perform for a packed audience.
The second slam event of a month has a round of open mic followed by a slam poetry competition. During the three-round tournament, participating poets must recite an original poem in under three minutes and 10 seconds and their time on stage is subject to critique by a panel of judges.
Each performer can earn a maximum of 10 points from each judge and is eligible to receive a maximum score of 30 points, with the highest-scoring competitors advancing to the next round. The winner of the slam that month earns $100.
When asked about what aspect she enjoyed the most about the Dayton Poetry Slam, McGowan had a simple response.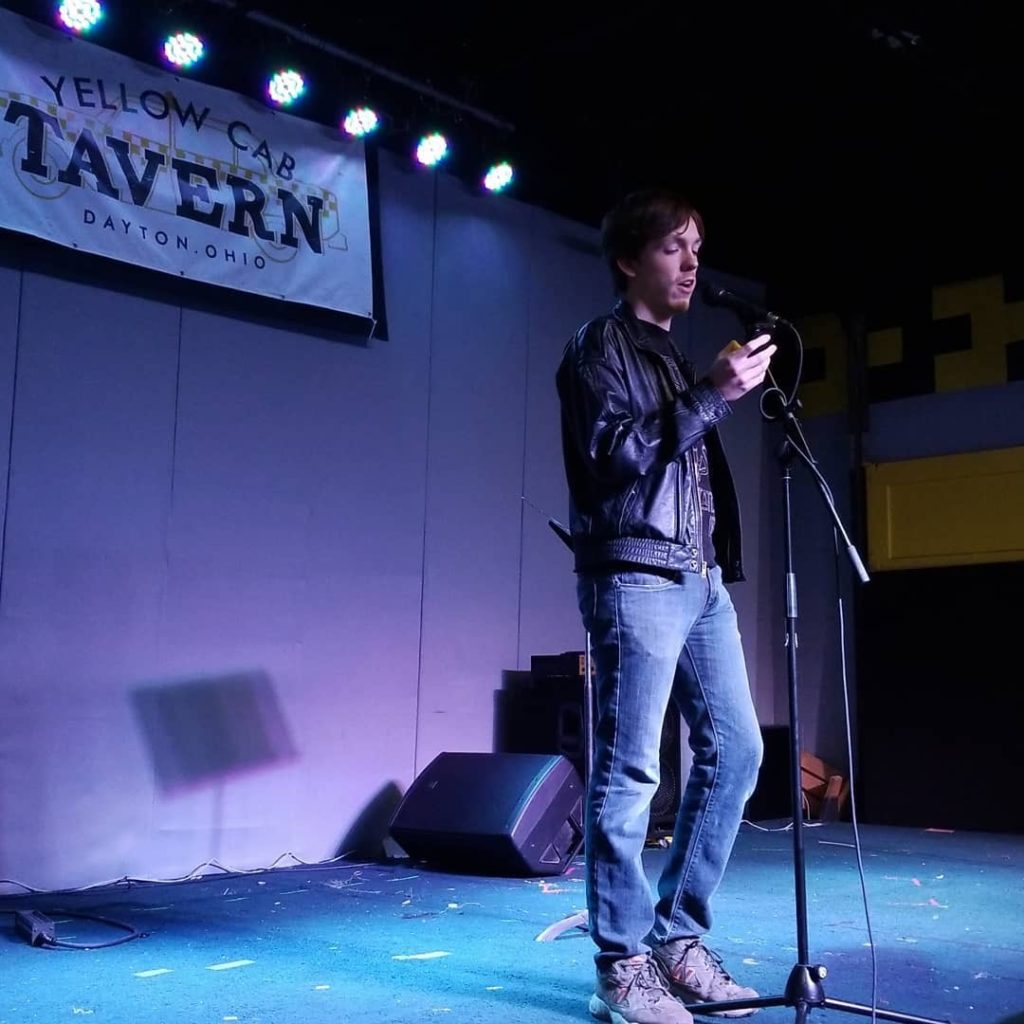 "I think, discovering new talent. I really like seeing new artists hit the stage and people that have been in our audience for a while and then decide to get up, and they're amazing writers. They're like 'oh, I actually can do this' and I'm just like 'I told you this three months ago!'"
"I just really enjoy the community of people that are in it," explained Coco Zhang, a local poet and avid participant in Dayton Poetry Slam events. "They're always really encouraging. It's just, like, a place where we can all come and kinda share our s*** and there's no judgment or anything."
Last October, Dayton Poetry Slam sent one of its poets to San Diego to compete in the Individual World Poetry Slam (IWPS) for the first time in over 10 years.
That poet was Yahel "Y The Poet" Pack, a revered local artist and senior airman with the National Air and Space Intelligence Center (NASIC) who has won the last four slam competitions hosted at Yellow Cab.
Pack ended up placing 50th in the San Diego slam.
"It was an eye-opening experience to have people relate to my very personal poem," he explained in an interview with NASIC Senior Airman Samuel Earick. "I realized people may have gone through the same things I have or know of someone who has and hearing it could help them in some way, if not only to provide solace in the fact that they aren't isolated."
Along with the hope that she might best Pack one day, one other aspect of the slam keeps Zhang coming back.
"I really enjoy, like, sharing my work and stuff. It's a great place to be able to do that."
Future events coming to Dayton Poetry Slam include a regional competition over Labor Day weekend and celebrations for their 20th anniversary this August, along with continued writing prompts posted to their Facebook, Instagram and Twitter accounts.
"We've got a lot of great features lined up," Schreiber commented. "We've got a New York Times best-selling author coming in November, so we've just got a lot of great stuff on our horizon."
"They should just come out and experience us, because a lot of people are hesitant, like, 'oh, I don't like poetry that much' or 'I don't know what to expect'," stated McGowan. "I just say, come to one show and see if you like it. That's all we ask; one show, and just experience it."
Admission for the slam is $2 at the door. Sign-ups for poets who are partaking in that night's slam begin at 7:00 p.m. and each show starts at 7:30 p.m.
Maxwell Patton
Reporter