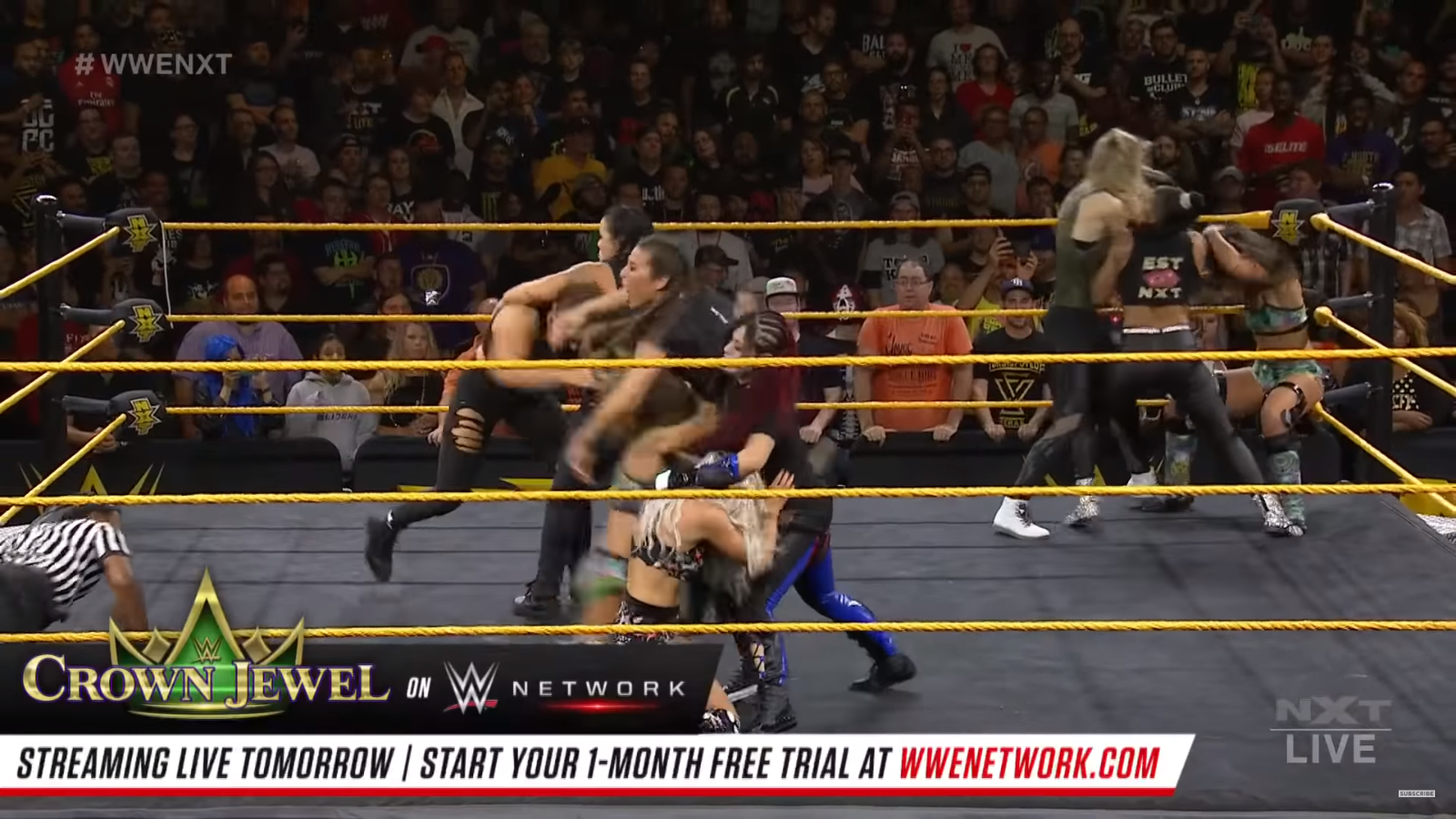 One week after Finn Balor shocked the world and laid out Johnny Gargano, what will be the next message "Prince" leaves on NXT.  The landscape of NXT continues to change and with NXT TakeOver on the horizon, how will the card take shape and who will be the next contenders for the Undisputed Era's gold?
Io Shirai v. Candice LaRae
For months, these two have been in each other's crosshairs. These once best friends have sought out to destroy one another. This night was the night to settle the score once and for all. These women know what a win would do for each of them. A win would raise their stock and raise them up the ranks to possibly become the next #1 contender for the NXT Women's Championship.
The match began fast and impactful. Each woman knew each other like a book. They were aware of nearly every strike and move that each were about to throw.
However, a costly risk by Candace helped give Io the advantage in the matchup. Io would go on to dominate Candice and wear her down. But, she has the heart of a warrior.
Candice would fight back with all her might. Which enraged Io as she brought in a steel chair into the ring. Candice would defend herself from the steel chair, but as Candice looked to hit a moonsault, Io moved which led to Candice landing on the steel chair. Io would then cover Candice for the pin and the win.
After the match, Io attacked Candice. But, Rhea Ripley came down for the save and locked eyes with Io. Which one of these two will become the #1 contender for the NXT Women's Championship?
Related Articles: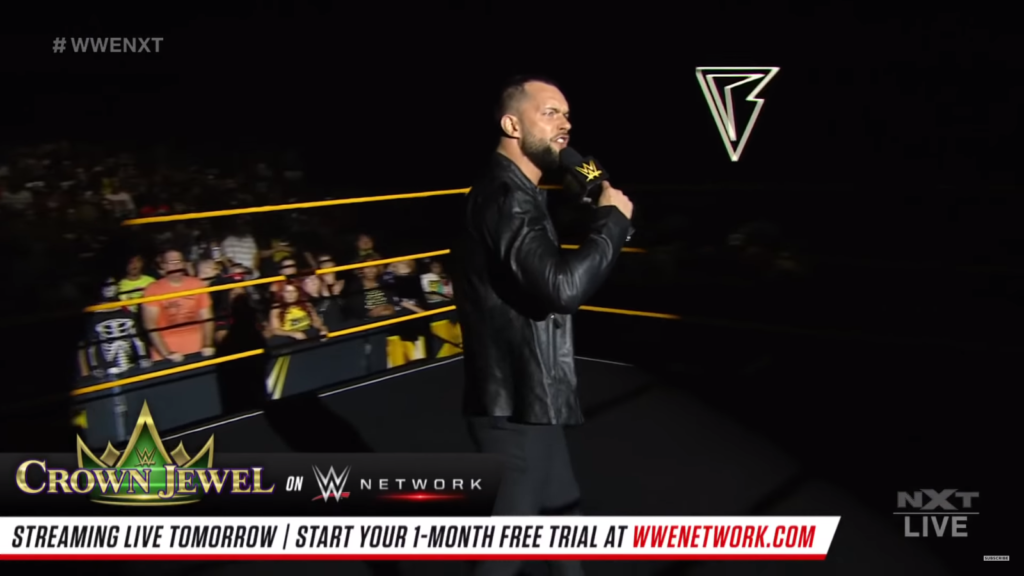 Finn Balor is NXT
Finn Balor is a new man after his hellacious attack last week to Johnny Gargano. Especially in his entrance. There was no Balor Club sharing the light, only him.
He came down to state that NXT is a bunch of guys who like watching this business. He stated they should be out there in the crowd because that is where they should be. He stated that he has taken his mask off and has become the talk of professional wrestling.
He concluded with Johnny Gargano. He stated that if he ever gets in his way again, he will end up right back in the hospital. He will no longer be Johnny Wrestling, he will be Johnny watches Wrestling as it should be.
The new Finn Balor is the best Finn Balor. The stigma that he no longer the smiling happy go lucky wrestler. He is now a wrestler who is taking no prisoners in his path, no matter who the hell they are. Finn Balor helped put NXT on the map, now its time for NXT to put Finn Balor back in the spotlight.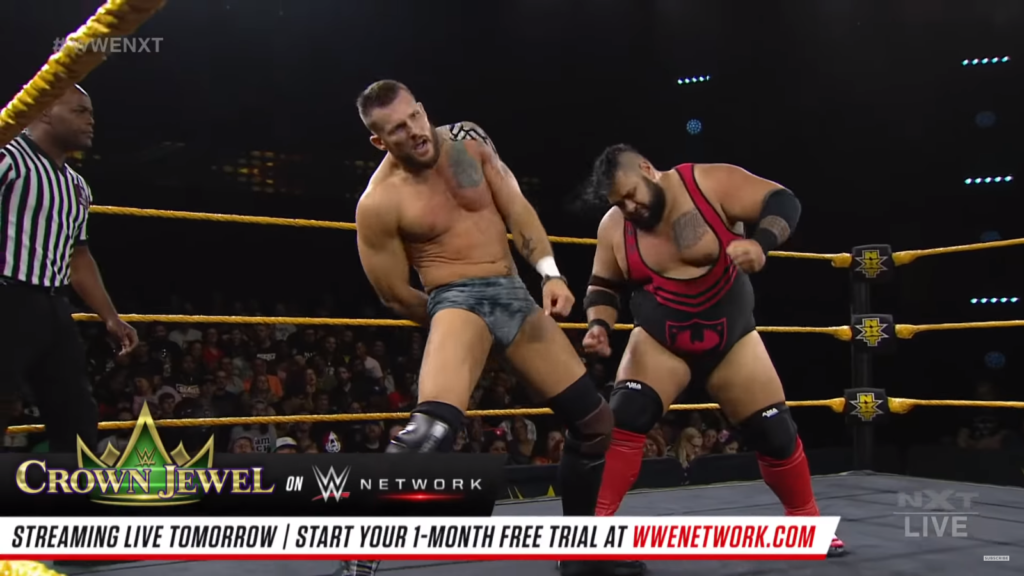 Shane Thorne v. Bronson Lee
Two up and coming wrestlers coming through the ranks of NXT look to prove their worth. 
The match begins fast as Shane looked to use his impressive knee strikes to quickly take down the larger Bronson Reed. However, Reed was not going to go away lightly.
The two would wage a back and forth war with no one clearly taking advantage. Shane was able to get the over 300 lbs. of Bronson perched on the top rope and looked to end the match. However, Bronson was able to launch Shane from the top rope and followed up by a massive splash for the pin and the win.
The Kabuki Warriors v. Dakota Kai & Tegan Nox: WWE Women's Tag Team Championships
Last week, Dakota Kai and Tegan Nox won an opportunity at the WWE Women's Tag Team Championships. However, to win the championships, they must defeat Asuka & Kairi Sane, a duo who has been making a strong impact as of late with their new dangerous personas and Asuka's use of the green mist.
The two teams brought the very best out of one another. The two teams knew the high stakes of this matchup. However, the Kabuki Warriors exposed the weakness of Kai and that being her previously injured knee.
However, once Nox and Kai got rolling it seems that they were en route to the win, however, Kairi distracted the referee, which allowed Asuka to use her green mist to blind Dakota. Then, after an Asuka kick knocked out Dakota, Kairi was able to hit the Insane Elbow for the win and retain the WWE Women's Tag Team Championships.
After the match, Shayna Baszler and her Horsewomen trio came down and looked to attack Tegan. However, a massive brawl ensued as Rhea Ripley, Io Shirai, Candace LaRae came down.
NXT officials attempted to split the women up, until NXT GM William Regal announced that there is only one way to end this chaos and that is WAR GAMES! For the first time in history, there will be an all-women War Games match at TakeOver.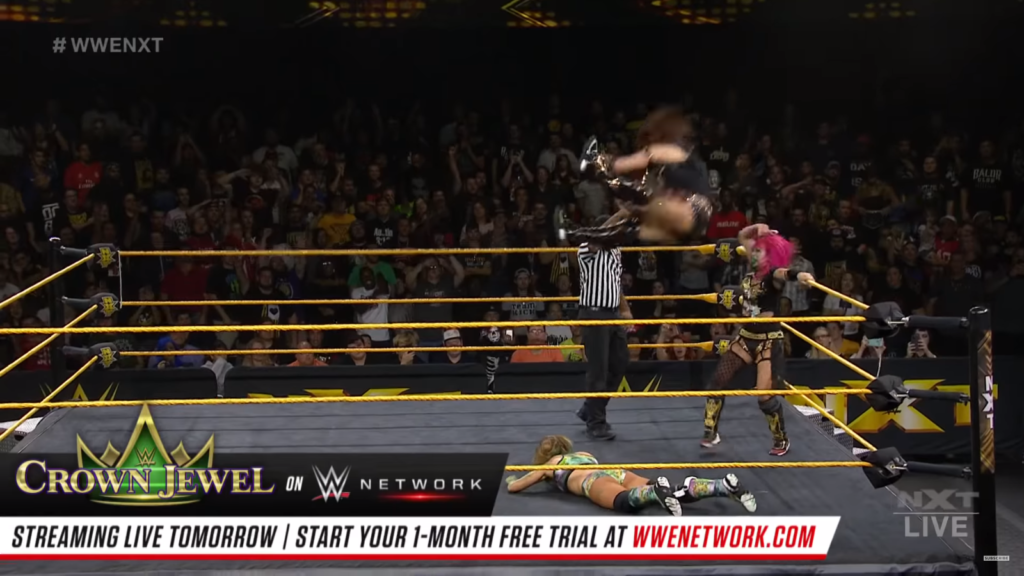 Tyler Bate v. Cameron Grimes
The former first-ever WWE United Kingdom Champion Tyler Bate made his return to the ring at Full Sail to take on the tough as nails Cameron Grimes. Last week, Grimes attempted to get in the face of Bate, but Bate laid out Grimes with a massive right hand. Can Grimes overcome that to pick up a win that would boost his career?
The match began with a stalemate. A very technical and athletic start to an anticipated eye-opening matchup.
From massive suplexes, incredible counters and eye-opening dives, these two put on an incredible performance just as many thought they would. Tyler Bate seemed to be on the verge of victory; however, Tyler gazed over and locked eyes with Killian Dain. Which allowed Cameron to hit his massive stomp as Tyler Bate entered the ring for the pin and the win.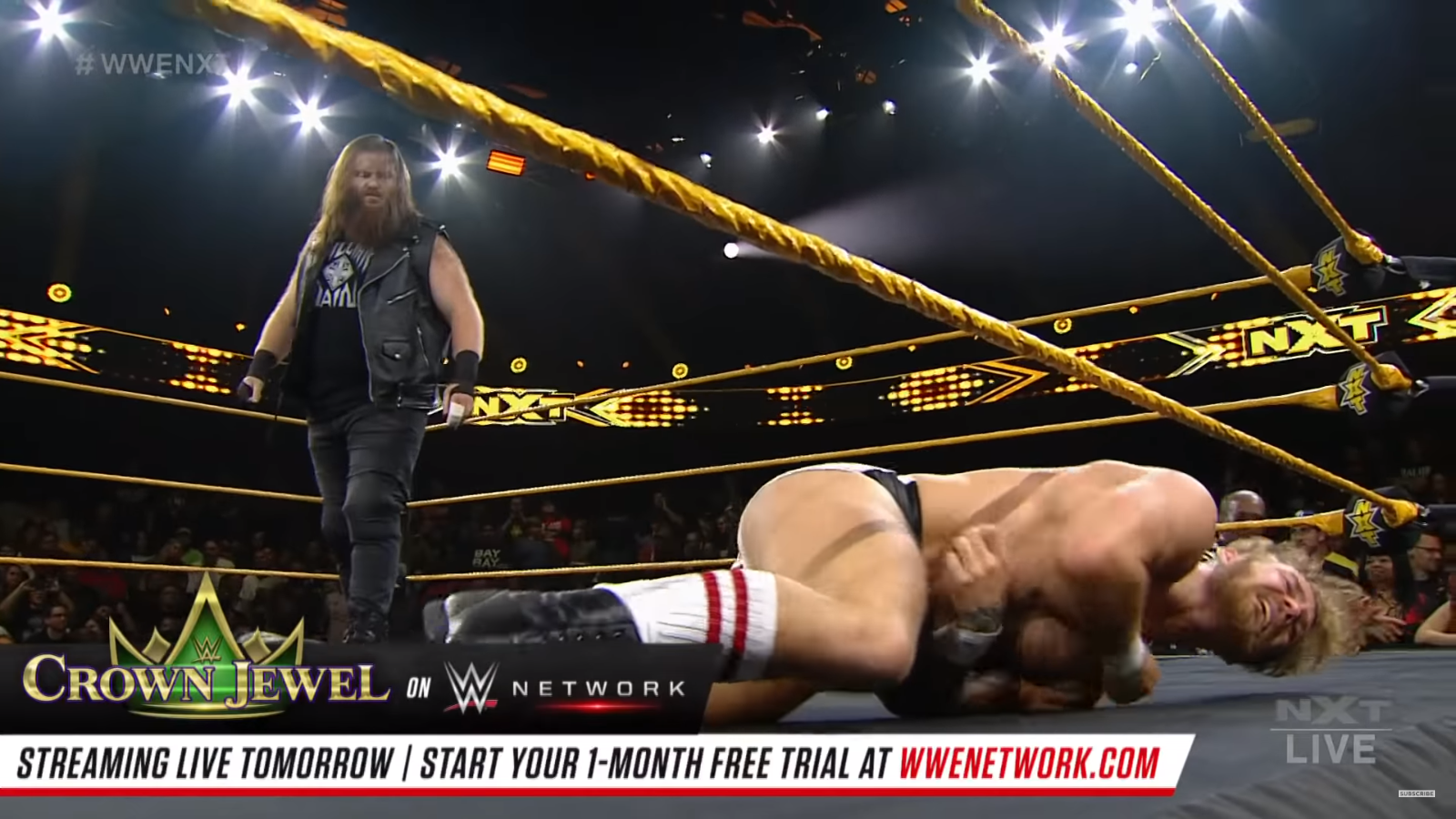 Kyle O'Reilly & Bobby Fish v. Matt Riddle & Keith Lee
The Undisputed Era has continued to run havoc all over NXT. However, there is a duo that looks to slow down their momentum and that is Matt Riddle & Keith Lee.
The Undisputed Era looked to get an early edge on Riddle & Lee by singling out Lee, but Keith Lee is the size of 2 wrestlers built into one. Lee and Riddle were able to then get the advantage by lighting up the chests of O'Reilly and Fish wish Lee's massive chops followed by a massive JackHammer by Riddle. The makeshift team of Matt Riddle and Keith Lee were taking it to the NXT Tag Team Champions. Can they continue the onslaught?
The Undisputed Era using their chemistry and history as a team were able to get the numbers game in their advantage by taking out one of Lee's knees which singled out Riddle. Every time Lee seemed to be gaining momentum, the duo of O'Reilly and Fish continued to double down on Lee. However, Lee is a machine and it would take an incredible amount to fully take down Lee. Lee was able to get the tag to Riddle, but the rest of the Undisputed Era came down to interfere, but Riddle and Lee both were able to take down Adam Cole and Roderick Strong. But, with Keith Lee distracted, Fish and O'Reilly hit the high low total elimination on Riddle for the pin and the win.
After the match, The Undisputed Era attacked Riddle and Lee. But, Tommaso Ciampa made his way to the ring and knocked down everyone from the Undisputed Era with a crutch. After Keith Lee was able to throw Kyle O'Reilly through the Undisputed Era, Tommaso locked eyes with Goldie.
Just as he looked to bring Goldie back into his grasp, he said Goldie will have to wait because Daddy's going to War. The second War Games match announced for TakeOver. Undisputed Era will have to go through War Games for the third year in a row and with Tommaso Ciampa, Keith Lee and Matt Riddle all having massive vendettas against them, who will be the fourth man that will align with the trio?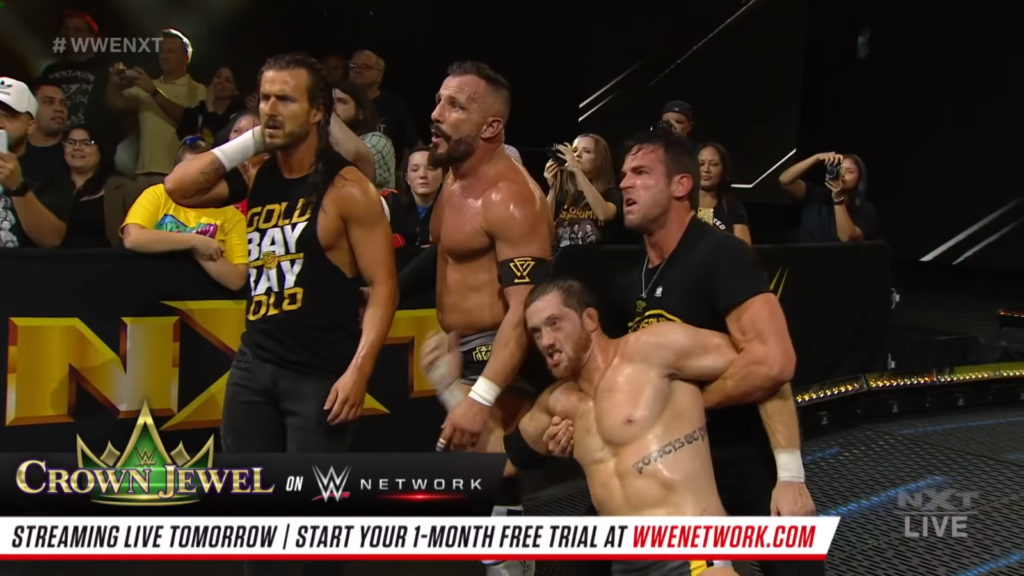 Conclusion
This is getting repetitive but NXT is must-see every week. NXT is continuing its momentum of being non-stop action and changing the face of professional wrestling. TakeOver is building towards being one of the best in history including not one but two War Games matches. Wednesday nights will never be the same.
David Jacobus
Staff Writer