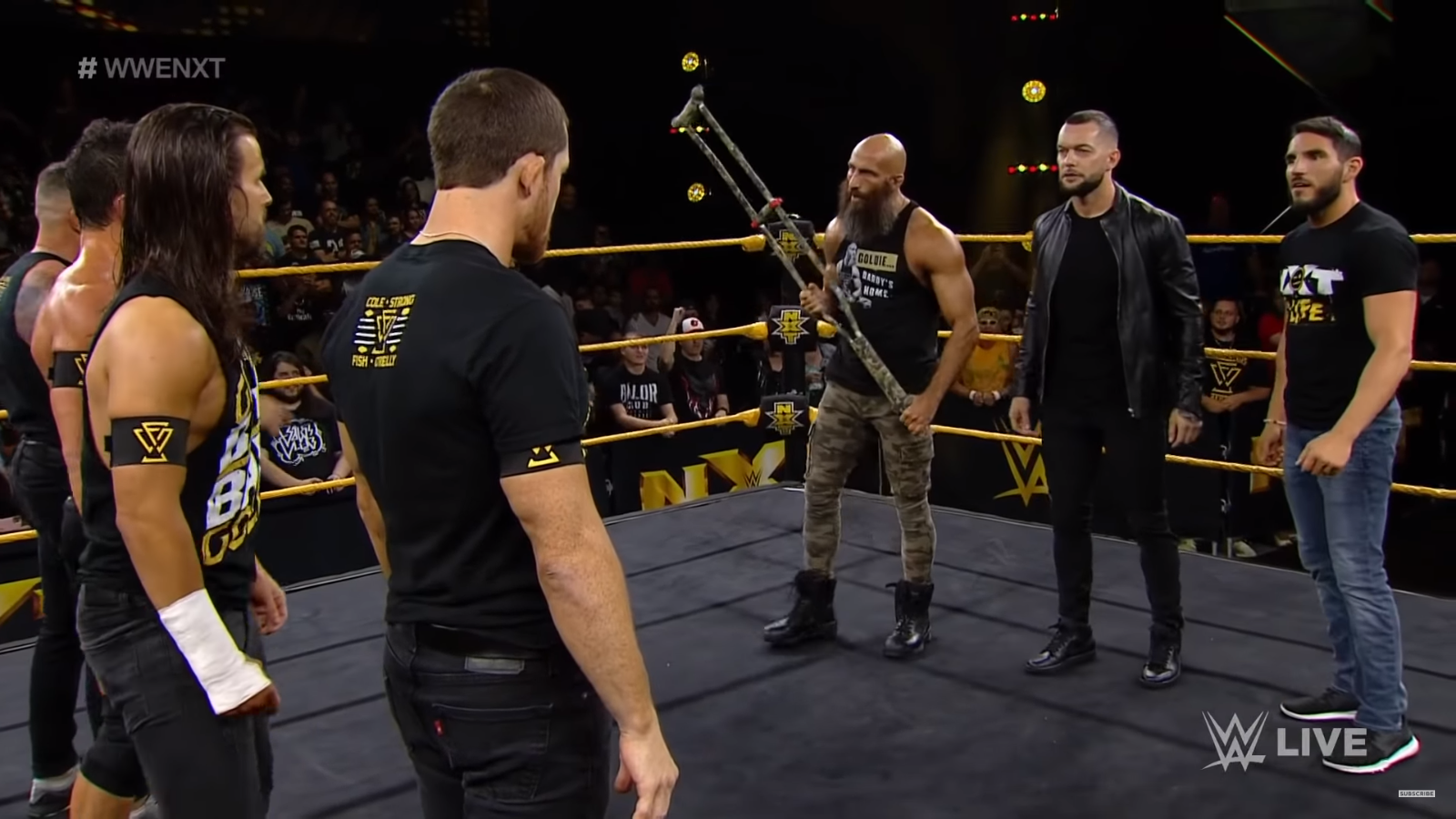 Arguably the hottest brand in sports entertainment braces themselves for another night of non-stop action.
With a triple threat for the NXT North American Championship on the card and the battle at the top to become #1 contender for the NXT Women's Championship, NXT is ready to have yet another incredible night.
Rhea Ripley v. Bianca Belair
NXT kicks off with a much-anticipated battle between two of the top women in the NXT Women's division. Both want a shot at Shayna Baszler and know that a win would go a long way in stating their claim as the next #1 contender.
This back and forth battle was action-packed with both ladies not giving an inch. In this first time ever contest between the two, both women did their homework. Each knew their opponent's next move step by step. Neither woman seemed to gain a strong enough advantage to gain the win.
Bianca gained an advantage over Rhea, however, she began letting her ego get the best of her.
Bianca's ego left an opening for Rhea to take advantage. But, Io Shirai made her way down to the ring and nearly cost her the match. However, Candice LeRae made her way and took out Io, which allowed Rhea to hit the Rip Tide for the pin and the win over Bianca.
Rhea is now one step closer at getting a shot at Shayna Baszler and the NXT Women's Championship.
Related Articles: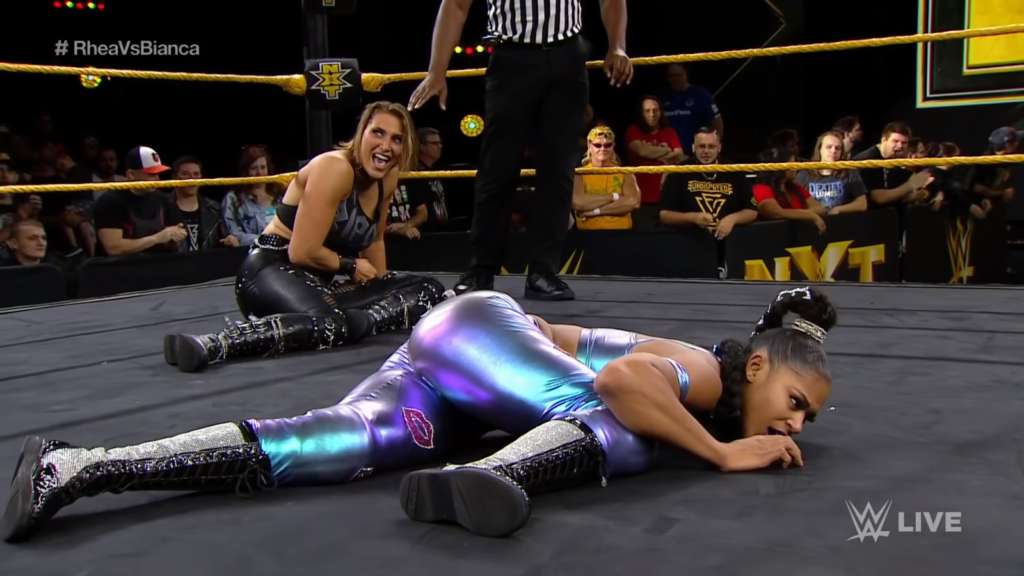 Matt Riddle v. Cameron Grimes
The Original Bro looks to continue the climb back up to try and get another shot at the NXT Championship, however he has to defeat the up and coming star Cameron Grimes.
Cameron looked to end it quickly just as he has done for the past few weeks with the Cave In double stomp, but Matt evaded and tried to take control.
This very technical and hard-hitting matchup started dominated by Matt Riddle, but the toughness of Cameron would not let Matt to find victory. Last week, Damien Priest defeated one of NXT's top stars Pete Dunne, lifting Damien's stock. Can Cameron Grimes do the same by pulling an upset on Matt Riddle?
NXT is the land of opportunity and a future star like Cameron Grimes made the best of it. Cameron gave everything in his arsenal, coming within milli-seconds in upsetting Matt Riddle. These two stole the show, just like every match NXT puts out. With the Full Sail crowd on their feet, these stars made an impact. However, it was Matt Riddle who was able to find an opening and hit his modified Neutralizer for the pin and the win.
After the match, Matt tried to show respect to Cameron by giving him a fist bump, but Cameron only worries about him and his hat. However, Matt gave a fist bump to Tyler Bate who was sitting at ringside, which Cameron took offense by shoving Tyler. But Cameron got a receipt by Tyler in the form of a massive left hand that knocked him out.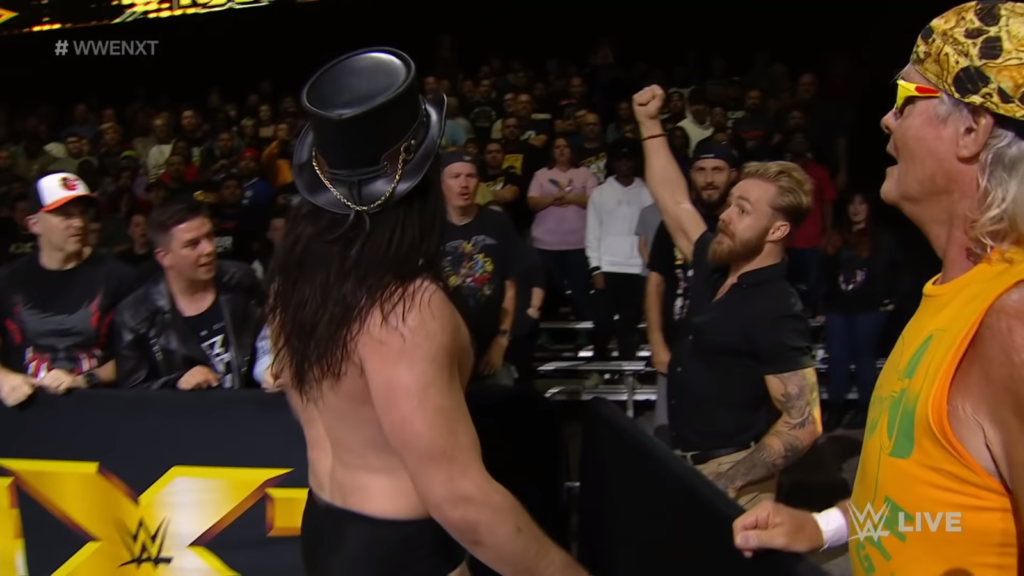 Breezango & Isaiah "Swerve" Scott v. The Forgotten Sons
For weeks now, The Forgotten Sons have continued to make their presence known to Breezango. They have continued to be a thorne in their side, but tonight, Breezango looks to finally get one up on the Forgotten Sons.
KUSHIDA was originally supposed to be the tag team partner, but he has been sidelined with injury. Meaning they needed to find a partner in the form of Swerve. Just weeks ago, Swerve opened eyes with his performance against Roderick Strong. Can he make another performance and raise his stock in NXT?
In a very competitive back and forth contest, Swerve and Breezango was able to gain the advantage which allowed them to gain a massive win for his team. Swerve has arrived and looks to continue to make moves in NXT.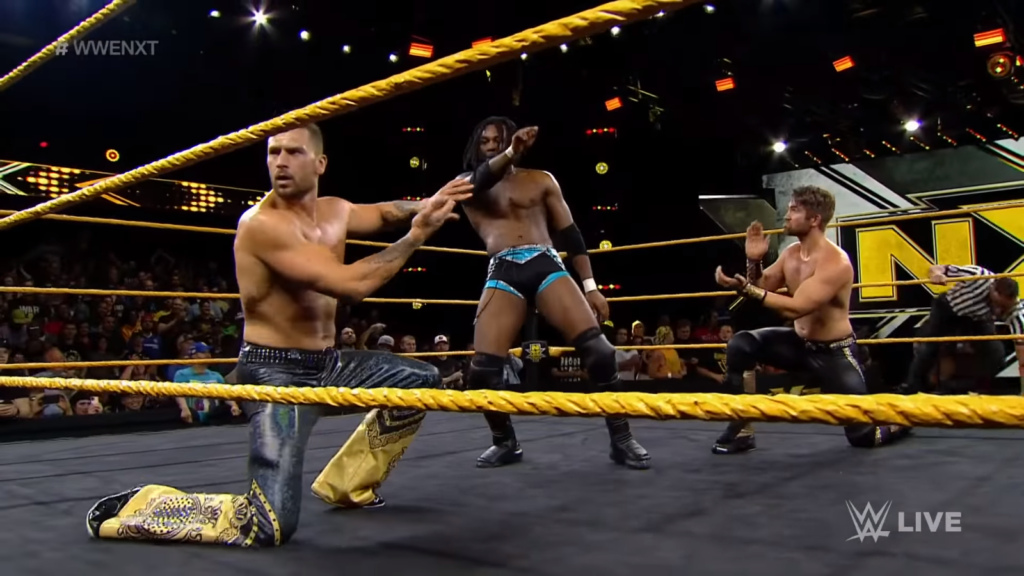 Angel Garza v. "Gentleman" Jack Gallagher
Let us shift the focus to the Cruiserweight division with the luchador style of Angel Garza taking on the catch wrestling style of Jack Gallagher. Both know a massive win could catapult them into a possible shot at Lio Rush and the NXT Cruiserweight Championship.
With Lio at ringside, it was time to impress and send a message. The clash of wrestling styles led to an incredible back and forth contest. Jack seemed to be closing in on victory, but Angel's awareness was able to lead to a massive springboard moonsault for the pin and the win.
Angel impressed the NXT Universe, including Cruiserweight Champion Lio Rush. After the match, Angel locked his eyes on Lio and the Cruiserweight Championship. Has Angel proved himself enough to declare himself #1 contender for the Cruiserweight Championship?
Dakota Kai & Tegan Nox v. Marina Shafir & Jessamyn Duke: #1 Contender for the WWE Women's Tag Team Championship
An opportunity of a lifetime stands in front of these two young teams because the winner of this match gets a shot at Asuka & Kairi Sayne and the WWE Women's Tag Team Championships next week.
The dominant style of Shafir and Duke looked to end this match early. But, the heart of Dakota and Tegan will not let yet another obstacle stand in their way of realizing their dreams. Dakota and Tegan continued to fight with every ounce in their bodies which ultimately allowed Tegan to hit the Shiniest Wizard for the pin and the win.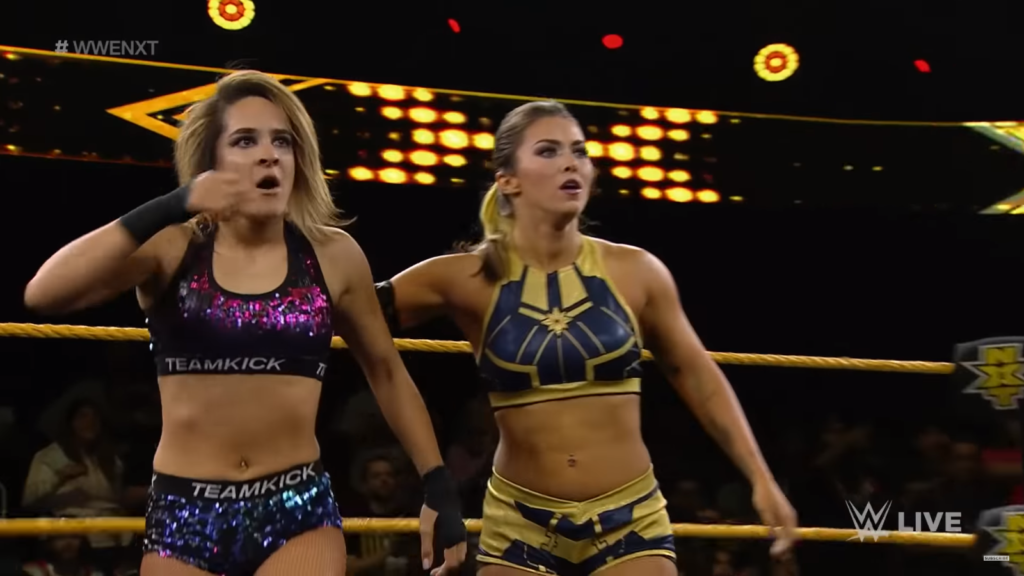 Tegan Nox & Dakota Kai have a chance of a lifetime in one week's time as they challenge for the WWE Women's Tag Team Championships. However, Asuka and Kairi Sayne made their presence known, sending a strong message to their potential challengers.
Roderick Strong v. Keith Lee v. Dominik Dijackovic: NXT North American Championship
Last week, Dominik Dijackovic and Keith Lee tore the house down with a hard hitting war and was supposed to end their historic rivalry. However, Roderick Strong interfered because the future of his North American Championship was at stake. But, his thought backfired because General Manager William Regal created this triple threat match for the NXT North American Championship.
Just as expected, this match started hot and heavy. Each man hit each opponent with impactful kicks and painful suplexes. Roderick has to be on the alert because he does not have to be involved in the decision to lose the North American Championship. But, facing two behemoths with the size of Keith Lee and Dominik Dijakovic, the challenge writes itself.
These three men wreaked havoc all over Full Sail University. These men hit each other with massive kicks, intense strikes, and hellacious slams. Keith and Dominik looked to finish what they started months ago so, they isolated themselves when they took out Roderick Strong. Dominik and Keith beat the hell out of each other yet again bringing the NXT Universe to their feet on every single move. Full Sail was on the edge of their seats, possibly close into seeing a new NXT North American Champion.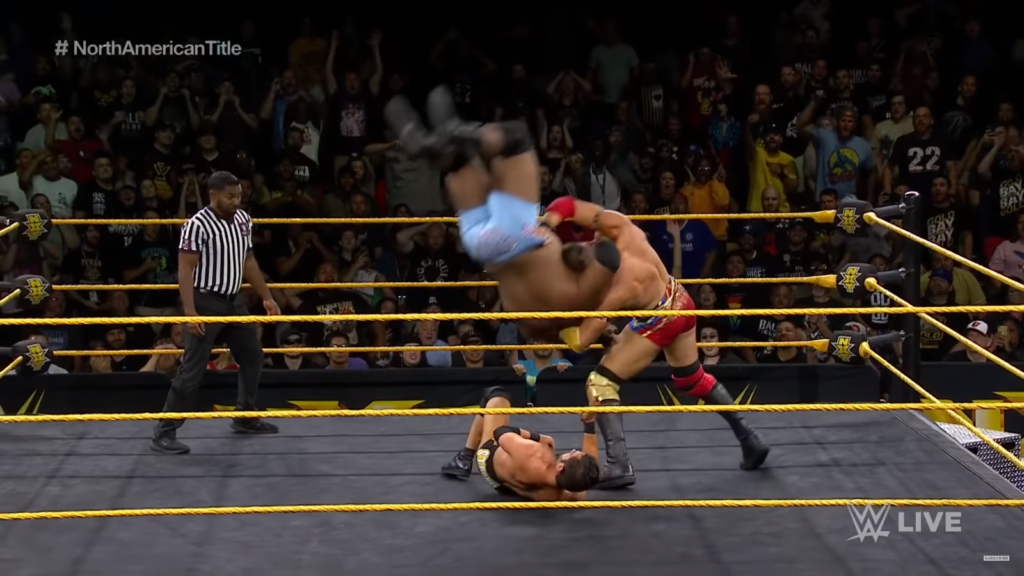 Keith Lee was able to hit a massive sit-down powerbomb from the second rope, but before he was able to go for a pin, Roderick hit a massive boot to Keith for the pin and the win. The Undisputed Era is still draped in gold.
After the match, Undisputed Era attacked Keith Lee, but Tommaso Ciampa made his way down to the ring and not too far behind him was Johnny Gargano.
The two still didn't have the numbers game in their advantage so Finn Balor made his way to the ring and seemed to be on the side of Ciampa and Gargano; however,  in a sudden motion, Balor delivered an overhead kick to Gargano and the Undisputed Era jumped Ciampa. While the Undisputed Era laid out Ciampa in the ring, Balor delivered a massive drop kick laying out a Johnny Wrestling on the barricade and then delivered a Bloody Sunday on the ramp.
The show concluded with Balor and The Undisputed Era locking eyes. Has Finn Balor joined Undisputed Era?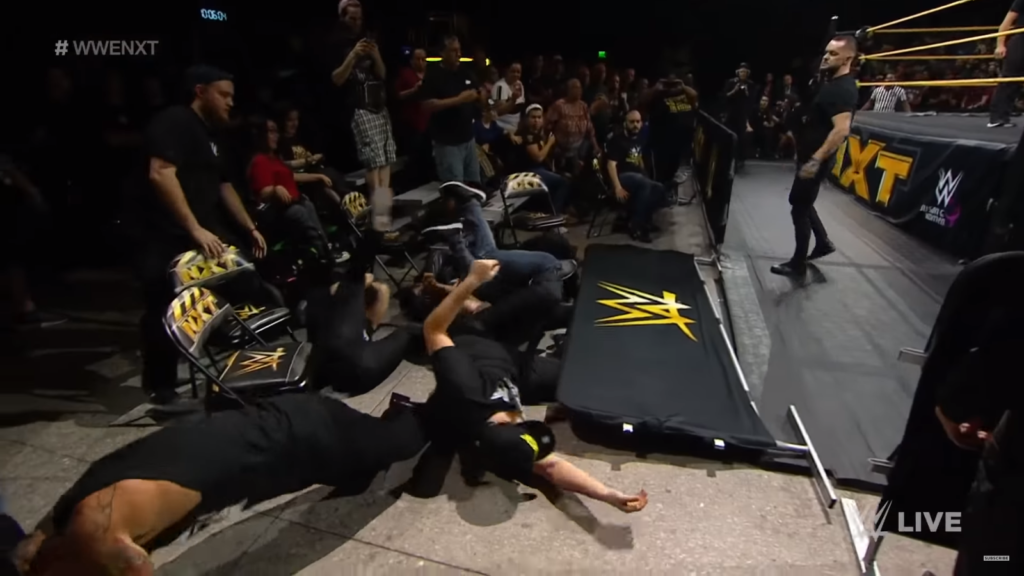 Conclusion
What a shocking ending to a great night of NXT action. The best heel turns happen when we least expect it. Now we are possibly getting Johnny Gargano and Finn Balor facing off sometime in the near future. Also, the women's division in NXT continues to grow to be the best women's division in sports entertainment. Wednesday nights will never be the same.
David Jacobus
Staff Writer