Released on Netflix on Feb. 15, 2019, "The Umbrella Academy" has been met with generally positive reviews for its first season. The show is a superhero series that is based on a comic series by the same name written by Gerard Way (the former frontman of My Chemical Romance) and Gabriel Bá, which is published by Dark Horse Comics.
   For the television series, it is developed by Steve Blackman and Jeremy Slater. The executive producers are the aforementioned quartet along with Scott Stuber, Beau Bauman, Mike Richardson, Keith Goldberg, Peter Hoar and Jeff F. King.
   Other producers are Kevin Lafferty and Sneha Koorse while the cinematography is done by Neville Kidd and Craig Wrobleski. The editors are Jon Dudkowski, Timothy A. Good, Amy Duddleston, Wendy Tzeng, Todd Desrosiers, Brian Beal and Amanda Panella.
   The composer is Jeff Russo, who did the soundtrack for the 2017 game "What Remains of Edith Finch" and the ongoing series on FX "Fargo."
   "The Umbrella Academy" is produced by a handful of companies, namely Borderline Entertainment, Dark Horse Entertainment and Universal Cable Productions.
   Originally, the adaptation began development as early as 2011, though it would've been as a film under Universal Pictures.
   However, that idea was put on the backburner in favor of switching it to its current medium in 2015. It was officially greenlit in 2017 for Netflix, leading it to where it is now.
   The first season is only ten episodes with each episode running for around 45 minutes to a full hour.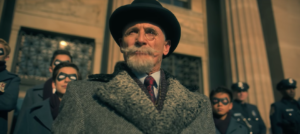 The premise of the series is that on Oct. 1, 1989, nearly fifty women give birth simultaneously despite a lack of signs pointing to pregnancy prior to the time. From that, seven children are adopted by a strange billionaire named Sir Reginald Hargreeves. He enlists them in "The Umbrella Academy" and turns them into a superhero team through the academy.
   However, instead of giving them names (as most would), the children are numbered until their robotic nanny gives them proper names to go by (except for one).
   In the modern day, the siblings have become estranged from one another and only meet at Sir Reginald's funeral, where Number Five returns from the future to reveal that an apocalypse is imminent.
   The main protagonist of the seven siblings is Vanya Hargreeves, originally known as Number Seven. She is a violinist with a more reserved personality and no apparent powers like her siblings, isolating her from them to an extent. She is portrayed by Ellen Page.
   Luther Hargreeves is Number One, also known as Spaceboy. He's an astronaut that has super strength that lived on the moon for four years. His actor is Tom Hopper.
   Allison Hargreeves is Number Three with the codename The Rumor. She's a celebrity that can manipulate reality by beginning a sentence with the phrase "I heard a rumor…." Allison is played by Emmy Raver-Lampman.
   Robert Sheehan plays Klaus Hargreeves, also known as Number Four. He is called The Séance and has the ability to communicate with the dead.
   As implied previously, Number Five (who only has that for a name) has the ability to jump through time and space.
   He is trapped in the future for decades and returns to warn of the apocalypse and, by doing so, is returned to his thirteen-year-old body. He is played by Aidan Gallagher.
   Finally, Number Six is given the name Ben Hargreeves, also called The Horror. Underneath his skin, he has monsters from different dimensions. From the start, he is deceased, though he does show himself to Klaus at times to help. He is portrayed by Justin H. Min.
   Overall, "The Umbrella Academy" has received positive reviews for the cast and visuals, but the tone and pacing tend to be criticized. Rotten Tomatoes has given it a 76 percent approval rating while Metacritic has given it a 62 out of 100.
   Netflix has reportedly renewed the show for a second season, with production set to begin in late 2019.
Erika Brandenburg
Arts and Entertainment Editor