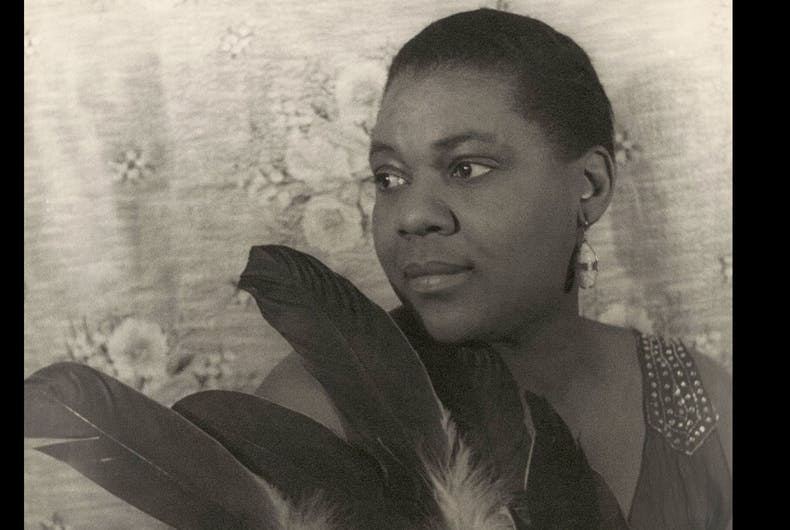 Ferociously fearless, these women dared to defy convention. Their awe-inspiring, rip-roaring voices achieved notoriety, as they bemoaned the pain of bitter love or proudly hailed themselves as strong, independent beings of unfathomable greatness–as women.
April marks National Black Women's History Month– 30 days in which we honored the bold and brilliant women who defined history. In accordance, we must celebrate the women who charted their own paths and paved the way for fellow women in music. We must recognize the leading ladies of the Blues. 

Elizabeth "Bessie" Smith was born on April 15, 1894 in Chattanooga, Tennessee. Smith led a life distinguished by immense success and sorrow. One of seven children, Smith was the daughter of William and Laura Smith. Both tragically passed when Smith was nine years of age, thus forcing her eldest sister Viola to raise Smith and her siblings.
At a young age, Smith showcased a propensity for music and performing–a passion that was greatly encouraged by her older brother, Clarence, who was a musician himself. It was Clarence who secured an audition for Smith with the Moses Stokes Company.
Stunningly, Smith quickly rose to stardom following the audition. First, Smith was a dancer; by 1914, she had ascended to a soloist whose popularity paralleled the famous Ma Rainey–who, as legend has it, mentored the young Smith. Later, in 1915, Smith would join the musical icon in a slew of assorted minstrel shows, even concocting her own called the Liberty Belles Revue, that propelled Smith's reputation as a multifaceted entertainer nation-wide.
In 1923, following a brief and unsuccessful stint to secure a deal with Okeh and Black Swan Records, Smith signed onto Columbia Records. Here, her debut releases, "Down-Hearted Blues and Gulf Coast Blues" became instantaneous hits. Afterward, Smith procured three more hits that "[established] the singer as one of the top blues acts in the country" according to NNDB.com.
Tumultuous, 1929 "proved difficult to be a difficult year for Smith," NNDB details. Though she had accumulated much prestige and stardom, her personal life faltered as her marriage to Jack Gee came to a screeching halt, resulting in Gee robbing Smith of her beloved niece and adopted son. Consequently, Smith's Broadway show "Pansy" was released with brute disdain from critics and resulted in an abrupt closing a mere three days later. The final blow: the stock market crash. Hauntingly remembered as "Black Tuesday", the crash of '29 dramatically impacted Smith's viewership. Nonetheless, Smith perseveres by maintaining a bootlegging operation to support her musical endeavors.
1933's "Give Me a Pigfoot" was a silver lining for Smith, as gigs and assorted opportunities presented themselves throughout the 1930s, like "a one-night booking to replace Billie Holiday at Connie's Inn in New York [that] extended into a residency of two months" and "invitations to perform at prestigious venues such as the Savoy Ballroom and the Apollo" NNDB wrote. Notably, Smith accepted a prestigious role for a tour of the Broadway Rastus show in 1937.
Accompanied by her significant other Richard Morgan, Smith was traveling from Tennessee to Mississippi when their vehicle collided with a truck. Though Morgan was unscathed, Smith "sustained a serious injury to one of her arms" NDDR illustrates. An ambulance rushed onto the scene. Smith received extensive medical care while the ambulance hurried to transport Smith. Ten hours before arriving at the nearest black hospital in Clarksdale, Smith had been already pronounced dead. Smith was buried in an unmarked grave.
Since her tragic passing, Smith's immortal voice and distinguished legacy carry on, bearing an indelible influence on music. Smith has inspired countless musicians, like Janis Joplin and Koko Taylor. Additionally, Smith inspired both a play ("The Death of Bessie Smith" by Edward Albee in 1959) and an HBO movie starring Queen Latifah ("Bessie").
Taylor Pendleton
Copy Editor