Every week the Clarion takes a look at a Sinclair student, professor or faculty member to learn about their story and what makes them unique in the Tartan Spotlight series.
Alana Oakes can often be found serving up coffee in the library's Starbucks or working on her latest design projects in Building 13. Though Sinclair was not her first choice of enrollment, she is still active in working with the community and brings forth her dark and professional ideas when creating something new.
Oakes has always been interested in graphic arts and design and going to a vocational school for the trade instead of a normal high school.
"I went for media and video production," she stated. "I was gonna do video stuff, but like half the class is video stuff, half the class is graphic design stuff, and I ended up liking graphic design more." She also believes a job in graphic design is more accessible than in video production.
Originally, Oakes was set on attending The Modern College of Design having already been accepted into their program for graphic design. When financial aid for the college didn't go as planned, Oakes decided it was best to enroll at Sinclair, as many students can relate to.
Using her artistic abilities, Oakes has created concept billboards and invitations for The Dayton Art Institute as well as most recently designing art and logos for her very own made-up company "Suicide Coffee."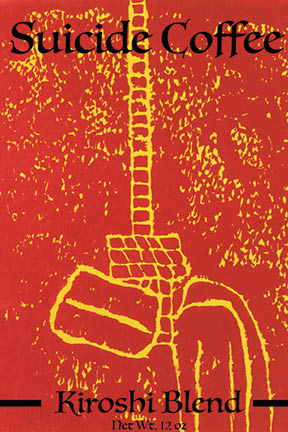 Related Articles
At first, the name sounds controversial but Oakes explained that it can be used to spread awareness about overworking. In Japan it comes into play:
"They [Japanese] even have their own word for it called 'karoshi,' which is people killing themselves because they're worked too hard." As in 80 hours a week too hard.
Wanting to create a noose as the logo, Oakes got reassurance from her professor who exclaimed that it was okay to cross the line between art and suicide because her concept company would give the proceeds to those being affected in Japan.
"It makes sense to make it extreme because you want people to see how bad it is, she said."
Aside from design, Oakes still seems to find herself tied to coffee. She's a certified barista who moved from a Starbucks kiosk in Kroger to Sinclair's very own. She's worked there for about a month and though describes it as sometimes hectic, says she hasn't worked for better managers than those at Sinclair– managers being plural because she also works as a cashier in the Sinclair Marketplace twice a week on top of being a barista.
Oakes keeps her schedule busy but tries to manage her time wisely by doing most of her creative works and projects in class and creating an overall plan of what she wants to accomplish before starting a new project. Sometimes she wishes she had more free time, but for now, her ongoing projects and dual work-life will land her where she wishes to be, creating iconic brands for bands.
Jaclyn Herd
Reporter