Sinclair Community College President Dr. Steve Johnson hosted a town hall meeting for college staff and faculty on June 3, 2019. He spoke on the aftermath of the KKK rally in downtown Dayton, plans for construction on 4th and 5th St. and the efforts the college is making to provide relief to tornado victims.
Johnson started the meeting off by honoring Assistant Police Chief Ron Adams, who is retiring after 35 years of service.
He is a Sinclair graduate who, according to Johnson, "…knows where all the bodies are buried… he might have buried a few of them."
He continued:
"Ron's a great guy and we will miss him, but he'll still be around town."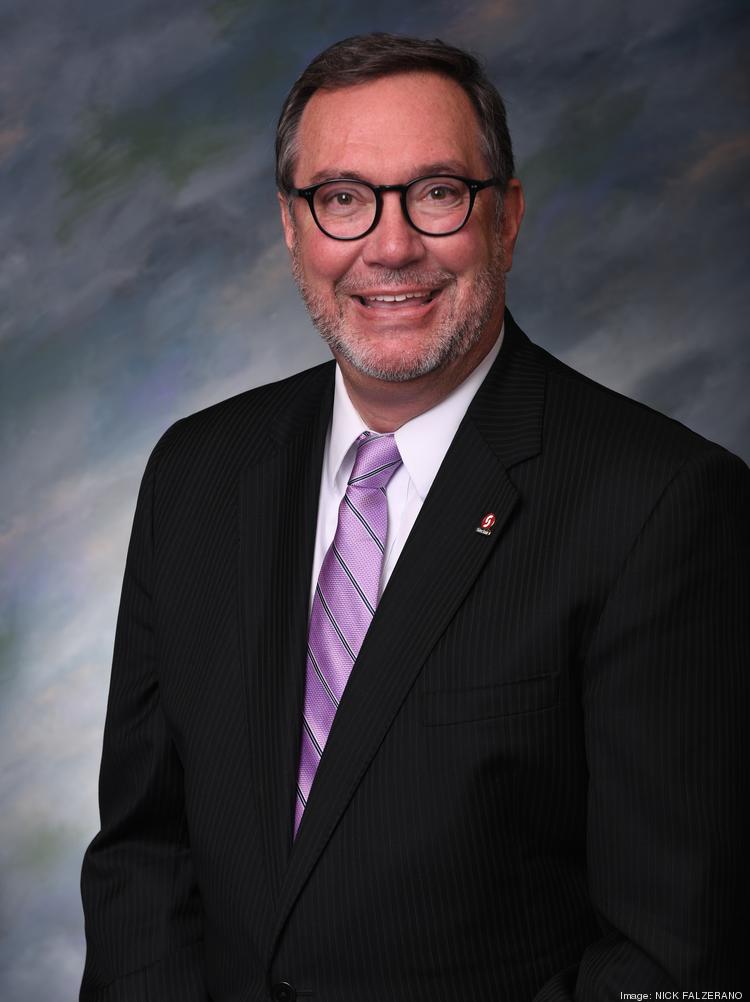 Next, he followed up on the May 25 KKK rally that took place in downtown Dayton. Nine members of the clan faced the resistance of over 600 counter-protestors, and no casualties or arrests were reported.
Johnson showed pride in the city's ability to remain peaceful during the demonstration while still getting their message across loud and clear: hate has no home here.
The college provided food and location housing for out of town police and their horses. In addition, 10 extra Sinclair police, security and administrative employees served on site that day.
Johnson gave his thoughts on the amount of money spent by the city to protect Klan members as well as counter-protesters:
"Some people are criticizing the city spending roughly $650,000, but think about if a person had been killed or if five people had been injured, just the cost of that, the lawsuits would be well into the millions… and everyone was prepared to mitigate and control violence, and they did a really great job," Johnson stated. "I think the results speak for themselves, and it was a very prudent and wise decision to do so."
Then, he spoke on the construction to 4th and 5th St. that has been in effect since March.
The city of Dayton finished their portion of the project, dedicated to utility service, and Sinclair began their phase last week. The construction will eliminate parking meters, narrow the lanes and establish room to plant trees and create more green space on campus.
The traffic lanes will be diminished from 60 to 34 feet, and the 6 feet of landscaping will be expanded to 20 feet.
Johnson stressed the fact that a football field worth of asphalt and concrete are being taken away and will be used in other construction efforts.
The project is intended to provide a more welcoming atmosphere to the college and will be completed by late fall 2019. In total, 250 trees will be planted as part of the traffic construction as well as the remodeling of the courtyard in the heart of campus.
By summer 2020, the college would have dedicated over $200 million to equipment replacement and facilities improvements in downtown Dayton over the last 10 years. The only other Dayton companies whose investments compare to that number are CareSource and Premier Health.
The focus of the meeting then changed to relief efforts toward the 18 tornadoes that ravaged the Miami Valley.
Sinclair staff sprang into action, working on a response and approving funds for recovery efforts, asking themselves "What do we have to offer the community?"
Woody Woodruff, Director of Facilities Management, and Laura Mercer, Chief of Staff and coordinator of Sinclair's disaster response, started taking measures to help the community.
Mercer started a water drive, and as of June 3, over 20 pallets worth of water were sent to the Dayton Foodbank, which is now at capacity.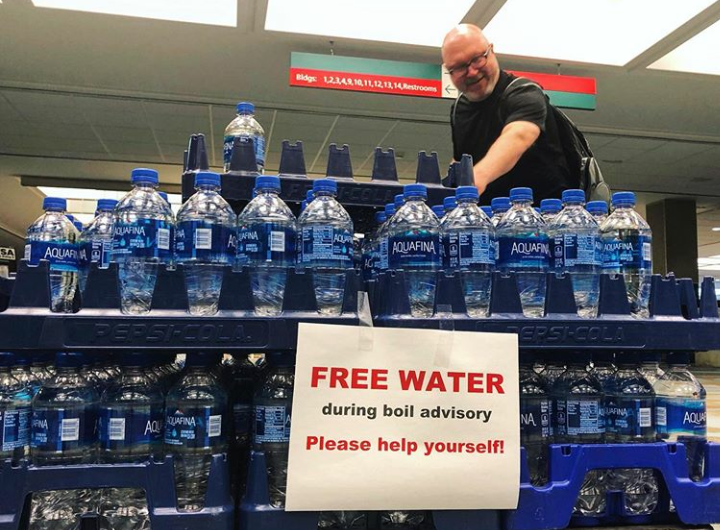 She is also responsible for starting the Montgomery County Volunteer Center, converting the lobby of building 20 into a response center and giving aid to local residents.
Woodruff has sent 15-person teams out into the affected areas since the onset of the tornado, cutting through trees and removing debris from victims' homes.
Countless additional members of Sinclair's staff contributed to the efforts, helping remove debris, communicating with students that weren't able to make it to class, providing personal hygiene bags to distressed citizens and sending out over 500 snack bags and food boxes to Daytonians living without shelter, power or water.
The college is hosting a free dinner for tornado victims this Sunday, June 9 from 12-3 p.m. in the great hall of building 12. Staff will be at the dinner offering advice and resources for victims and their families.
Sinclair will continue providing aid to those that need it far into the future, as the effects of the storm will be felt for years. Johnson stated that the college will continue to work independently and "fill gaps where there's need."
Johnson closed the meeting by thanking all that attended and reiterating his amazement and gratitude toward the efforts made by faculty during the tornado relief.
"…I'm so proud of this organization for 100 different reasons, and here's just another one… this is what community alignment looks like and this is what find the need and endeavor to meet it looks like," Johnson exclaimed. "It's not talk, you all roll up your sleeves and do it and we'll keep working this, God bless you."
Sinclair has done an extensive amount of work in disaster relief efforts, much more than this article can contain. Check out the next print edition of The Clarion, hitting stands June 11, for a comprehensive look at everything the college has done to give back to the victims of the storm.
Henry Wolski
Executive Editor