Hello, my name is Lindsey Elam, and I am currently the Sports Editor for the Clarion. This is my second semester working for the Clarion and I love it. It has been a great way for me to have an opinion and be able to talk about things that I want and am interested in while still being challenged and learning at the same time.  
   I am currently studying Multimedia Journalism and my dream job is to one day work as a Sports Broadcaster for ESPN. I never knew what I wanted to be when I grew up but have always had a passion for sports.
   I also like working with and talking to people which brought me to put those two ideas together and here I am pursuing a career in Sports Broadcasting.
   Journalism and 'The Media' is a very tricky career field these days and a hard one to break into. With technology giving us what seems as endless amounts of media outlets and devices to get our news the industry never sleeps.
   Sinclair has truly given me so many wonderful opportunities and offers great classes and even better professors to help guide me into my career path.
   When people ask me "why do you like sports so much?" or "why did you choose this path?" the answer is kind of simple. First off, it took me a while to find this path, but once I got here, as corny as it sounds, I knew it was meant to be.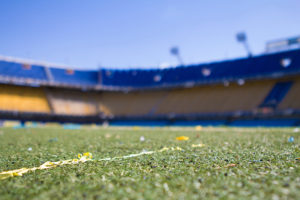 Secondly, sports are special to me and the biggest reason why is because of how much it can bring people together. Picture yourself at a live sporting event, whether it be the Super Bowl, the World Cup, or the NBA Finals, you name it, whatever it is. For those couple of hours, minutes and seconds it doesn't matter if the person next to you is a Republican or Democrat, or if they believe in the same God that you do.
   But, if you both are rooting for the same team for those few moments you're able to bond and share something special with that person. And in my opinion, there is nothing better than high fiving a stranger who is repping your team after a big win.
Lindsey Elam
Sports Editor