The Sinclair women's basketball team has a long history of dominating the competition, and this year is no different.
   The women have won six games in a row and look to secure victories seven and eight against Edison Community College on Nov. 28 and Columbus State on Dec. 1.
   Despite the great start to the season, the team has suffered a number of issues. When asked what challenges the team has faced this season, head coach Trendale Perkins laughed, "where do we start?"
   "A lot of challenges from being a new head coach, that's super challenging in itself." Perkins continued, "We've lost a couple players due to them not wanting to play basketball anymore, we lost a player due to injury. We've just lost a lot of kids."
   Regardless of the difficulties they've faced, Coach Perkins still sees the spark in the young women that has been present in the team since the beginning.
   "I think overall you've got to have good players," Perkins said, "and having good players usually translate to winning."
   Kierre James, a point guard in her sophomore year, also weighed in, stating, "I think it takes getting to know one another, chemistry, trusting each other."
   To overcome their misfortunes, the team's motto this year is simple: adjust. No matter what happens they will continue to thrive and grow. Perkins feels that the team has done an excellent job in adapting to their situation and learning how to overcome their problems. One way the team has had to adapt is with practice.
   The average roster for a college basketball team is 15 players. Sinclair has seven so practice is constantly changing.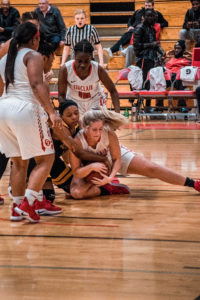 Missing a few players, the others are left without people to practice against which can lead to boredom. To combat this, Coach Perkins has them run drills and switches things up on the fly. This is also done so it can condition the women for the long shifts they'll have to play once the game buzzer rings.
   No matter the hardships they face, nobody would change a thing. The women have beyond exceeded Coach Perkins expectations and they're all having a blast doing it. Perkins described the season as, "challenging but fun."
   Not withstanding Sinclair's record through the years, the team has never made it to nationals. Sinclair has made it to the semis countless times including the last two years, but ultimately have been eliminated.
   "You have to get in that mindset, " James interjected, "for me, it's the preparation as far as proper sleep, what you're eating before the game. You don't want to lay around the house all day thinking you're going to perform well. You have to get yourself active in a timely manner."
   The goal is to make it all the way to the championship, and everyone feels confident they can make it.
Emilee Brewer
Reporter