On Wednesday Oct. 31, Sinclair will be holding its annual Harvest Fest event. The fest will be taking place in the Tartan Marketplace in building 7 from 11:00 p.m to 1:00 p.m. and will be offering many activities for students to celebrate the fall season.
   This event has been held at Sinclair for almost 20 years. The theme of this year's Harvest Fest is "Be present and be thankful" as students will be finishing up their midterms, it is important to be present and acknowledge all the hard work that has been put in so far this semester.
   We are welcoming fall, harvest and Thanksgiving; taking a moment to step back and enjoy the moment will relax us all.
   There will be a variety of treats to enjoy and activities to participate in.
   There will be an International Trick or Treat where students will have the opportunity to try different candies from various cultures all around the world. There will be candies from Italy, Ukraine, China and many more.
   Overall, there will be six different countries represented along with information on how harvest is celebrated around the world.
   There will also be a pick your own pumpkin hosted by Student and Community Engagement where students can pick out a little pumpkin and decorate it.
   The Multifaith Campus Ministry will be giving away pink blessing beads, in honor of October being breast cancer awareness month, as well.
   The Library will be creating a tree of all the books we are thankful for.
   The Bookstore will be hosting Haunted Hoops, where students can play a round of basketball with the possibility of winning a t-shirt.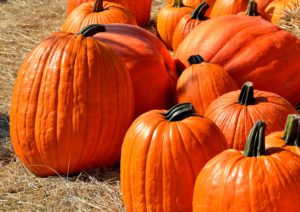 The Clarion will also be hosting a costume contest. Come down to our table dressed in your costume and enter to win a gift card (amount and to where is TBD). The Clarion photographers will be at the event ready to snap the best costumes.
   The first, second and third place winners will get a shout out in a future edition of the Clarion and have their picture put on the paper.
   However, if dressing up isn't your thing, the Clarion will also offer a fake news trivia quiz and information about what we do. Be on the lookout as well for a life sized interactive model of our mascot Clary.
   Accessibility Services will be there in honor of October being disability awareness month. There will be many other offices represented and present at the event to celebrate.
   There will be food, including cookies and apple cider, games, music and the Art Club will be hosting a bake sale in the Library Loggia.
   "It will be a whole lot of fun, we hope everyone stops by!" said Tristan Chaput, Coordinator of Student Engagement.
Kali Macklin
Staff Writer