It's finally approaching that time of year again. The leaves will soon turn bright fall colors, the Halloween candy has hit the shelves, comfy sweaters have been adding back into wardrobes and everything smells, tastes and is themed like pumpkins and cinnamon sticks.
   Pumpkin spice season is my favorite time of year. In Ohio, the fall weather almost never actually comes till well into October, but, I can always count on pumpkin spice season coming right around mid to late September.
   As stereotypical as it might sound, as soon as Starbucks releases their pumpkin spice latte, it's on. The fall sweaters, comfy socks and autumn scented candles come out for the season and I immediately begin wearing baggy sweaters and leggings (I don't care if Ohio still thinks it's summer, it's cold at school anyway).
   I love this time of year because there is so much to do, and the humidity begins to drop, so going outside and not sweating your eyebrows off is finally possible. Haunted houses start opening up, corn mazes, and the King's Island Haunt at the end of next month.
   There is also tons of other fall things to do, like apple picking and bonfires, hayrides, s'mores and of course apple cider.
   Windmill farms do hayrides this time of year that take you through a pumpkin patch and allow you to pick out your own pumpkin to take home. It's a great family place, but also still fun once your older. There are several apple orchards in the area where you can go and pick bags full of apples and drink cider made from the farm's apples.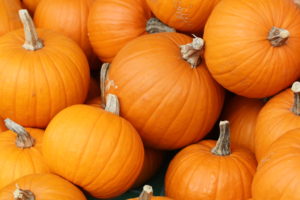 Plus all the great holidays! Halloween is right around the corner and as soon as October hits it's like everything turns into ghost and goblins and stores dedicate whole shelves to giant bags of assorted candy.  
   Not to mention the best part of September, pumpkin spice everywhere. I must admit that a few years back I wouldn't go anywhere near something pumpkin spice flavored, but there is a reason it's a fall cliche, it's pretty good.
   Spiced pumpkin breads and pies, pumpkin spice lattes and flavored coffees, pumpkin spice ice cream and scones, the list goes on. And it all tastes like happy little bites and/or sips of fall wonder. Plus it's a reminder of what's to come.
   Overall this time of year just feels cozy to me. Pumpkin spice season is more than the selfies of you and your squad with you Starbucks lattes, to me it's the fun memories behind going and getting that latte.
   The weather is started to cool down, so going with your friends and getting a warm drink and wrapping up in comfy scarves is a fun thing to do. Along with apple picking and hayrides and pumpkin patches and any other tradition you may have, it's all about embracing the fall spirit in your own way.
Cerridwyn Kuykendall
Managing Editor