Usually, when a member of a band passes away it leaves the group in shambles. They take time off to re-energize and mourn the loss of one of their musical brothers in arms.
   Many times they never reach the heights they met with the original singer. Think of groups like Alice in Chains, Nirvana, Lynyrd Skynyrd and The Doors.
   When James "The Rev" Sullivan died, Avenged Sevenfold went through a lot of grief, and released an album that dealt with a lot of their feelings in the wake of his death called "Nightmare." And it still took almost five years for the band to find Brooks Wackerman to replace Rev and fill the hole that was left in the group.
   In May 2010, Slipknot bassist Paul Grey died a year into the band's hiatus following their fourth album. It put the group in a state of distress, with their future questioned and the members giving conflicting interviews on the band's status. It wasn't until 2014 that they released their fifth album ".5 The Gray Chapter," which also featured several tracks relating to the loss of their bandmate.
   So, when the frontman, singer and all-around party animal of AC/DC Bon Scott died in February 1980, what did the Young brothers and company do? They found a replacement and recorded and released the best album of their career on July 25 of the same year.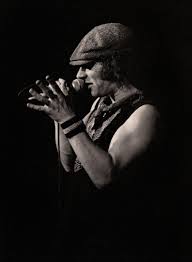 Now, I am over exaggerating a bit. The band did mourn Scott's death and considered breaking up, but friends and family encouraged them to continue in his memory, and they soon held auditions for a new singer.
   After a long process, soul and blues-inspired singer Brian Johnson was chosen as Scott's replacement. He was chosen due to his personality and vocal talents, which fit in with the band, but was distinctive and didn't come off as a Bon Scott clone.
   Yet this isn't where the story ends. AC/DC was already preparing to record the follow up to their very successful 1979 album "Highway to Hell," before Scott's death, and decided to continue on with Johnson at the helm. They scrapped the previous material they had written, out of respect for Scott.
   The recording process was also different. Typically, AC/DC would record their albums in the UK. But for this album, they went to Nassau, the capital of the Bahamas due to scheduling conflicts with their usual studio.
   During the recording process, the island was overcome by vicious storms that went on for three days. Much of the band's equipment would sporadically be delivered, as the gear was held up by customs.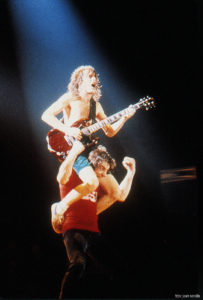 Johnson described the studio in an interview with Classic Rock magazine:
   "It was hardly any kind of studio, we were in these little concrete cells, comfy mind you, and had a bed and a chair," Johnson said. "And of course, the Bahamas I'd seen in the photographs was all white beaches and when we got there it was pissing it down, there was flooding and all the electricity went out, nay TV."
   "We had to lock the doors at night because of these Haitians who'd come down at night and rob the place. So we all had these six-foot fishing spears to keep at the f****** door! It was a bit of a stretch from Newcastle, I can tell you."
   Johnson actually makes note of the weather in the first lines of opening track "Hells Bells." "I'm rolling thunder, pouring rain. Coming on like a Hurricane."
   Despite this, the recording process went well, as Angus and Malcolm Young wrote all the song titles and let Johnson do the rest, as an introduction to the band. Producer John "Mutt" Lange returned from the "Highway to Hell" sessions and was meticulous in getting a proper vocal performance from Johnson.
   Angus admitted to feeling "bit jittery" while recording, but all his reservations were proven wrong when the album released in July. It was a critical and commercial success, and is their best selling release.
   "Back in Black" debuted at number 1 in the UK charts, and at number 35 on the US top 40, their highest chart in the country at that point. It has sold over 50 million copies worldwide, and 22 million domestically.
   It is the best selling hard rock album of all time, and the best selling album released by an Australian band. It is the second highest selling album of all time, only beat by Michael Jackson's "Thriller."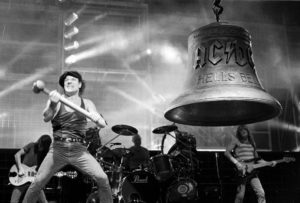 The album was a critical success as well and is included on several best-of lists by a plethora of publications. While the next album "For Those About to Rock (We Salute You)" was a success, in the eyes of fans and critics alike, nothing would top "Back in Black."
   The title track, "Hells Bells," "You Shook Me All Night Long" and "Rock and Roll Ain't Noise Pollution" were all released as singles and charted successfully worldwide.
   The cover is completely black except for the AC/DC logo, which is outlined in grey. This is a tribute to Scott, as is the lyrics of the title track.
   Johnson describes the experience writing the lyrics in an interview with Mojo magazine in 2009:
   "They said, 'it can't be morbid – it has to be for Bon and it has to be a celebration,'" Johnson said. "I thought, 'Well no pressure there, then' (laughs). I just wrote what came into my head, which at the time seemed like mumbo, jumbo."
   "'Nine lives. Cats eyes. Abusing every one of them and running wild.' The boys got it though. They saw Bon's life in that lyric."
   Personally, this is one of my all-time favorite albums and there's really only one stinker in the tight 10 track song list ("Shake a Leg," while not really that bad, sticks out as mediocre on an album full of classics).
   Johnson fits in the group like a glove, and followed the lyrical tendencies of Scott by adding references to partying and tons of sexual innuendos and double entendres. My introduction to AC/DC was the two disk live set from the 90s, so I had heard Johnson's rendition of classic Scott songs before I heard the originals.
I like that the band had two different singers, and both were distinct enough to bring their own style and sound to the band. A lot of people have a preference of who was better, but I think you can't compare them. Scott had a wailing screechy voice that sounded sleazy in the best way, while Johnson's had a bluesy growl that stood out on its own.
   This album epitomizes rock and roll, and when I just want something really fun and light to listen to, this is one of my first choices. If you like rock and roll in any capacity, this album is for you. It is AC/DC at its best and most consistent.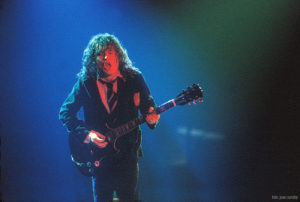 Henry Wolski
Executive Editor