Going into the "Ruthless Aggression Era," there was in need of a shift at top of wrestling. The top stars: Hulk Hogan, Ric Flair, Scott Steiner, Mick Foley, etc. were getting old and were unable to keep up with the younger talents that were coming up through the ranks.
   There had to be a transition period where new stars were able to grow and show their impact on the main rosters. The impact was clear by new faces throughout this era. Rookies would grow to become some of the biggest names in wrestling history. However, they were instant legends.
WWE Needed Some Latino Heat
   In this era, we saw superstars who were never really given chances at becoming main event superstars finally be given the light. Stars like Eddie Guerrero had been wrestling all over the world in Japan, Mexico, ECW (Extreme Championship Wrestling) and WCW (World Championship Wrestling) for over 20+ years. He was never given an opportunity to shine on a big platform in a large company.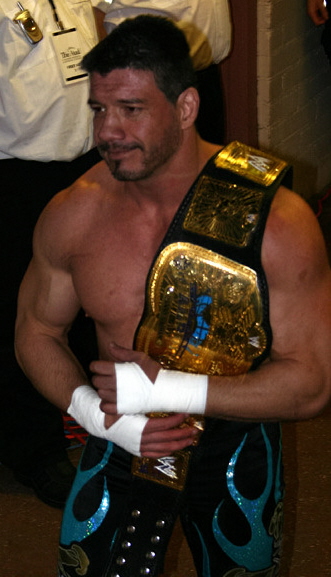 He was arguably one of the most gifted athletes in wrestling history, was being treated like a second-class wrestler, especially in the land of giants in WCW. Once he got to WWE in 2000, times changed.
   After learning the transition to WWE's style, he was able to grow and become one of the most popular stars in WWE history, creating the Latino Heat character. He won several titles in his tenure with the company.
   Following years of trials and tribulations in and out of the ring, Guerrero finally got his opportunity to shine and finally won the WWE Championship in 2004 beating Brock Lesnar at No Way Out.
   Eddie would go on to successfully defend the WWE Championship at WrestleMania 20 against arguably the best technical wrestler in WWE history Kurt Angle. Sadly, it was the only World Heavyweight Championship reign in Guerrero's career.
   However, the moment that most of us remember is the moment at WrestleMania 20 when Guerrero celebrated with his long-time friend Chris Benoit after Benoit captured the World Heavyweight Championship for the first time in WWE.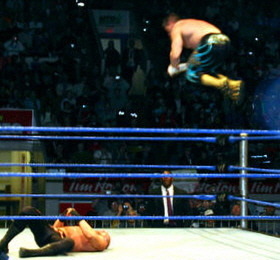 The two wrestlers who some said never would reach the pinnacle of wrestling had finally both won World Championships. Sadly, the moment is not talked about anymore because of reasons stated in the intro of this series.
   Eddie Guerrero passed away on  November 13, 2005 at the age of  38. Whether it his Lying, Cheating or Stealing persona, Eddie Guerrero will always be remembered as one of the greatest superstars in WWE history. His impact will be cemented in wrestling history forever.
WWE for a Time got Rated R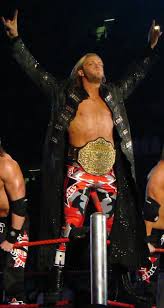 Another star who got to shine during this era would be the future Rated-R Superstar, Edge. Edge debuted in WWE in 1999 and would go on to form a tag team with his best friend Christian and become one of the greatest tag teams in history.
   However, once the team split, Edge had to work his way up through the ranks to be a future star in the company. Unfortunately, in a match with Eddie Guerrero, Edge broke his neck and was sidelined for over a year and missed two WrestleManias.
   Once he got back from his neck injury he had one goal in mind, to be World Champion. He would persevere and climbed to the top, winning the first ever Money in the Bank Ladder Match at WrestleMania 21 and then cashed in on John Cena to win his first WWE Championship. Finally, bringing WWE to the Era of the Rated R Superstar.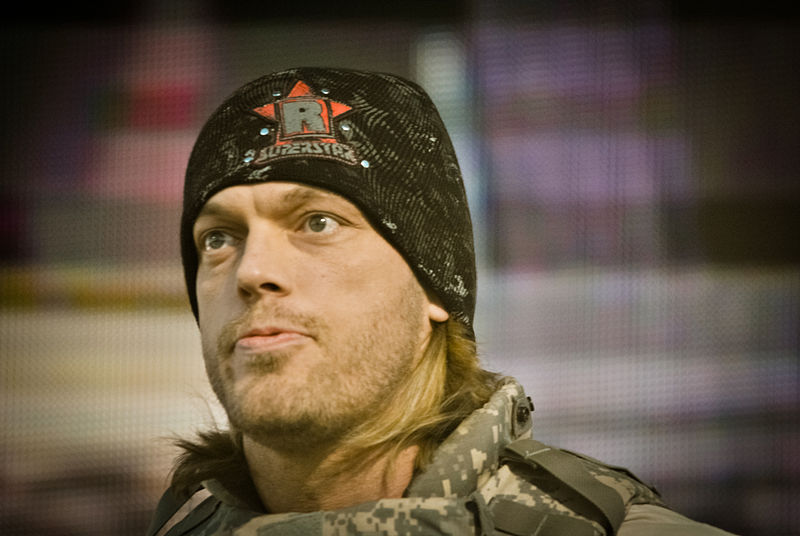 Edge would then make a move toward becoming the top guy of the company and even main evented WrestleMania 24 with The Undertaker. He would have legendary feuds with John Cena, Batista, Triple H, Kane, Matt Hardy, Jeff Hardy, Chris Jericho, Shawn Michaels, and several others.
   What Edge did was no pun intended, Cutting Edge. He developed a raunchy, almost rockstar persona that connected directly to the audience. He is arguably one of the greatest bad guys in history.
   Edge retired by doctor's orders due to his recurring neck problems in 2011, immediately following WrestleMania 27. Edge's transition from the upcoming young wrestler to being one of the best of all time is astonishing. He would retire holding more championships combined than anyone in history.
WWE needed some American Spirit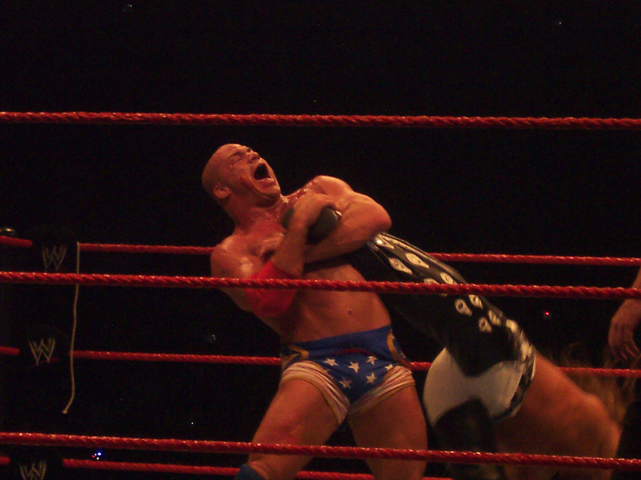 WWE also during this era paved the way for one of the most technical wrestling history, Kurt Angle. Kurt Angle is the only Olympic Gold Medalist to ever grace a WWE ring. Kurt debuted in WWE at the Survivor Series in 1999 and from then became one of the best in history.
   Kurt went on to win the King of the Ring in 2000 and win his first WWF/E Championship at No Mercy in that same year. However, once he lost the Championship in 2001, it was hard for him to find himself as an individual.
   He was a prevalent part of the Alliance storyline, but every time it felt he was going to blossom into WWE's top wrestler, the rug seemed to be pulled out from under him.
   However, once the brand expansion happened, Kurt would go on to the SmackDown brand and finally show his talents and abilities. He would become one half of the first WWE Tag Team Champions with Chris Benoit on SmackDown.
   He also would go on to win his fourth World Championship at Armageddon 2003. This later would lead to him main eventing WrestleMania 19 with Brock Lesnar and having a lengthy feud throughout the year.
   Kurt would go on to fight in three more WrestleManias with some of the greats like: as mentioned before Eddie Guerrero, Rey Mysterio, Randy Orton and Shawn Michaels.
   However, Kurt Angle would leave WWE due to a combination of disagreements of where Kurt was heading in the company and concerns over his wellness. He would end up fighting in TNA (Total Nonstop Action Wrestling) until 2016 rarely gaining the momentum he had in WWE.
   In 2017, Kurt Angle made his triumphant return back to WWE, getting inducted into the WWE Hall of Fame. He is now the General Manager of Raw and wrestles from time to time, with his last match to this date at WrestleMania 34 where he teamed with Ronda Rousey to take on Triple H & Stephanie McMahon.
   There will be no forgetting the rivalries and moments that Kurt has had in this company with the lights of: Brock Lesnar, John Cena, Edge, Shawn Michaels, Triple H and many more. Kurt started in the Attitude Era, but became a superstar in the "Ruthless Aggression Era"
It is Time To Break Down the Walls of WWE
   It takes many things to become a superstar like: charisma, athleticism, promo ability, connecting with the crowd, among other things. Over the years, there has been one star that has used all of those traits and has shown the ability to create new personas and still maintain his credibility of being the best in the world.
   That wrestler is none other than Chris Jericho. Jericho, like many others, has traveled all over the world and wrestled for many years. He wrestled in Mexico, Japan, WCW, ECW and WWE. Jericho debuted in 1999 for WWE and instantly made an impact, interrupting The Rock and talking trash to him.
   Jericho had grown through the ranks and reaching the peak by main eventing WrestleMania 18 against Triple H for the World Championship. However, when he lost the championship, it was hard for him to find momentum. Like Kurt Angle, it felt like the rug was pulled from under him.
   In 2003, Jericho got his momentum back. He would have a legendary feud with Shawn Michaels culminating in a match at WrestleMania 19. Jericho would go on to win the Intercontinental Championship and the World Tag Team Championships on Raw. However, he never got to the World Championship picture,
   Over the next few years, Jericho hung around the mid-card. He would not get another World Championship match until 2005. He eventually quit the WWE and would not return until 2007 with a whole new look and persona, instantly making an impact back on Raw.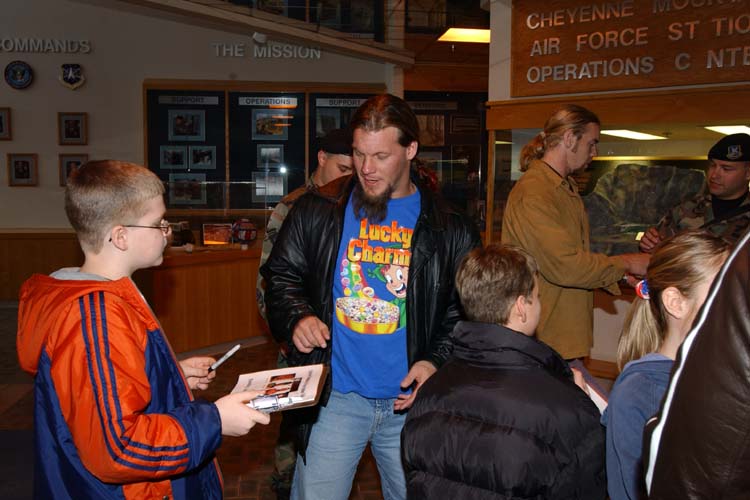 Within the next year he would go on to win the Intercontinental Championship and also winning the World Heavyweight Championship twice. He would go on to be one of the best bad guys in the company, completely different from what he used to be, wearing suits and hurling multi-syllable insults to fans and wrestlers alike.
   He would leave again here and there but everytime he came back it was something different and must see. He gave us the multiple sides of Chris Jericho, but every side had something special along with it.
   Jericho's impact on the WWE is special. He is the one who created the Money in the Bank ladder match. He also has shown that no matter the smallest the idea, Jericho blows it out of the water.
   Today, Jericho is currently wrestling in Japan and is the IWGP (International Wrestling Grand Prix) Intercontinental Champion. This made his total Intercontinental Championship reigns in Japan and WWE to 10 in total.
   Also, Jericho continues to travel the world with his rock band Fozzy. Jericho is the ultimate superstar. He is a rockstar. Jericho is arguably the greatest superstar in history. He is one of the greatest wrestlers of all time.
   Jericho's legacy will always have a place in WWE history. Jericho is not currently with WWE, but if he decides to return, they will surely welcome him back with open arms.
Conclusion
   In this transition period, these four wrestlers became marquee superstars. Alongside the Class of 2002, the next decade plus was put in the hands of wrestlers with really bright futures.
David Jacobus
Intern