For the first time in 20 years, the U.S. women's hockey team has won the gold medal at the Winter Olympics, defeating Canada in a shootout 3-2 on Feb. 21.
   Jocelyne Lamoureux-Davidson scored the game winning goal in the first shootout in an Olympic women's final with an incredible move, followed by goalie Maddie Rooney stopping the last two Canadian shooters to win.
   "I can't put it into words," said defenseman Kacey Bellamy. "This whole year is for everyone that came before us. This is for Julie Chu [former USA team captain] and for all our families at home, the schools that we went to, everyone supporting us."
   The move was taught to Lamoureux-Davidson and her sister, Monique Lamoureux-Morando, while in college at the University of North Dakota by current Ohio State coach Peter Elander. Elander started using this technique with his teams in his native Sweden in the early 2000s, and nicknamed it "Oops, I Did It Again," after the Britney Spears song.
   "Oh my gosh," NBC analyst Pierre McGuire said after the goal was scored. "That's electrifying. That's as good as you're going to see anywhere."
   The twin sisters both had a goal that night, with Lamoureux-Morando scoring the game tying goal in the 3rd period. Lamoureux-Morando had nothing but praise for her sister.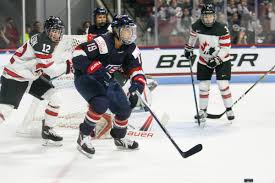 "Not everyone can take the pressure like that, and she took it like a champ," she said.
   This game ended Canada's four-year gold medal streak and is the first gold medal for the US team since 1998. That was the first year that women's hockey was featured in the Olympics. The win also ended a five-game losing streak against Canada, including a 2-1 loss to them earlier in this year's tournament.
   "It is everything for our country," U.S. coach Robb Stauber said. "I am just so thankful for the outcome. It was a thrilling final. It was unreal."
   Also scoring goals for America in the shootout were Gigi Marvin and Amanda Kessel. Meghan Agosta and Melodie Daoust scored goals for the Canadians, but Agosta was stopped in her last shot to seal the victory for the Americans.
   "It's just hard," Canadian defenseman Jocelyne Larocque said of the loss. "You work so hard. We wanted gold but didn't get it."
   The Americans scored first, netting a goal with 26 seconds left in the first period. The shot was from Sidney Morin, but Hilary Knight got credit for the goal after deflecting it into the net.
   The Canadians responded quickly, scoring twice in the second period. The two goals would prove to be just short of enough to win, with Lamoureux-Morando scoring the tying goal in the third period and foreshadowing her twin sister winning the game in the shootout after a scoreless overtime period.
Paul Helmers
Sports Editor