On Feb. 2-3, 2018, Sinclair College hosted students from several colleges in building 12 for the 25th annual Dayton Model United Nations Conference (MUNC). It is the only American collegiate conference sponsored by a community college.
   Students from colleges in several states such as Pennsylvania, West Virginia, Michigan, Kentucky, Indiana and Ohio attended this conference. The students from these colleges represented over 60 countries in four separate committees.
   Leading up to the event all the delegates researched and prepared for months in advance, to discuss several issues as well as negotiate through them. The conference does its best to follow the rules and practices of the National Model United Nations.
   The Secretary General for the event is Nickii Webb, a Masters of Art in International and Comparative Politics student at Wright State University. She's currently studying rehabilitation programs for children affected by armed conflict, and their role in post conflict state stability.
   While this is her first year starring, Webb has been attending this conference for four years. The position of Secretary General has the assignment of picking the staff members.  
   The four committees are as follows: United Nations Commission on the Status of Women (CSW), United Nations Environmental Assembly (UNEA), United Nations Security Council (SC) and Simulated Security Council (SimSec). While the first three have set topics for each day of the event, the SimSec were provided with a simulation regarding relations and events in Pacific Asia.
   Aside from the staff that keeps the conference itself moving and the delegates that work through the committees, there are also other roles. That includes the role of chairwoman of the Security Council, led by Allyson Clark of Wright State University.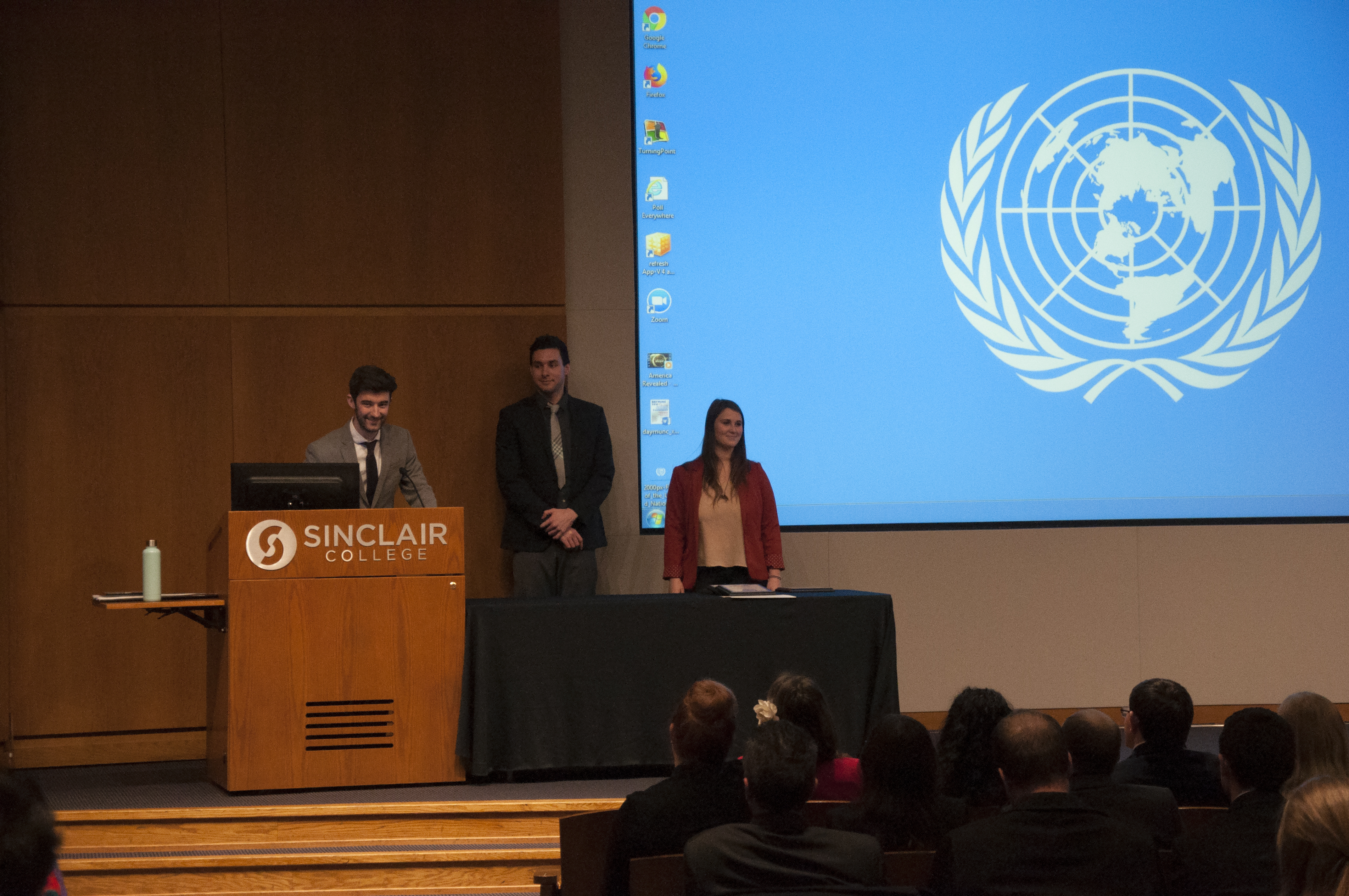 She was a delegate for two years prior to taking up a staffing role and finds it "exciting to see the other side of everything" during this MUNC. She's enjoyed the experience of having her role switched up this year, stating that she "can kind of be the mentor, someone to look up to, an example of what to do, how to act, how to dress, etc."
   However, the main participation of this event falls on the delegates. They write papers, negotiate certain issues and try to pass resolutions by the end. One delegate, Mollie Keck, represented Peru for the SimSec committee. She attends at Sinclair and is going for her associates degree in liberal arts while she is a student.
   Afterwards, she plans to go on to international studies at Miami University. Her interest in MUNC came as a natural progression if she wants to work for the UN, citing it as a way "to kind of emulate what the UN does, and see how it flows and what it's about."
   The conference came to a formal conclusion with a closing ceremony. Awards were passed out in several categories, ranging from honorable mentions to the outstanding delegate for each present committee. This year Webb included staff awards in order to make it known the staff are incredibly important to the success of the event as well as the students.
   SimSec awards went out to the representatives of Sweden (Outstanding), France (Distinguished) with Japan, Russia, and United States as honorable mentions.
   SC awarded France (Outstanding), Russia (Distinguished), with Equatorial Guinea and Kuwait as honorable mentions.
   UNEA awarded Russia (Outstanding), Ireland (Distinguished), with Turkey, Lebanon, Colombia and Sweden as honorable mentions.
   Finally, CSW awarded St. Kitts and Nevis (Outstanding), Egypt (Distinguished), with Israel, Colombia, China and Ireland as honorable mentions.
Erika Brandenburg
Staff Writer