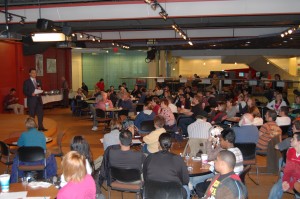 Paul Carbonaro is surrounded by international students.  Not only is he the coordinator for Sinclair Community College's English as a Second Language program, but he is also the sponsor for the International Student Club and the organizer for the International Presentation Series.
"There's a lot more diversity (at Sinclair) than people realize, I think," Carbonaro said.  "That's why we need to have things like the International (Presentation) Series."
International Presentation Series
The IPS is a monthly presentation meant to educate students about countries around the world.  Carbonaro encourages presenters to include music, dance or other cultural features of a country.  Cultural foods are freely provided to audience members.
"You've got to engage the audience," Carbonaro said.  "Then the audience becomes part of the presentation."
The series has been ongoing since the 2002-2003 school year, with 2008 being the only year that the series was not held.  Carbonaro said the series has always been the best-attended grant-funded event on campus with a low attendance of 55 for a presentation on the Sudan and a high attendance of 180 for a presentation on China.  He said that if students are aware of a country that will be featured, they are more likely to attend the presentation.
"I think that when you don't know of a place, that's when you should go," Carbonaro said.
International Student Club
Last fall the student club morphed from a formal organization into a loose gathering of international students socializing and helping each other, according to Carbonaro.  However, he said there is good news in store for the club.
"The ISC is in the process of being revived as it now has officers again," Carbonaro said.  "Those officers are planning to contact as many as 350 ESL students whose information we have."
Carbonaro hosts a time in the library for students taking ESL classes to get additional help.  During fall quarter he said the gathering resembled a student club.  However, this quarter student visits have been intermittent, possibly due to class schedules, according to Carbonaro.
International Students
Carbonaro believes that there are more international students than the school classifies or tracks.  He said that students who hold F-1 visas, or visas valid for education only, are classified by the school as international students, but students who have green cards or permanent residency do not qualify under the same designation.
Carbonaro believes there are hundreds of students at Sinclair who come from another country, though the school counts only 144.  Karl Konsdorf, manager for Research and Analytics Reporting, has previously stated that the number counted by the school does not necessarily account for all students who may be from a foreign country.