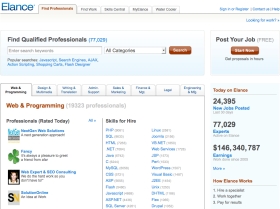 Do you have professional skills you are not currently using? Maybe you are looking to put your skills to work on the side. If so, then Elance may be the thing for you.
Elance is a Web site that helps connect businesses, organizations and individuals looking for freelancers to do contract work with freelancers looking for work. The site allows both employers and workers to create detailed profiles for themselves and their projects while Elance acts as the middleman for hosting the site and managing the payment process.
According to their front page on Jan. 23, Elance has more than 20,000 jobs posted within the last 30-days with more than $143 million earned since the site was created in 2005. Those are impressive numbers for people looking for some extra cash in a saging economy.
The registration process is relatively painless, although it will likely take most people several sessions to fill out all of the information Elance allows users to provide. Users are also required to take a short test on how Elance works–the answers are located in the site's help file–and to verify their phone number using an automated system.
For those who still might be skeptical, Elance bosts reviews by the likes of CNNMoney.com and the Wall Street Journal and it also belongs to the Better Business Bureau.
So, if you are looking for another way to put your professional skills to work, then Elance might be the answer. You can check out the site at http://www.elance.com.