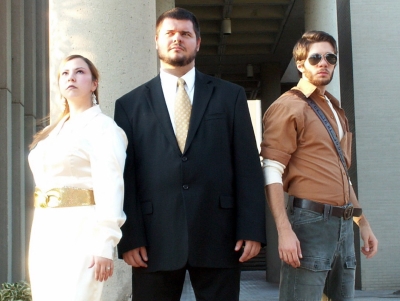 Actor Matt Harding has returned to Ohio to star in Macbeth for Sinclair's Theatre Department. Harding, who is originally from Yellowsprings, Oh., graduated from Wright State University with a BFA in Acting and had been living in Chicago, Il. for the past ten years before recently moving to Los Angeles, Ca.
Harding was asked to play Macbeth by his friend, who also is the director of the play, Brian McKnight. They both attended Wright State and have been friends for years.
"I love it, it's one of those roles I've been wanting to do for a long, long time," said Harding, when describing his role as Macbeth.  Harding says the reason why the play should appeal to those who aren't into theatre is because of the theme of the play.
"It's dealing with the moral corruption of a human being," said Harding.
Along with his acting duties, Harding is the fight scene choreographer and also teaching Voice & Speech and Acting classes at Sinclair. Most of the people in the play are students and Harding described the experience so far as "fantastic".
Harding has been in many theatre productions including, Chicago, where he portrayed Billy Flynn.
Harding has been acting for about 22 years. Even though Harding doesn't experience stage fright he still gets nervous before shows.
"If you're not nervous in some degree, then what you're doing is not important," said Harding.
His profession has sent him too many places including London where he studied to be a voice teacher at Central School of Speech and Drama.
Harding has been acting since he was a young boy.
"I guess I started acting when I was about ten years old and I kind of, never stopped," said Harding.
Aside from his thespian interests, he also plays in a band called "Naked and Shameless" which he described as "not safe for work."