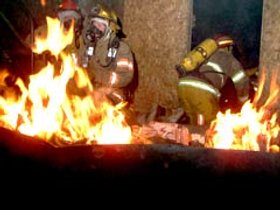 Firefighting is not easy, but Sinclair Community College's Fire Academy seems to turn regular Joe's into trained and certified firefighters with ease.
Approximately 5,000 firefighters have been trained by the fire academy in the past seven years.
"We have trained firefighters that we know of that have gone to work in fire departments in at least 16 counties in Ohio," says Sinclair's Fire Academy Coordinator Geoffrey Garrison.
Garrison has been Sinclair's Fire Academy Coordinator for six years.  Before accepting the position, Garrison was the district chief for the Dayton Fire Department and was with the department for 25 years.
Firefighting involves mental and physical toughness but some forget that emotional toughness is also involved.
"They are seeing people in very stressful situations on some of the worst days of their life," says Garrison.  "And as a firefighter, you are going to go there and make it better for somebody."
The National Board on Fire Service Professional Qualifications, also known as Pro Board, accredits firefighter level one and firefighter level two courses.  Pro Board certification is recognized in 20 states, two Canadian Provinces, 17 government agencies and Saudi Arabia.
The academy is a member of the Miami Valley Fire EMS Alliance.  The EMS Alliance provides departments around the area a list of students that have qualifications and certifications that a department might be looking for.
The Fire Academy offers level one and level two firefighting.  The state of Ohio requires anyone who would like to be a part-time firefighter to be level one certified.  Anyone who would like to become a full-time firefighter has to have a level two certification.
Fire Science Technology teaches students all aspects of fire investigation, prevention and protection.  Physical obstacles are also given courtesy of the instructors such as climbing a 100-foot aerial ladder, making way through an entanglement maze and learning first-hand about confined spaces.
"You learn if you are physically and mentally cut out for doing this," says Garrison.  "At the end of a level one class, a student has a very good idea whether or not this is a profession for them."
All of the instructors that work for the Sinclair Fire Academy are retired or current officers or firefighters.  When classes involve physical activity, the state of Ohio requires no more than 5 students to an instructor.
"The instructors have one goal in mind," says Garrison.  "And that is to train you to do your job safely and carry on the tradition of the fire service."