No. 5: Edge
There is only one way to introduce the next wrestler on the countdown. The Rated-R Suuuuperstar, Edge. Edge overcame a broken neck and missing two WrestleManias to triumph and be one of the greatest villains of all time.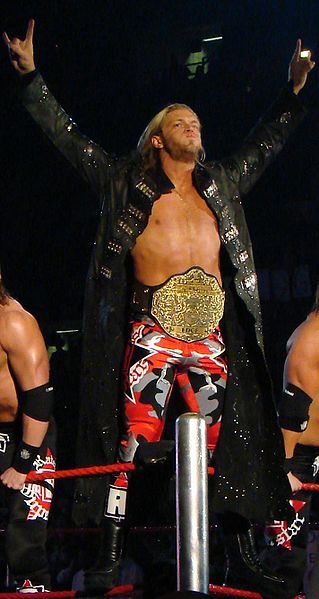 Edge began the 2000's teaming with his best friend, Christian. The two were a young duo on the up. But, their rivalry with the Hardy Boyz and the Dudley Boyz skyrocketed Edge & Christian as the future of the WWF/E. 
The three teams as mentioned earlier in this countdown changed tag team wrestling in the early 2000s.
However, every good tag team eventually splits up. Edge as a singles competitor would win the 2001 King of the Ring and the Intercontinental Championship. Instantly becoming the fast-rising star that many people believed he could be.
Things seemed to be heading in the right direction for Edge. On the SmackDown brand, he would realize a dream, winning the Tag Team Championships with his childhood hero, Hulk Hogan. He would also win the SmackDown Tag Team Championships with Rey Mysterio. There was nothing getting in the way of Edge's pursuit to get the top.
However, everything had to come to a quick stop. Edge suffered a broken neck during a match and needed time off to get it repaired. Edge missed over a year to repair his broken neck. Was Edge the same when he returned?
In 2004, Edge returned this time to the Raw brand. Edge returned without missing a step. He would go on to win the Intercontinental Championship and looked to finally get a chance to become World Champion. Edge believed the fans were on his side to watch him rise to the top.
Related Articles:
At SummerSlam that year in his hometown of Toronto, Ontario, Canada, it seemed that this was going to cement his comeback story. However, his own hometown booed him. This triggered a change in Edge. A change in attitude.
From that moment, Edge turned his back on the WWE Universe and became hated by more than his own hometown. Edge would live up to his new villainous persona, truly showing his full potential.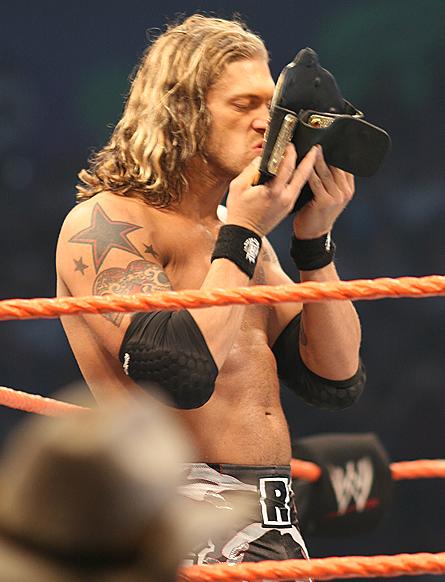 He would begin feuding with Chris Benoit and Shawn Michaels. Edge was slowly creeping in being a top villain. He lived by being the uncrowned World Heavyweight Champion.
Which led to WrestleMania 21, his first WrestleMania in three years. He symbolically and literally climbed the ladder to win the first ever Money in the Bank ladder match and finally capture the opportunity to become World Champion.
During the next year, he would be involved in high-quality feuds and continued to scratch and claw to become World Champion. However, drama outside the ring started dampening what was going on inside the ring.
An ongoing love triangle with Matt Hardy and Lita started surfacing, which started spilling on television. These three let out all the dirty laundry on television and online which created one of the most personal and heated rivalries in a long time.
Once all the feud was over, Edge was able to finally look ahead with his ultimate goal in mind and that being World Champion.
Edge has always been known as the ultimate opportunist, and that was all began at New Years Revolution in 2006. John Cena had just competed over an hour inside the Elimination Chamber and successfully retained the WWE Championship. 
But, Edge made sure John Cena's night was not over. Edge cashed in his Money in the Bank and won his first career WWE Championship. The Rated R Superstar had finally reached the top of the world.
Edge would go on to cement himself in the main event scene feuding with John Cena, Rob Van Dam and Mick Foley. He would also form a team with Randy Orton, Team Rated RKO. They would feud with the reuniting D-Generation X. The duo did not last long, but they still managed to win the Raw Tag Team Championships.
Once the team went their separate ways, Edge saw a new opportunity. Edge would take then winner Mr. Kennedy's Money in the Bank and then the same week would head to SmackDown and cash in to win the World Heavyweight Championship.
Edge would move back to SmackDown where he would begin feuding with the who's who of the main event scene, superstars like Batista and The Undertaker. He would also form a storyline relationship with Vickie Guerrero, giving Edge the opportunities he craved.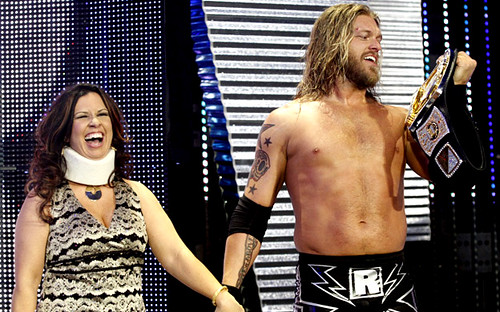 During his time on the SmackDown brand, he would go on to use the opportunity to win a numerous amount World Championships and would go on to main event WrestleMania against The Undertaker. Edge was finally seen as a main eventer, something that many people saw in him to be one day.
Edge truly blossomed as the star that tons of people saw him to be. He overcame a debilitating neck injury and came back to be one of the most hated villains in wrestling history. Edge has a stat chart that compares to very few others. He won more titles than anyone in WWE history. There is only one Rated-R Superstar.
David Jacobus
Contributing Writer