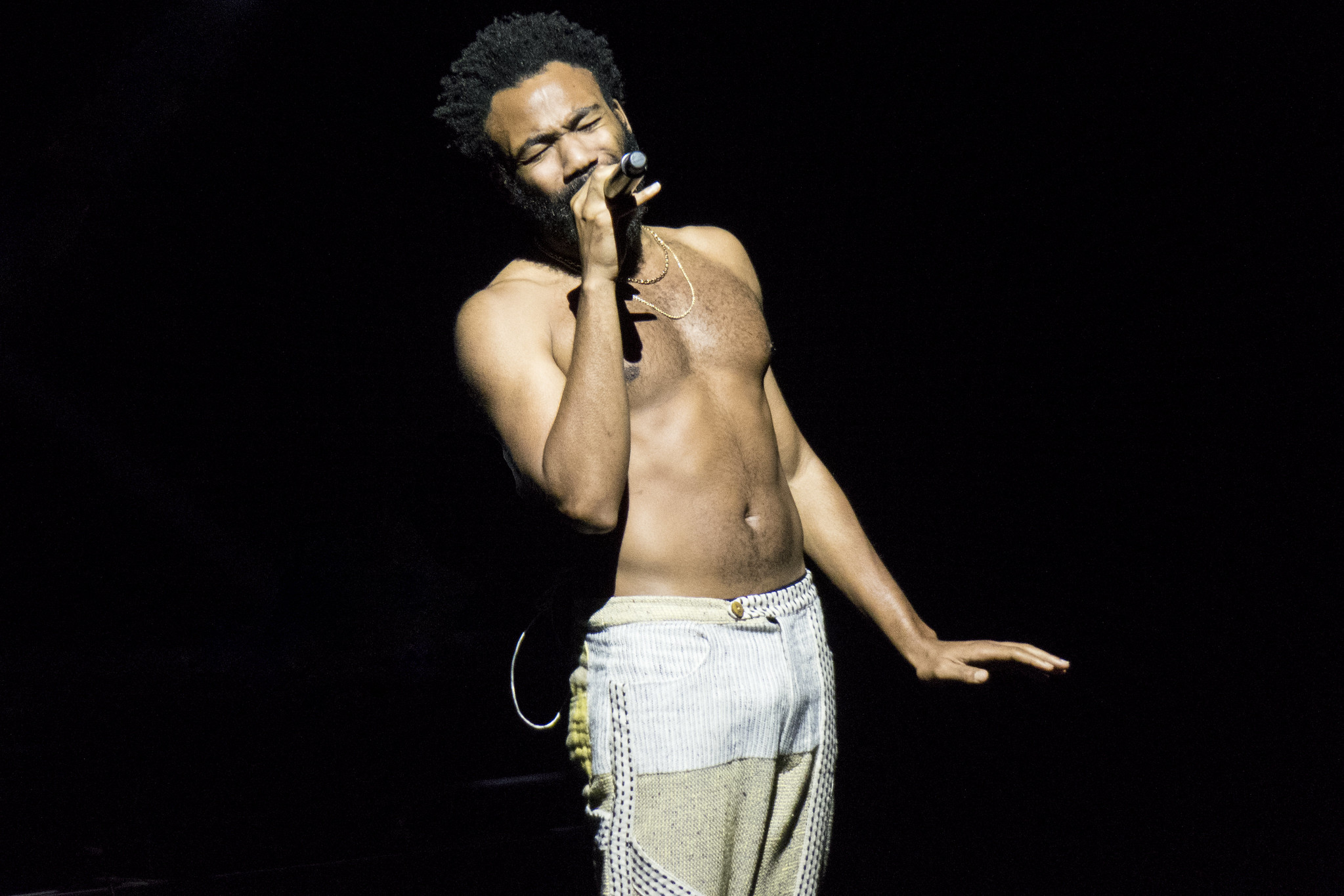 On March 22, Donald Glover officially released the mysterious project that briefly appeared on the internet on March 15. The album's title is not, "Donald Glover Presents" as it was formerly believed. Instead, it is "3.15.20" – referencing the day it was suddenly posted.
However, its release still remains unconventional as the tracks are only labeled by their start time. In addition to this, the album concept art that was once seen on the site is not included with its release. Instead, listeners are treated to the sight of a blank album cover.
Not all is mysterious though, as DJ Dahi, who worked on this album alongside Glover for more than two years, had an interview with Rolling Stone. There, he provided more information on the unexpected project. One of the notable things that stood out in the interview was the following statement: "There are a few songs on there we have had for a long time. We've been living with those: 'This feels like it can last a while, it can be something that you can't timestamp.' That's something we were chasing."
Having previously speculated on the album when it emerged, I ultimately concluded that I would enjoy the content when it was better accessible. Thus, it only feels right to come forward with an actual review of the content in "3.15.20."

The album begins with "0.00," an initially blank introduction that comes to display Glover's distorted voice on autotune repeating the same, almost ominous line, "we are, we are, we are." Lasting for nearly three minutes, the bombastic track gradually mellows and creeps into one of two titled songs on the album, "Algorhythm."
Transitions are a recurring theme throughout, showing a connective thread between all the songs — even if said songs feel like they should not be on the same album.
This second track, "Algorhythm," is a play on the words algorithm and, of course, rhythm. Algorithm refers to a set of rules defining a sequence of operations, not only in math but computers as well. In this case, it is referring to the repetitive, digital nature of this dance song which calls for a show of individual rhythmic movement. The hook features lines from the chorus of the 90s R&B hit, "Hey Mr. DJ" by Zhané, reworked in an interesting way.

"Time," is the third track and the only other titled song on "3.15.20." It features additional vocals by Ariana Grande and it was originally featured in Glover's short film, "Guava Island." While keeping its electronic sound, the slower-paced song describes Glover and Grande finding themselves in an uncertain state about the matter of reality as well as wondering about the directions for their personal ambitions.

"12.38" is a far more carefree track aiming for an experimental R&B feeling. It has been widely recognized the song shares similarities with Andre 3000's tracks on his 2003 album, "The Love Below," due to Glover's choice of rapping being reminiscent of the fellow Atlanta artist. Midway, 21 Savage is featured with a rap verse. By the end of the song, it is consumed with the voices of two other artists, Kadhja Bonet and Ink.
"19.10" next comes in with a bouncy, almost disco sounding beat, that seems as though it could have been handled by Prince at one point. "To be beautiful," Glover sings in the catchy chorus, "is to be hunted." It is clear Glover is singing of the price of having confidence in yourself with bitter people trying to hold you down.

However, these lyrics seem to simultaneously be reflective of the experience of being black in America as the song opens with Glover reflecting on a statement his father gave him during his adolescence:
"I remember, uh, back when I was six years old, uh / Daddy said, 'The world's so cold / There is something that you should know' / Uh / 'You're so gorgeous,' thank you, daddy / 'Nothing's really worth your time / But someday soon you just might find / The truth about the world's design. ' "
Many black readers will find these specific lyrics familiar, as they are clearly referencing the talk parents give when preparing their children for facing prejudice and discrimination. Furthermore, "hunted" is an interesting choice of word to describe hateful attitudes towards one's beauty, and it could easily refer to black lives that are lost due to hate crimes.

At a slower pace, the 7-minute-long "24.19" is almost like a sequel to Glover's previous song, "Redbone" in regard to how they share similar funky arrangements. His smooth lyrics provide the listener with intimate details of the relationship between him and his partner, who he constantly refers to as, "Sweet Thing." Despite the pet names, not all is perfect between them as Glover highlights his flaws within the relationship.
However, the song builds up to go into its second half in which Glover passionately professes his gratitude to his partner for being at his side. Ultimately, the song transitions into something unexpected. The listener abruptly hears a harsher, electronic beat, filled with the sounds of panting, painting a scene of intensity.
This intensity leads to the next song, "32.22." The official name is, "Warlords" and it had previously been performed live at Coachella. The track doesn't actually provide lyrical content, as there is more of a heavy focus on the music and repeated lines. Still, it's a bit too extreme and intense to be considered a dance track.
DJ Dahi is responsible for being one of the co-writers and describes the song best in his interview with Rolling Stone: "if you went into some village, a tribal community of people you had never seen or heard of but were observing. That song is supposed to be an insight into a spiritual celebration of some sort."
"35.31" is another unlikely track following soon after, signaling its entrance through the usage of bells and cows mooing at the end of "32.22." Like that, the listener is placed out of a foreign environment and thrust into the country where Glover seems to be instructing a dance. However, the upbeat chorus is actually him boasting on his drug-dealing prowess. Essentially stating that he is more elusive and untraceable than the American cryptid Big Foot. Recurrently, slang and phrases referring to cocaine are scattered throughout the verses.
Near the end, the beat makes a shift in modernity. Causing the chorus to sound more like a modern-day rap song and less like a country song. Interestingly, the outro features lyrics skewed in reverse, out of reverse they say:
"When you're not invited, you take what you're given / Some wait every day for the call / Grief is a standing ocean, I never swam unless you did / So I don't know why I'm here without you / I miss you."

These lyrics come from the second verse of the following song, "39.28."
"39.28" begins sung in acapella and describes the grief that follows the death of an unspecified loved one as Glover asks himself, "why go to the party?" Eventually, it is backed by the sounds of a piano, increasing its somber and reflective feel.
"42.26" is better known as, "Feels Like Summer" which was released as a single in July 2018. Despite its chill melody, "Feels Like Summer" is not a feel-good song. The lyrics have Glover reflecting on alarming real-world issues with its title itself referencing global warming.
"Every day gets hotter than the one before / Running out of water, it's about to go down. / Go down / Air that kill the bees that we depend upon / Birds were made for singing / Waking up to no sound. / No sound."
The chorus is no better, for even as Glover states that he hopes the world will change, he soon after admits – "it just seems the same."

"47.48" comes in, maintaining the funky arrangement Glover is fond of using. Somber, he sings of violence in the world, specifically injustices that occurred with young children who lost their lives. Yet, he makes time to note one important thing: don't worry about tomorrow. There is always going to be beauty in the world, despite it all. Something that many in this current state of living need to hear.
The end of the song features Glover sharing a conversation with his young son. Glover is notoriously private in regards to his family life, so this came as a surprise. "What do you love?" he asks him. As his son gives his answers, he then asks Glover a deep question: "do you love yourself?"
"I do love myself," he answers with no hesitation.
It is Glover's display of self-love that gives way to the final song, "53.49."
"53.49" concludes the album on a high energy note as Glover switches between aggressive rapping and powerful singing. As a whole, the track exposes how far Glover has come as a person, not simply due to loudly reaffirming that he loves himself in the chorus, but acknowledging that he, "did what [he] wanted to."
Immediately, I knew he was referencing his career path. Glover has been in the media for a long time and is recognized by many for his role on Dan Harmon's series, "Community." During the series' fifth season, Glover announced that he would be leaving the show because he wanted to work on other projects, such as his series "Atlanta."
Later in 2013, Glover posted a series of handwritten notes on his Instagram where he shed light on things that had been on his mind. Such issues included worrying about Harmon's perception of him after leaving "Community," loneliness, and his general anxiety about life. It has since been deleted.
Notably, Glover's second album "Because the Internet," was also released in 2013. It concluded on a disheartening note with the song "Life: The Biggest Troll." There Glover repeatedly begged for help in the outro, but in "53.49" there is no display of desperation. Only a sense of satisfaction that Glover did all that he wanted to without fading into irrelevance.
What additionally causes this final song to stand out with its themes is the fact that this is likely his final album. As a farewell, he is telling us loud and proud, that he did what he wanted, he loves himself, and he is once more moving onto a new chapter in his life. Furthermore, through the other songs on this album Glover is essentially telling us not to worry about tomorrow and to embrace life, even if we may feel frightened by horrifying the world can be or if we have felt we have lost direction with our ambitions.
While I would refrain from calling this album timeless, "3.15.20" does maintain a unique sound. Ultimately, what it does is showcase how versatile Glover can be.
Although there are some songs I wish could have been included, such as "Saturday," which was featured in Guava Island, and "Human Sacrifice" which was featured on an advertisement for Google Pixel 3, it is a great album and definitely worth listening to.
Ayzha Middlebrooks
Associate Editor