Late for Black History Month but on time for Women's History Month, on March 20, Netflix released its latest original series, "Self Made: Inspired By the Life of Madame C.J. Walker."
The historical drama has 4 episodes running from 45 to 49 minutes with its source material coming from Walker's biography, "On Her Own Ground" which was written by A'Leila Bundles, her great-great-granddaughter.
From the moment the trailer for the miniseries was revealed, it provided audiences many reasons to feel excited. From its casting of Octavia Spencer (known for films such as "Hidden Figures" and "The Shape of Water") as America's first black female millionaire to one of its directors being Kasi Lemmons who is known for films like "Eve's Bayou" and the recently released "Harriet."
While starting from the very beginning of Walker's career, the first episode of "Self Made" does not gradually ease you into the life of Walker. Instead, within a matter of minutes, you are shown everything crucial in regard to her backstory.
Short flashbacks expose how Walker worked as a laundress under tremendous stress. Her lifestyle ultimately contributed to hair loss and her first husband is shown abandoning her shortly after. This leads to Addie Munroe meeting her while pitching sales and treating her scalp.
With her hair grown back and as a result, her confidence lifting, Walker begins selling Munroe's product to other women of the African American community until deciding to pursue her own vision. This causes a rivalry between Walker and Munroe that lasts throughout the entire series.
The three following episodes see Walker elevate with her hair care product (which has its ingredients stolen from Munroe's own formula) while also providing insight into her less than idyllic family life.
Rather than simply focusing on racism that was normalized at the time, it is more so colorism and the issue of conventional beauty standards that greatly define the miniseries, as Walker's skin color and weight brings judgment and discrimination just as much as her sex does.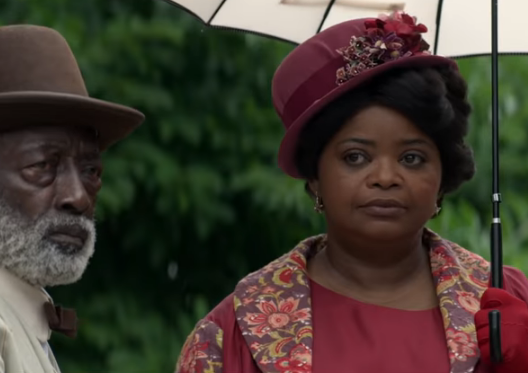 Spencer portrays Walker as a multifaceted woman. Despite celebrating her dark skin, the series does not hesitate to show her insecurity as she is aware that advertisements and even men within her race, prefer African American women who have more European features.
One of the many powerful moments in the series consists of her seeing a sketch of a model that her husband wants to use to sell her product. She is known as The Walker Girl, who is young, slim, tall and biracial. Visibly shocked by an image of a woman who looks nothing like her, The Walker Girl comes to life and taunts Walker. Stating that Walker wished she looked like her.
But despite her insecurities, she is powerful as she provides for her family. Even at the expense of her husband's gradual envy. Walker fearlessly combats Munroe and she runs her empire with an iron fist. Yet, although Walker is powerful, she is also shown to be caring and maternal as she desires the best for her fun-loving daughter Lelia Walker.
Spencer's portrayal was everything I expected it to be since, after all, she possesses an Academy Award in addition to having been nominated for two other Academy Awards in the past.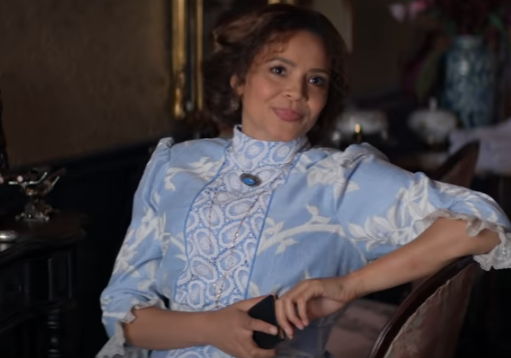 However, Carmen Ejogo (known for her role in the "Fantastic Beasts" series) did not have the opportunity to portray Munroe as a sympathetic character. First and foremost, Munroe is the source of the series' drama. There are a few scenes where she is allowed to be more than the villainess but unfortunately, they are brief.
For instance, such a moment occurs when she calls her elderly relative during a time of weakness. During this phone call, it is exposed that Munroe supports her extended family through her products. It is simultaneously revealed that Munroe's grandmother feels her light complexion and wavy hair texture will bring her great success in life, no matter the circumstance.
What should have been a touching scene was instead harsh and unsettling. Exposing what many biracial women from this bygone era, conceived out of rape (another topic "Self Made" does not hesitate addressing), may have heard from their loved ones at the cost of raising their self-esteem and self-worth.

On that note, if you are a lover of historical accuracy, Ejogo's character may be upsetting simply because Addie Munroe did not exist in real life.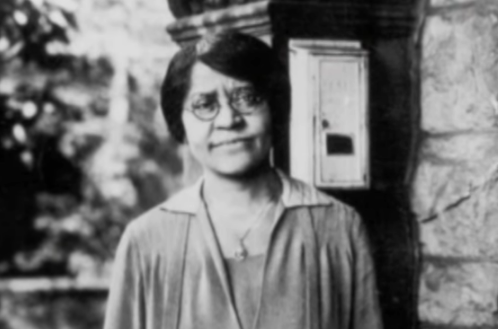 She is based on Walker's former real-life business partner Annie Malone, who is not shown to be visually identical to Ejogo whatsoever. Walker is described having left Malone's company after a disagreement and while they were rivals, very little feuding occurred.
After doing many things, such as setting up a beauty college, Malone ultimately became a multi-millionaire by the 1920s – something Munroe does not do. As a result, this erasure makes her yet another historical figure who deserves her own miniseries as well as a fair narrative.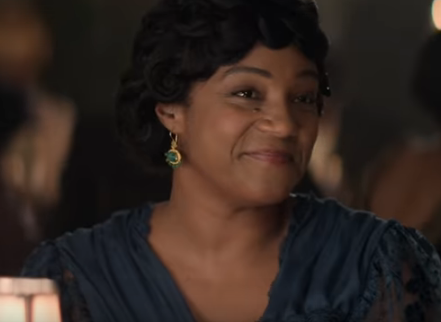 Tiffany Haddish ("Girl's Trip") plays Walker's daughter A'Leila in a portrayal that overall had a mixed reception across social media. There are personal accounts that state she greatly stood out in an otherwise talented cast, while there were others on Twitter who felt this role was just another example of Haddish somehow finding a way to portray a party-loving character.
Although this is only Haddish's second drama after having a lead role in the mob drama, "The Kitchen," her presence never threw me off. A'Leila is a comical character but not outrageously so. She begins the series as a young woman with romance on her mind yet ultimately she embarks on her own journey as she better understands her own wants and desires.
A'Leila ultimately relocates to Harlem while also ensuring her mother's legacy continues on.
Haddish ultimately fits A'Leila because in real life Walker's daughter was known as the "Joy Goddess of Harlem." Throwing luxurious parties for artists, writers and intellectuals during the Harlem Renaissance. Yet with that being said, "Self Made" does take creative liberties with her character as well.
Part of A'Leila's narrative consists of her entering a loving relationship with another woman. This is not true, yet multiple sources state that during her lifetime A'Leila was an ally to the LGBTQ community. If nothing else, "Self Made" was clearly aiming to depict a modern representation of love for its viewers while also incorporating A'Leila's longtime acceptance towards this community.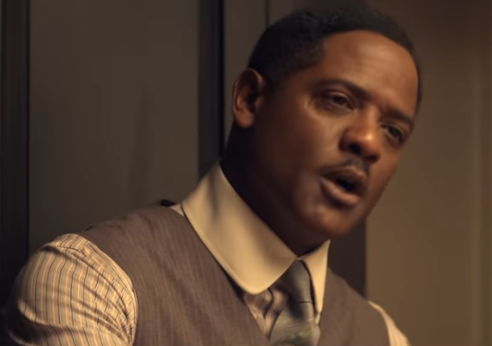 Blair Underwood ("Set if Off") is also recognized for his portrayal of Walker's second husband, C.J. Initially, he seems to be better than her first husband, but the episodes ultimately reveal that he feels emasculated by Walker's success. His discomfort leads to him having an affair with Dora Larrie, yet another woman who was aiming to sabotage Walker's empire.
This betrayal is particularly heartbreaking for Walker since, like Munroe, Larrie is biracial, slim and much younger than her. Unlike the characterizations of Munroe and A'Leila, the event between C.J. and Larrie is for the most part, historically accurate.
The direction of "Self Made" is occasionally questionable, especially in episode one as it is filled with modern hip hop, R&B and even rock. For a while now, modern music has been used in historical films to draw in younger audiences and such an example of a film doing so is the 2013 remake of, "The Great Gatsby."

However, the difference between "Self Made"'s handling of modern music and "The Great Gatsby's" usage is the fact in the latter film, most of the songs do remain high energy, reflecting the party atmosphere. These songs also have an electro-swing tint which reflects the '20s era while simultaneously modernizing it.
Beyonce's "Crazy in Love" is also featured twice in "The Great Gatsby," which some would think would not be an appropriate song for the classic novel, but its feature does work. First, "Crazy in Love" is played as an electro-swing cover in the film, then it is featured again later – played on an organ. Not only was Beyonce's song greatly remodeled to suit the atmosphere at two separate points, but the lyrics do depict the protagonist's feelings for his out of reach love interest.
This is unlike "Self Made" which does not restructure its songs to fit the era. The series only seemed to use them if they reflected the character's mood in some way. However, the result just comes across as careless usage as "Seven Nation Army" plays while Walker is embarking on sales or, as the "Harlem Shake" briefly plays in episode 3 – simply because A'Leila and Walker are in Harlem.
Luckily, it is only the first episode that places music at nearly every opportunity, because the rest of the series primarily relies on a more natural, instrumental sound that is reflective of the period.
Episode one also features an imaginary scene where Walker is in a boxing ring with Munroe, symbolizing their fight to reign supreme in the hair industry. These segments moreso came across as silly than serious, but luckily, the boxing ring scenes are cut from the remaining episodes.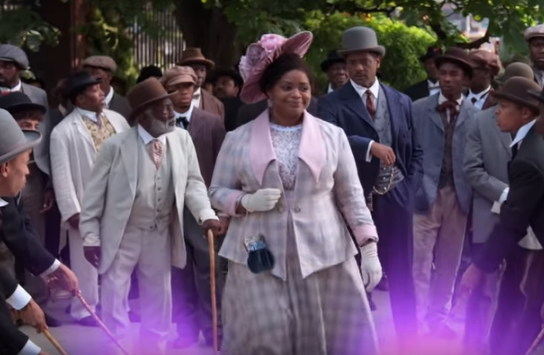 Criticism aside, it is always amazing to see underrepresented historical figures like Walker gain a chance to have their stories told outside of biographies and "Self Made" does something many African American films and series are not doing on a large scale, which is addressing the politics of beauty in the African American community.
The fact this is ultimately my first time seeing a depiction of Caribbean immigrants in Harlem during the 1900s stood out to me. Often, when historical African American films are made, racism is a focal point but here I was also given the opportunity to see so many African American women, in period clothing, discuss and focus on other things that went beyond institutional injustice.
Then finally, once the credits rolled it opened my eyes to how African American women have an extensive history with hair care. My realization came in the sense that many of the techniques we use today are historical practices.
All and all, lovers of historical accuracy may not appreciate "Self Made." However, for those who want to see a historical series that ultimately celebrates African American female success, it's worth watching and creating discussions over.
Ayzha Middlebrooks
Associate Editor