SmackDown Live took place this past Tuesday from Lincoln, Nebraska. The SmackDown roster experienced a dramatic change last week during the Superstar Shake-Up. New faces looking to make an instant impact on Tuesday Nights.
Who is going to be the first to create their own opportunity? Also, after last week's attack on Mr. McMahon, what are going to be the repercussions for Roman Reigns?
SmackDown kicks off with "The Best in the World" Shane McMahon. He came out to get an explanation for the actions of Roman Reigns from last week.
He is disgusted that Roman Reigns struck his father as SmackDown went off the air. Shane states that he had been thinking long and hard about what repercussions should be handed down to Roman Reigns.
He then ordered Roman to the ring to figure out what actions are going to be handed to him. After Roman entered the ring, Shane and himself locked eyes. Then, Elias came from behind and with Shane McMahon the two attacked and beat down Roman Reigns. How will Roman get his revenge?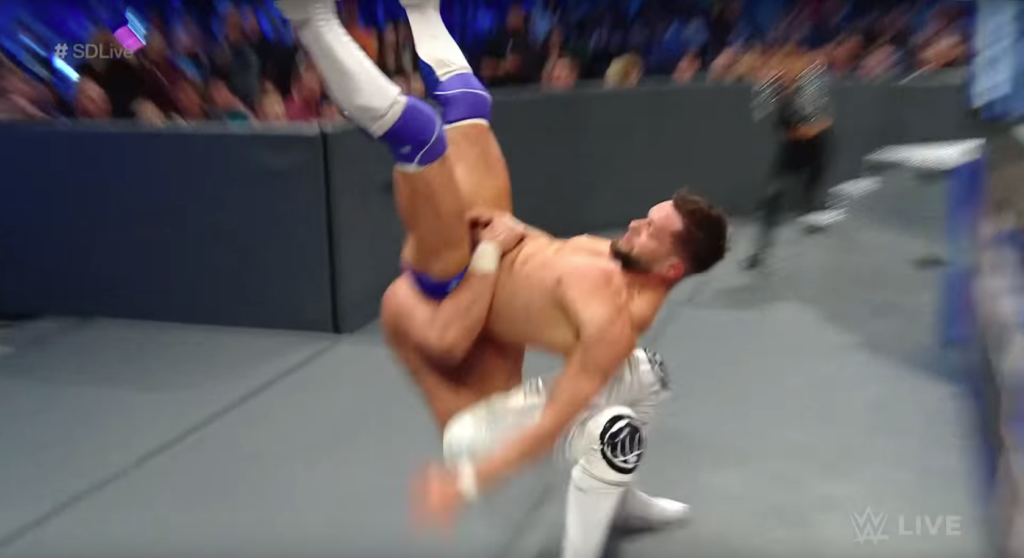 Finn Balor v. Andrade
Last week on Raw, Andrade picked up a huge victory over the Intercontinental Champion Finn Balor. Andrade has one thing he is eyeing and that is the Intercontinental Championship. Can he prove to Finn that his days as Champion are soon coming to an end?
These two phenomenal athletes put on one heck of a contest. These two bright young athletes are the future of SmackDown and they did not disappoint.
These two put on an intense back and forth contest with big spots and hard-hitting action. Andrade seemed to be closing in on the victory, but a miscue from Zelina led to Finn Balor to hit the Coup de Grace for the win.
The score between the two is now even at one apiece, will there be a grudge match, maybe for the Intercontinental Championship in the near future?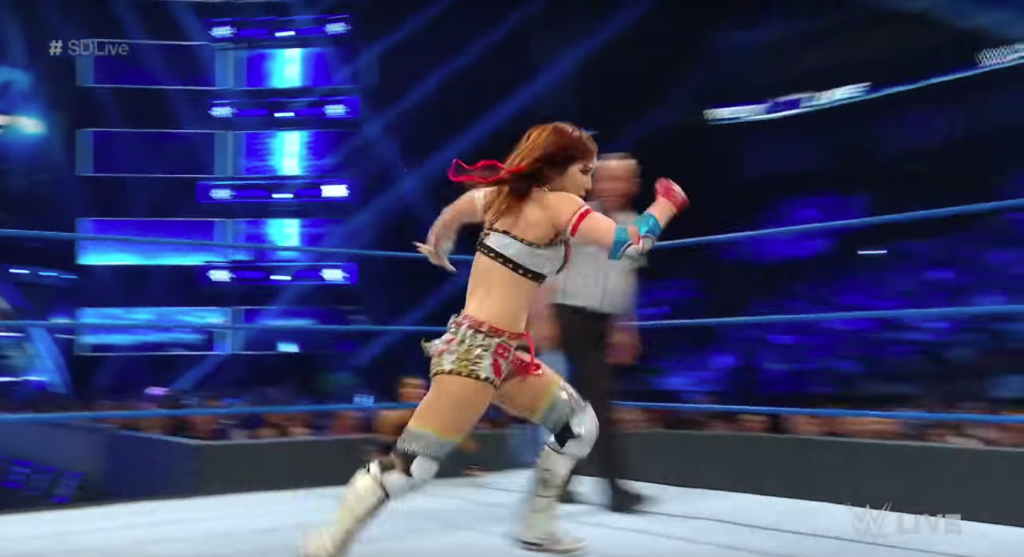 Kairi Sane v. Peyton Royce
Last week, Paige debuted the team of Asuka & NXT call up Kairi Sane and stated they have their eyes set on becoming WWE Women's Tag Team Champions. On SmackDown this week, Sane made her single's debut against one half of the WWE Tag Team Champions, Peyton Royce.
After making fun of Kairi Sane & Asuka, Billie Kay was forced to watch Peyton eat their words and watch Kairi Sayne pick up the victory after hitting Peyton with the Insane Elbow.
After the match, Mandy Rose & Sonya Deville made their presence known that they should not be forgotten in the Women's Tag Team Division.
Jinder Mahal v. Chad Gable
Jinder Mahal looks to get the same success that he had the last time he was on SmackDown Live. The last time he was on SmackDown he not only won the United States Championship, but he also won the WWE Championship. Can lightning strike twice for the "Modern Day Maharaja?"
Chad Gable also made his way back to SmackDown and looking for a fresh start. However, before he could get that fresh start, he was attacked from behind by "The Freak" Lars Sullivan. Lars was not done there though as he took down both Singh Brothers.
R-Truth came down to the ring and attempted to get revenge on "The Freak" but it was to no avail as Lars laid out R-Truth. Who is going to stop Lars Sullivan?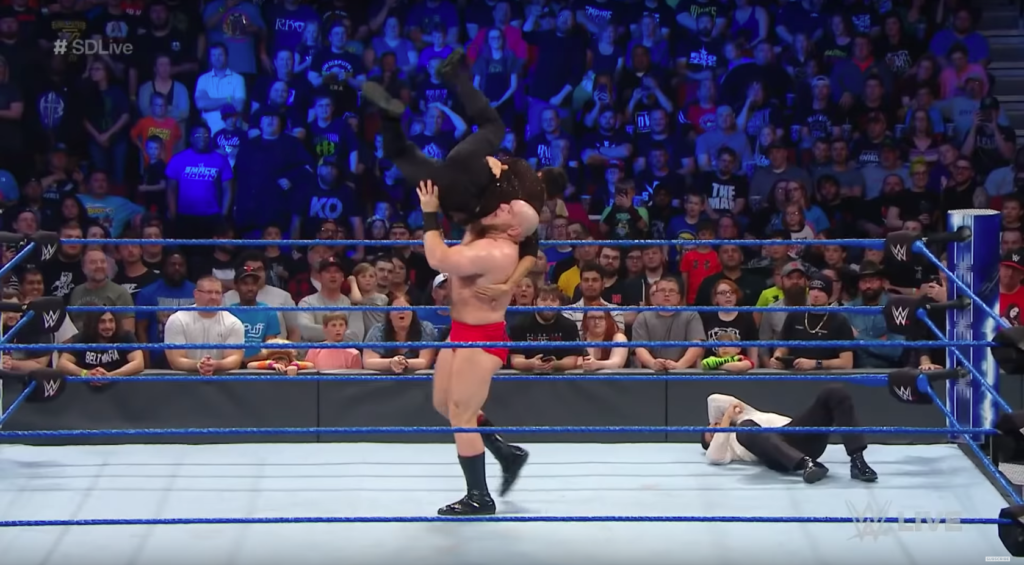 Charlotte Flair & Becky Lynch: Face to Face
For the first time since WrestleMania, SmackDown & Raw Women's Champion Becky Lynch and Charlotte Flair go face to face.
Charlotte demands an answer on why Becky feels she is the best. Becky pinned Ronda Rousey at WrestleMania to win both the SmackDown & Raw Women's Championship. Charlotte was not pinned or submitted to lose the SmackDown Women's Championship.
Becky came out and explained that Charlotte put it all on the line at WrestleMania and lost. Becky explains that she is tired of Charlotte being entitled to opportunities at the championship. She became Becky 2 Belts to give opportunities to fresh challengers.
That is why Bayley came out and stood up to Charlotte Flair. Bayley came out to tell Charlotte that she didn't come to SmackDown to stand in the back of the line and watch Charlotte get opportunity after opportunity.
She came here to become champion and that is why she challenged Charlotte to a match.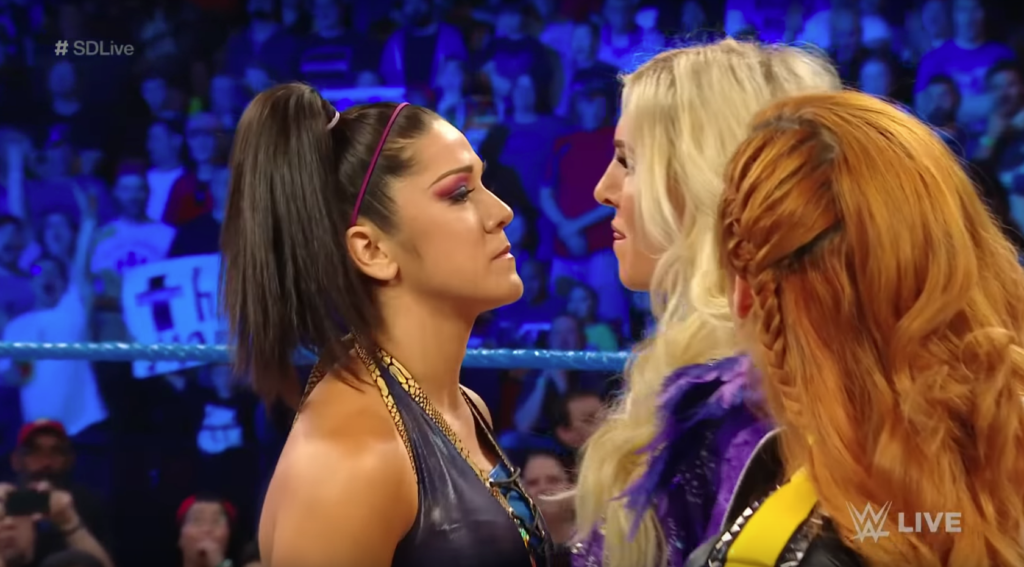 Bayley v. Charlotte Flair
It was announced that the two would have a match right then and there. It was also announced during the commercial break that the winner of this match was going to receive a future championship opportunity against Becky Lynch.
Both women knew the stakes of this matchup. A shot at a championship opportunity. Bayley dug down deep but it was not enough as Charlotte was able to spear Bayley for the pin and the win.
After the match, Becky Lynch stated that she will face Charlotte Flair and Lacey Evans at Money in the Bank. Putting the Raw & SmackDown Women's Championships on the line in separate matches.
Will Becky 2 Belts still be champion after Money in the Bank?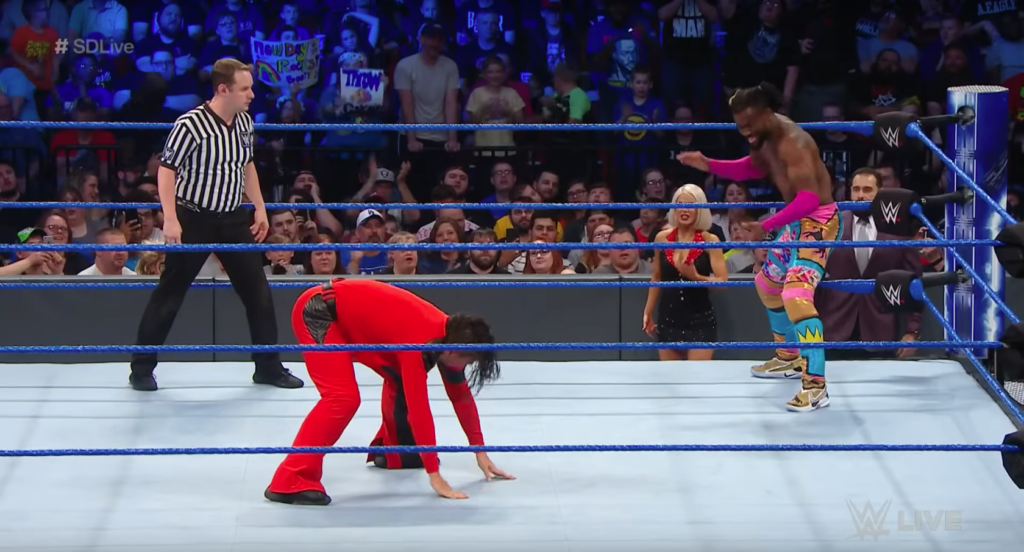 Kofi Kingston v. Shinsuke Nakamura
The WWE Champion Kofi Kingston has been on a major hot streak since winning the WWE Championship at WrestleMania.
Also, the "New" New Day is building off from a successful week of "Big O" Kevin Owens as the honorary member of the New Day. Will the New Day ever be the same with the addition of Big O?
These two put on a very intense very competitive match. Kofi looked to be closing in victory, but Rusev got involved and forced a disqualification. Big O saved Kofi and helped clear the ring.
But, in a moment that shocked the world, Big O, I mean Kevin Owens attacked Kofi Kingston. He then gave Xavier Woods a powerbomb onto the apron for good measure.
Kevin Owens fooled the entire world, all to get Kofi Kingston at his most vulnerable. Kevin attacked Kofi and held the WWE Championship in front of Kofi, stating that the good time that Kofi and his family had is over.
KofiMania is over and the New Day is in shambles because Kevin Owens is gunning for the WWE Championship.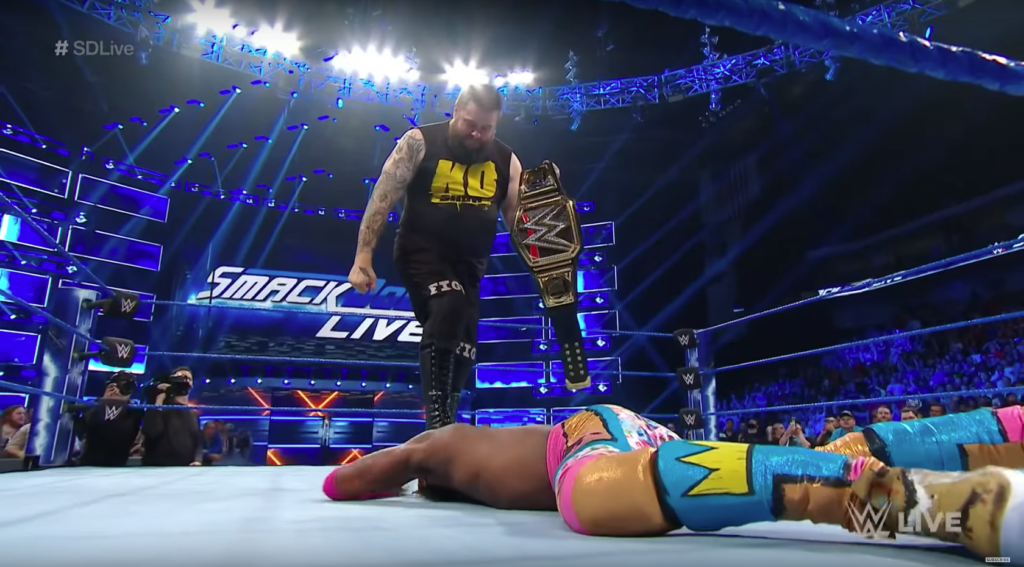 Conclusion
This was yet again another great episode of SmackDown. From Kevin's turn on the New Day to Andrade versus Finn, this was an eventful night from the Blue Brand. Things are looking up for SmackDown and it can only get higher.
David Jacobus
Staff Writer