It was a brutally cold and windy spring day when the Sinclair bullpen marched out of the dugout for their jog around the foul post after the first inning of a double header.
Through the dreary conditions, they did so with enthusiasm, energy and one of them wearing a salamander mascot head.
This fun-loving energy has become a staple of this year's Sinclair baseball roster.
A roster bolstered by significant talent, and even more potential. A roster attributed to Coach Steve Dintaman and his staff latently building a junior college powerhouse over the course of his 12-year tenure.
Out of the last 10 years, they have eight conference championships, a current streak of four straight appearances to regionals and two victories there to advance to two different World Series's where they placed third and fifth respectively.
But that pattern of success can be traced back decades.
Great coaches like Sinclair Hall of Famer, Jim Harrison and Mike Goldschmidt sustained Sinclair's reputation as an outstanding baseball program.
As a high school baseball player from St. Louis, Dintaman came to Sinclair to play under those two great coaches. Little did he know, three years after he graduated he'd go on to follow the footsteps of these accomplished men.
Humbly, he acknowledges the path his mentors paved.
"The baseball program has always been pretty strong," Dintaman said. "We just kind of took over what they were doing, and kept moving forward."
Since taking over, the man dubbed by the players as "Dints," has put in a lot of effort into assembling a diverse staff who cares and is willing to get the most out of each and every guy. D1 father and son duo Tom and Terry Bell, along with pitching mentor Mike Parr headline an extremely knowledgeable and diligent coaching staff.
Sinclair also has a team chaplain, they have Mark Humbert as a sports psychologist and the man Dintaman labeled as "best trainer he's ever had," Spencer Deffner. They also have strength and conditioning coaches.
"We've been able to seek out some of the best people in different fields and they get to be a part of something special. A lot of them are doing it because they love it," Dintaman said.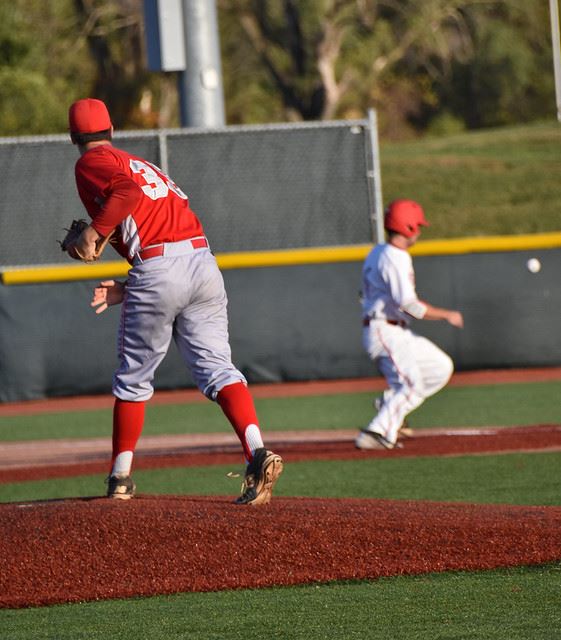 The motive behind all of this is simple. It's the collective program goal of player development.
"That is our number one focus, we all talk about wins and championships all the time, but that's a byproduct of player development. If our guys can get bigger and stronger than they are now, they're going to win a lot of games," Dintaman said. "As long as they need to be here, they can be here. We're not a destination, we're apart of the journey."
A valuable part of the journey at that. It's safe to say Sinclair is at one of their peaks in developing their recruits. The Tartans sent a whopping 14 players to division one schools last year and is proudly flourishing, holding a 100 percent graduation rate for the last four years.
When the numbers are stacked against most schools in the nation, they stand out, and it makes sense.
It starts with the institution itself. Dintaman elaborates how the school plays a role in recruiting and development.
"It's a first class community college, excellent professors, good facilities. Guys that come out of their areas are used to community colleges being very small, and this has a college campus feel to it. It's very affordable and a great place to start your academic career," Dintaman said.
The program's reputation and fantastic campus appeal allow the Sinclair staff to recruit to their max potential.
"Guys come here, knowing they're going to compete for a National Championship, and knowing they're going to develop into better player mentally and physically," Dintaman said.
They often seek guys with big time potential, sometimes looking past physical frame, and really observing the blunt skill set of players.
Dintaman is confident that if the talent is there, they can help build a player's physical stature and mental sharpness to help amplify their game to the next level.
Coach Dintaman has become known for his ability to key in on the psychological aspect of the game for each and every player during his time at Sinclair.
The players have a journal that they use to keep track of their play and emotions throughout the season, and Dintaman checks it every eleven games and reacts to it. He consistently considers the feedback of each every player on the team.
Freshman infielder, Matt Meyer, believes that is one of the many things that stand out about the program.
"Dints really gets on an individual level with each player, in the winter we went through videos of each player's swing. I think it works great with some players," Meyer said.
Meyer, 19, hailing from Indiana is one of the many recruits that have made this year's squad special once again. Batting .317, with four triples, two home runs and 21 runs batted in, Meyer enhances a lineup that oozes with feared hitters like Mike Sears, Alex Jacobs and the enthusiastic Keegan Corbett.
Collectively, this lineup gives pitching staffs all over the country major problems. Despite the oomph that draws from this kind of skill, the pitching staff is even better. There's guy after guy that can give offenses nightmares on the mound.
According to Dintaman, this is the deepest and most dangerous bullpen he's ever coached. There's no doubt that fills out the team, they're extremely competent from top to bottom. It came as no surprise when the Tartans started hounding the league as soon as the season started.
At some points throughout the season, they were so talented that losing one game started becoming wake up calls.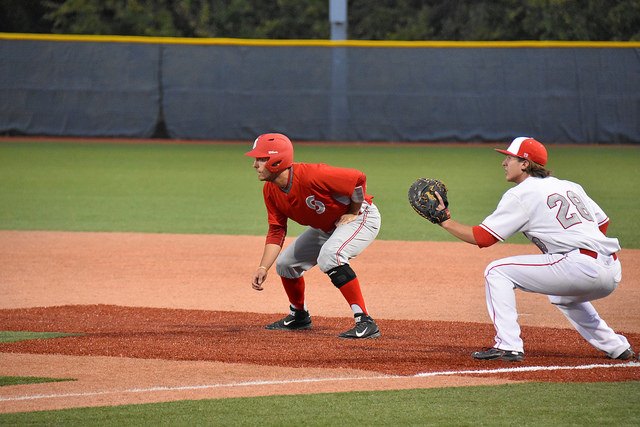 Meyer thinks the early controversy has helped bring this talented bunch back down to Earth, and closer to each other.
"Team chemistry is very strong," Meyer said. "The few losses we've had have been eye openers and even some of the wins that we've had, where we haven't played well has let us know, just because you're supposed to be good doesn't mean you can just show up and win. You still have to compete and you still have to battle every play."
Even though they're only 27-5, on a 14 game winning streak and ranked third in the country, the close games and losses have clearly left a positive impact on the players' perspective on the season.
Sophomore transfer, Jakob Brutowski, can attest to that.
"Yeah, we're a great team but we're not good enough to win when we don't play well," Brutowski said.
He was just happy the losses happened early enough to help them make adjustments to the things they were not executing upon, and is really prideful of the Cuyahoga Falls series where the team stepped up in big moments.
Brutowski, 20, is a left hand pitcher from Akron and a perfect example of a product of Sinclair's effective focus on player development and JUCO's life-changing platform. He was a late bloomer in high school, missing the eye of division one scouts. Confused about his path, Brutowski settled for Youngstown State.
In summer ball, he caught the eye of pitching coach Parr, and that's all she wrote. Brutowski came to Sinclair's campus in the fall, ready to work.
One of his biggest goals was to improve his command. He and Coach Parr worked tirelessly during that fall learning curve, and now he's pitching the best he ever has, thanks to Parr's expertise and diligence, as well as Coach Dintaman's trademark psychological training.
"Biggest thing here that helped me develop was the mental game; Coach Dints likes that aspect and I think implementing that into my pitching has helped me improve as a player a lot," Brutowski said.
"And Coach Parr, he picks up the smallest things in my delivery that help. When players aren't doing well, he's really good at coming up with solutions and things to try."
Not only has he converted his talent fully, and has become one of the best relievers in JUCO but Brutowski committed to join a prosperous Texas Tech squad next season, and possibly could be the highest MLB draft pick Sinclair has ever produced.
He headlines the Tartans' loaded bullpen that compliments a deep rotation. Again, this is "the deepest pitching staff" ever coached by Dintaman and they have continuously proven it, plugging in several different end-of-the-rotation options to start games.
They also are very equipped at the top of their rotation flaunting two legitimate pitching prospects, Aj Peter and Alex Theis, both combining for a record of 11-0 so far with sub 2.50 ERA's.
Brutowski recognizes the gifted group he's apart of.
"Our pitching staff has been unbelievable so far. Every guy who comes into or starts a game really competes and pounds his own and our hitters too," Brutowski said.
He's very fond of the situation he's in at Sinclair, from the coaches to the players, Brutowski and the rest of the team really savor the opportunity in front of them; having fun and working hard.
When asked to describe the relationship with his teammates, Brutowski immediately chuckled not fighting the smile.
"We have some characters, there's some guys that will do anything for you at anytime. For sure a bunch of jokesters," Brutowski said.
You can see the Tartans' personalities in full bloom this spring when the bullpen takes that warm up walk around the foul post and when they congratulate their peers in between innings. You can also hear it from the dugouts while enjoying a game.
The team is very confident and lively, but don't mistake their playful demeanors. There are standards set for these guys from day one, Brutowski describes not as pressure, but as a blatant expectation.
Coach Dintaman emphasizes the mark set for this baseball team from the time guys agree to play at Sinclair, winning is just apart of the culture by now.
"We don't have team meetings every month, discussing a goal, that is already set in stone," Dintaman said.
Those goals are to win the conference, then regionals and then the NJCAA World Series. Dintaman fully believes that with the right nurturing, the right atmosphere, due diligence and good attitudes, this team can separate themselves from Sinclair baseball history and accomplish all of these goals.
"No team is the same, and that's our job, to make a team atmosphere out of a place that guys may only spend one year. We do a lot of team chemistry activities to make sure they understand everything here is earned," Dintaman said.
The talent is absolutely undeniable, the chemistry is amusing, but the coaching staff can only establish a foundation and finely tune problems as they occur. At the end of the day, it all falls back on this exciting team's performance.
"It's extremely possible to win a National Championship, there's enough talent to say that could happen, it's just how quickly will some of these guys grow up, and how will they be able to step up," Dintaman said.
Jeff Allen
Reporter