Notre Dame has burned down.
The famous Notre Dame cathedral caught fire early Monday afternoon. No injuries have been reported yet nor have any fatalities.
The cause of the fire is unknown but it's believed to have started due to the construction the church was undergoing.
Places of worship are often difficult to renovate because of the close proximity of everything.
There are open-flame torches, sparks from welding and other hazards on the scaffolding. Furthermore, the roof of Notre Dame is wooden. It could be deduced that any kind of renovation was a ticking time bomb of disaster.
The cathedral, which attracts millions of visitors each year, dates all the way back to the 12th century and quickly became famous after Victor Hugo's "The Hunchback of Notre Dame."
President Emmanuel Macron will be arriving on the scene, but he sent his condolences to the public in a tweet.
"Notre-Dame de Paris en proie aux flammes. Émotion de toute une nation. Pensée pour tous les catholiques et pour tous les Français. Comme tous nos compatriotes, je suis triste ce soir de voir brûler cette part de nous."
"Thoughts for all Catholics and for all French," Macron laments. "Like all our countrymen, I'm sad tonight to see this part of us burn."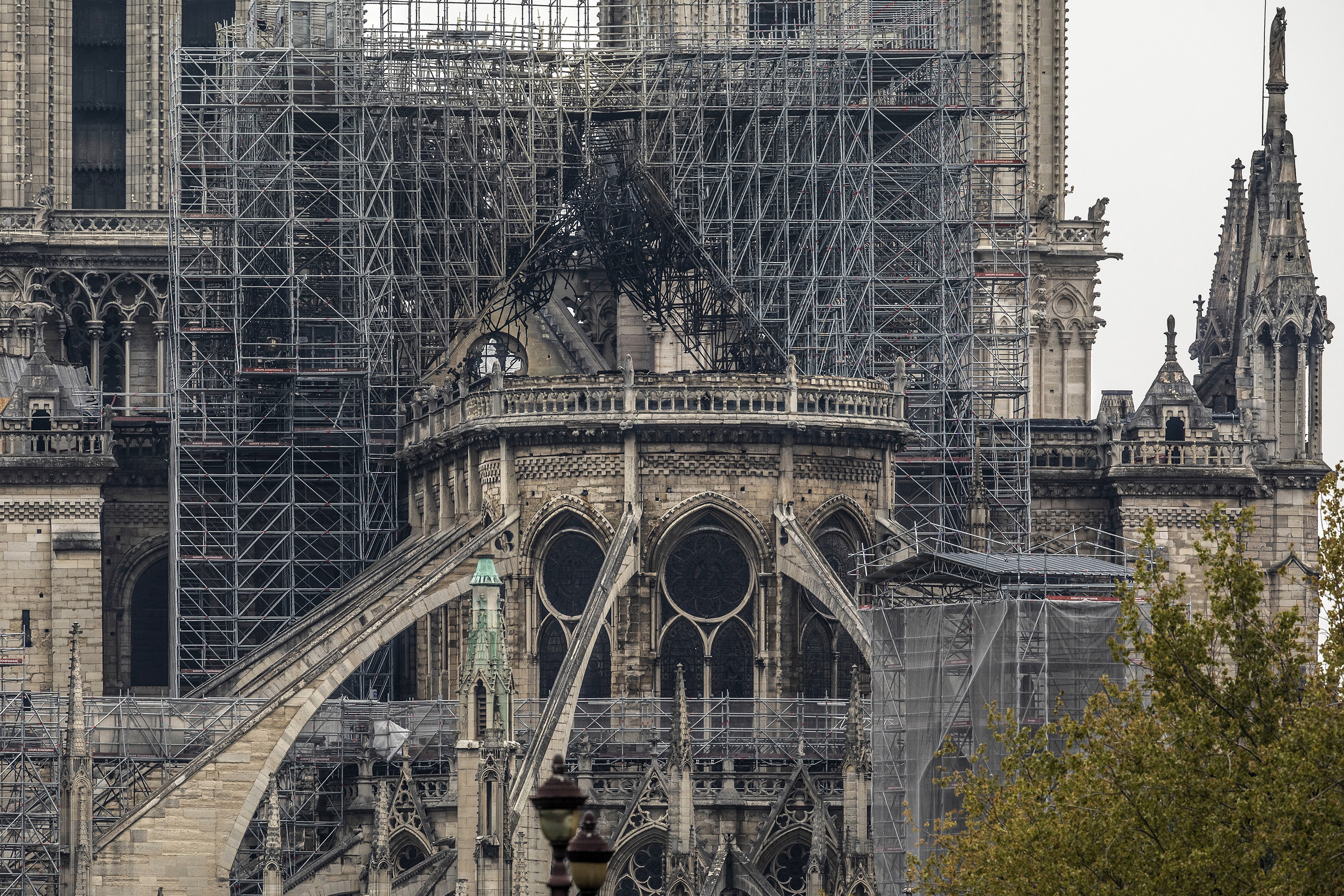 Notre Dame's spire had caught fire and soon fell, spreading the flames to the rest of the roof.
Many onlookers had tears in their eyes as others began chanting its name. Videos can be found all over the internet as people desperately fled the scene. Folks gathered on the Seine River were at a complete standstill.
Visitors were trying to get into the cathedral when the doors where suddenly shut without any kind of explanation. Soon, though, it became clear what was happening.
Smoke began to climb from the spire, the highest point of the church at 295 feet. The smoke quickly turned from grey to black making it clear the fire was raging inside the building.
The fire grew rapidly and soon, the entirety of the scaffolding would be covered in a bright orange glow.
French police evacuated the area and the fire department began tackling the massive fire. The fight will be tough and nearly impossible. Fire hose streams can't reach the top of the roof to actually put out the flames. If the firefighters tried on foot to reach the top, they would face a long arduous climb.
Additionally, using any kind of flying water tankers could further damage the cathedral. Dropping water very well could cause the rest of the building to collapse.
A Parisian, Angelique de Almeida, cried as she watched the flames. "We are going to lose her, everything is up in flames," she cried. "We lose this, we lose Paris. It is apocalyptic. And this is the Holy Week."
With the fire taking place so close to Easter, it adds an especially upsetting element.
Emilee Brewer
Intern