The annual Gem City Comic Con (often shortened to GCCC) is fast approaching, bringing comics, pop culture and gaming galore to the Dayton area.
   Currently, in its 14th year, GCCC will be returning to the Dayton Convention Center on April 27 from 10 a.m. until 5 p.m. and April 28 from 10 a.m. until 4 p.m.  
   Originally located in the Student Union building at Wright State University, the convention moved to the Nutter Center in 2013. Three years later, it switched locations again, this time to downtown Dayton after attendance grew to 5,500.
   "The move needed to be made," mentioned Jesse Noble, the organizer of GCCC, at the time of the relocation.
   "It's a great location logistically because we don't have to cart people around town. We're in walking distance of all the great night spots and restaurants downtown Dayton has to offer. At the Nutter Center, you're by the mall, which is fine too, but there's not as much easily accessible culture for convention guests and attendees out in Fairborn."
   Guests in past years have included Arvell Jones, a comic illustrator for Marvel and DC Comics, and Kyle Starks, writer of the graphic novel "Kill Them All" and various "Rick And Morty" comic issues.
   This year, announced creators include voice actor and writer Frank James Bailey, artist Matt Horak and illustrator Ray-Anthony Height.
   GCCC, unlike bigger conventions such as Cincinnati Comic Expo and Wizard World Cleveland, does not feature pop culture celebrities from video games, television shows or movies. Its sole focus is comic books and the writers and illustrators behind those books.
   "Some shows do media guests and we don't do that," stated Noble. "We don't get the big door returns of some of those shows, but we can stay true to our focus, and that's what's important to us. We've gotten good at what we do, and we're sticking to it. We're not changing the recipe for Coke."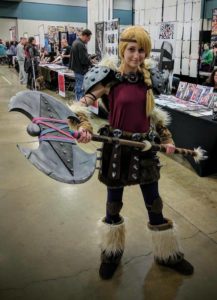 New to the Gem City scene in 2018 was the Game Developer's Lab, a section of the convention dedicated to locally-designed board, trading card and role-playing games.
   "The idea is simple," reads the GCCC website. "While you are at The Gem City Comic Con you can experience new and innovative tabletop games designed by local game developers. You will be able to playtest and demo newly created gaming systems, expansions and homebrews from innovative minds that aim to make their mark in the gaming world."
   A popular attraction at last year's convention? "Galatune," a trading card game designed by Daytonian Adam Wik that involves between two and five players attacking each other simultaneously in order to earn Victory Points.
   GCCC also hosts a cosplay contest, panel discussions and various dealers selling comic books and other merchandise.
   "The convention has definitely taken on a life of its own," explained Noble. "I knew there was an audience for it but I didn't know it would get so big. It was always my hope it would, and we've still got some growing to do, but I'm always flattered and humbled by the turnout we get from the fans in Dayton."
   Interested attendees can buy tickets on the GCCC website or in person at Bell Book And Comic, a Dayton comic shop, for $10.
   April 27 and 28, single day tickets can be purchased at the Dayton Convention Center for $10 or $8 if the attendee is in costume, with early entry costing five dollars more.
Maxwell Patton
Reporter