I don't know how to put this… but, "Anchorman" is celebrating its 14th birthday, and it's kind of a big deal. The film is one of the best comedies from the 2000s and holds a place near and dear in my heart.
   Released on July 9, 2004, the Adam McKay directed film starred Will Ferrell as the title character in one of his most memorable and breakout roles. Steve Carell, Paul Rudd and David Koechner also play roles as Burgundy's news team, Brick Tamland, Brian Fantana and Champ Kind respectively.
   The film earned mixed to favorable reviews with a 66 percent on Rotten Tomatoes and a 61 out of 100 on Metacritic. It made over $90 million at the box office on a $26 million budget.
   The story follows Burgundy, who is a well-known news anchor in San Diego during the early 70s on KVWN channel 4 news. He's been the number one anchor in the city for a considerable amount of time, and he and his news team sit pretty at the top.
   Everything seems to be going well for the team until the network hires a new, beautiful co-anchor, Veronica Corningstone (played by Christina Applegate). She's a diversity (i.e. not an old wooden ship) hire that causes a stir in the office.
   The whole team immediately sees her as a potential date, and try crudely to seduce her, to no avail.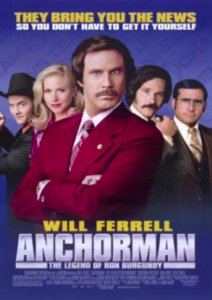 That is until Burgundy takes her on a tour of the city and wins her heart. The two fall in love and despite Corningstone's insistence, Ron lets the whole office know of their relationship status, straining their relationship. That, along with Burgundy's sexism and egotism lead to the two anchors competing for the top spot.
   It leads Ron down a sad and depressing path, as he is alone and a former shell of the man he once was. Of course, it's all played for laughs ("Milk was a bad choice!").
   In the end, the two have to reconcile and work together to cover the impending birth of a baby panda at the San Diego Zoo, which is the biggest news story of the year.
   The film is jam-packed with jokes, and the majority of them land. Ferrell plays the ego-filled Burgundy to perfection and becomes the character. The rest of the news team are hilarious as well, as they get equal time to shine and some great lines.
"Anchorman" is also filled with cameos from big names in film and comedy in general. Jack Black steals the show as an angry biker. Danny Trejo owns the dive bar where Ron wallows in misery in the movie's final act. There are many more memorable cameos, but I won't spoil them if you haven't seen the film.
Here's a lesser known fact for you. There are actually three "Anchorman" movies. Alongside the first movie's release was a "lost film" called "Wake Up, Ron Burgundy." It is a whole 90-minute film comprised of several deleted scenes and plot threads, or alternate takes of scenes from the original film.
It focuses on the news team investigating and stopping the actions of evil bank robbing group The Alarm Clock. The romance between Ron and Veronica is also present in this film but takes a backseat to the bank robber plot.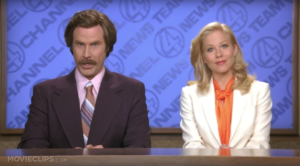 It's an interesting watch and was bundled together with my copy of the movie, but I can definitely see why the parts that were cut were cut. A lot of it get's too cringy at times and there are long, drawn-out jokes that just aren't funny. It also takes a joke that was used twice in the original, where Ron only reports what he can read on a teleprompter, and turns it into a major plot point that is the resolution of the film.
So if you ended up getting a copy of this, I suggest you give a watch, but don't get your expectations too high. It's still pretty funny and novel to see. Amy Poehler and Maya Rudolph play parts in this one and are really funny. It's a shame we didn't see Poehler until the second film.
   However, in my mind, the best aspect of "Anchorman: The Legend of Ron Burgundy" may be that it is so damn quotable. There are so many lines that are fun to recite scattered throughout. It's fun to anticipate all these lines and there is a quote in there for several situations. I find myself subconsciously quoting it often.
   It also has one of my all-time favorite comedy scenes: the news team fight. The idea of all these news teams meeting and fighting each other with medieval weapons, literal torches and pitchforks and a hand grenade gets me every time. And yes, Brick did kill a man.
   Add in a glorious cameo by Ben Stiller and the post-match speech from Ron in the office and you have something great.
   That's about all I have to say about the film. For the most part, it speaks for itself. It is a really solid comedy where most of the jokes land, the supporting cast is great, the sets, costume design and music are perfect and it still holds up as really funny 14 years later.
   It's played a big role in my personal life because my group of friends and I loved that movie. We cosplayed as the news team a few times and went to see the sequel on opening night. It has a soft spot in my heart for the memories it made, and I'm sure everyone has at least one 2000's comedy film that gave them that feeling.
   So if you haven't seen this movie and are a fan of goofy comedy, you'll enjoy this one. It's Will Ferrell in his prime. See you next time on Henry's Time Capsule.
Henry Wolski
Executive Editor