Last time I talked about the fact that the two main title matches at Wrestlemania 34 have already happened at huge wrestling events. I talked about Brock Lesnar vs Roman Reigns, which was the main event of Wrestlemania 31 and shocked fans with how good it was.
   On the other side of that coin is AJ Styles vs Shinsuke Nakamura. These two faced off at Wrestle Kingdom 10 (which is basically NJPW's Wrestlemania). At this point, Styles was the leader of the heel faction the Bullet Club. Nakamura was a bonafide legend in New Japan, and this was a dream match for many that finally happened on NJPW's biggest stage.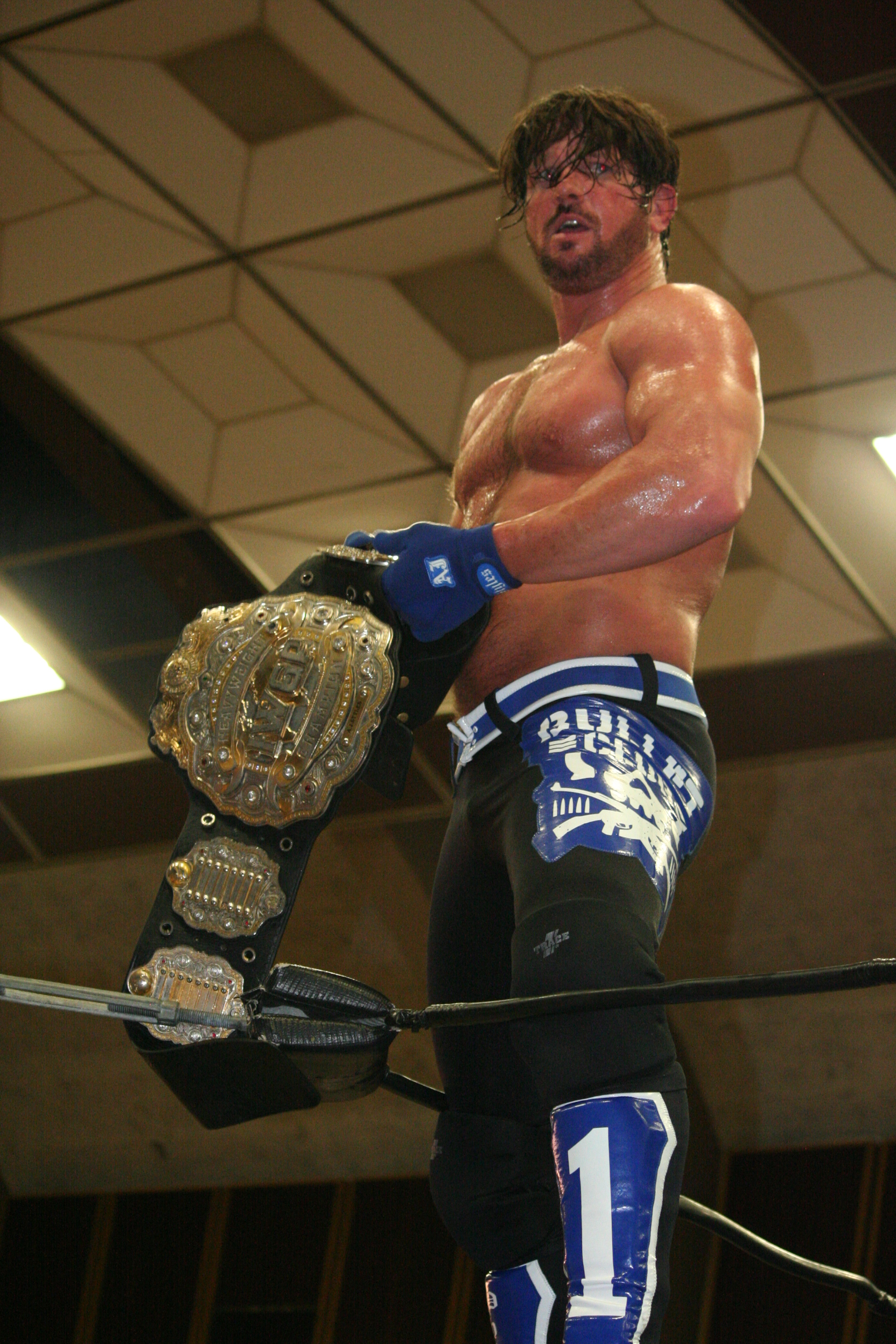 Styles had been regarded as one of the best wrestlers in the world for a while before the match, due to some great performances and sometimes being the lone bright spot in the TNA promotion. However, his run there ended in 2013, and he returned to Ring of Honor and several other indies like PWG in 2014.
   He then made his debut in NJPW on April 6, 2014, attacking then IWGP Heavyweight champion Kazuchika Okada after his match. Styles then won the title a month later at Wrestling Dontaku, and held it for roughly five months. During this time he became the leader of the Bullet Club.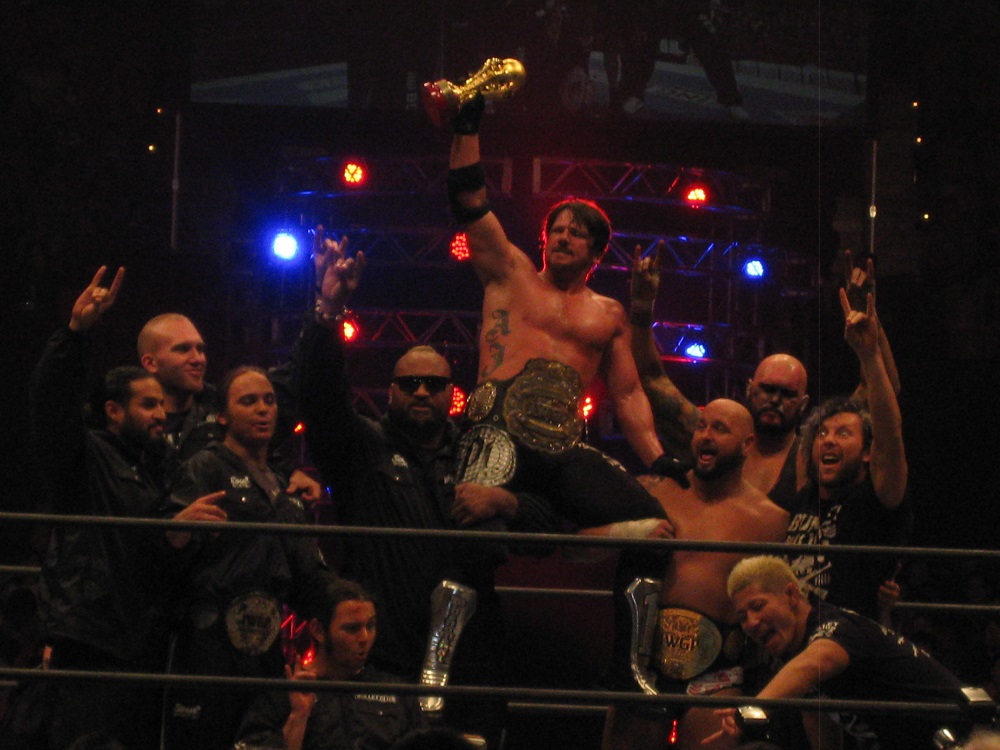 He made several more appearances throughout 2015, winning his second IWGP Heavyweight championship and holding it for another five months before losing it to Okada in the summer.
   His final feud in NJPW was challenging the IWGP Intercontinental champion, Shinsuke Nakamura.
   Nakamura had been a competitor in NJPW for several years, signing with them in 2002. He made an impact in the company quickly, as he received a big push and was treated as a "super rookie" on TV. He also competed in MMA competition concurrently to his wrestling.
   Nakamura shocked the world on December 9, 2003, when he defeated Hiroyoshi Tenzan for the IWGP Heavyweight Championship, and became the youngest wrestler in history to win the title.
   Up until 2009, Nakamura was a beloved babyface for the company, winning the IWGP Heavyweight Championship a second time at Wrestle Kingdom II in 2008.
   In April 2009, Nakamura turned heel and formed the faction CHAOS, which is still in effect to this day. He overhauled his style, now using stronger kicks and right hands, and using a new finisher called the Bomaye (which is the same move as the Kinshasa in WWE).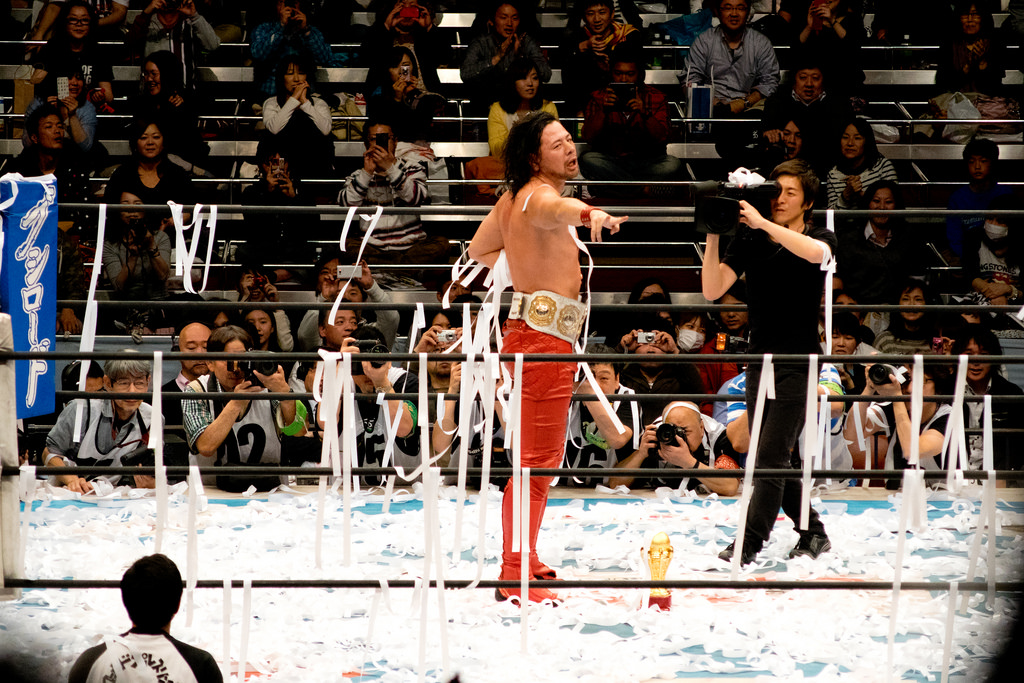 This is when he adopted his most famous moniker, The King of Strong Style, and won his final IWGP Heavyweight Championship, holding it for eight months.
   Nakamura then won the IWGP Intercontinental championship in 2012. This title was introduced in 2011, and became synonymous with Nakamura, as he ended up having the longest single reign with the title at 313 days, and held it a record number of five times overall.
   The bout between Nakamura and Styles at Wrestle Kingdom 10 would end up being both competitors' last marquee matches in New Japan, as they both departed to WWE following this match.
The Match
   This was one of the first matches I watched when I got NJPW World in January. I had heard so much and these were the two guys I knew the most about from the promotion, so I was excited.
   First off, does anyone have better merch than Styles? I love the gloves that come together and say Bullet Club, his logo is simple and iconic and the facemask he wears down to the ring is awesome. He needs to break those out in WWE.
   Also watching Nakamura's entrance just makes me think of all the missed opportunities WWE's taken with him. Is "rockstar" or "artist" really a better moniker than King of Strong Style? Plus, his New Japan entrance theme is just awesome. Everything he does makes him feel like a huge star.
   The match started off like a lot of the big-time NJPW matches I've seen, with a bunch of grappling and chain wrestling. Thankfully, this doesn't last long as we see both men counter each other's finisher and they get into the swing of things.
A story thread that plays out through the match is Styles's back injury. He had hurt it in the months before the match, but took time off and healed up before this. So naturally, the first time he lands on his back he acts like he hurt it again, and uses the opportunity to get a cheap shot on Nakamura. Then for the rest of the match Nakamura targets Styles's back. Good ring psychology.
   The match continues, with each combatant hitting the other with their best shot. Lots of cool moves in this one. Styles hits a 450 splash from the top rope and attempts a top rope Styles Clash, and Nakamura hits a really cool Samoan Driver from the top rope called the Landslide.
   In the end, Nakamura hits Styles with two brutal Bomaye kicks to pick up the victory, but both men look like warriors.
   One thing I really enjoyed in this match was the series of strikes and reversals of strikes/big moves. I'm always a sucker for that kind of thing, as well as when submissions are applied out of nowhere, like most times Kurt Angle gets an ankle lock in.
   While this match was a little slower paced than you'd expect, and there are some lulls in the action, it's still worth going out of your way to watch, as long as you don't expect the greatest match of all time.
   Following this, Styles would be brutally attacked and kicked out of the Bullet Club the next day at the New Year's Dash event, and Nakamura would be stripped of his title and he would leave to put on a fantastic match with Sami Zayn at NXT Takeover: Dallas that March.
   Styles would debut in the WWE at the Royal Rumble, and enter into a pretty good feud with Chris Jericho.
   Now both men are on Smackdown and their paths will cross in a marquee match at Wrestlemania 34. Will it live up to the hype placed on it by fans and the WWE themselves? How many Kinshasas will Nakamura hit and how brutal will they look?
   I'm looking forward to this match, especially after watching their first encounter. I think if given the proper time, this match could be better than the Wrestle Kingdom match, due to the tighter storytelling allowed by WWE, and the faster pace both men work at in the company. Plus physically both men aren't as beat up as they were 2 years ago, which should help.
Thanks for reading my recap of their first match, and as an FYI, the match is up on NJPW's YouTube for free right now. If you're a fan of either wrestler, I'd recommend you watch it before it's taken down.
   Check back in on Monday, as I'll have my review of the show of shows, and we'll see how they stack up to the original matches right here… on the Clarion (gotta go for the cheap pop).
Henry Wolski
Executive Editor