This year, like every other year, many attend the Milan fashion week. Fashion week is a semi-annual event, and its Autumn/Winter show is from Feb. 21- Feb. 27, 2018. Many huge name brand clothing companies can showcase their artistic visions through the outfits they spent hours putting together.
   Every show has a concept, models are chosen and articulately dressed to present the exact vision a designer has in mind. This year, attention was particularly drawn to the Gucci showcase at Milan fashion week.
   Before fashion week even began, the Gucci brand had their guests anticipating a show like no other. Invitations arrived to celebrity guests as an orange timer with the countdown to the event glowing in bright red numbers. The invitations and concept were designed by Alessandro Michele, Gucci's head creative director. Michele has been director of the fashion house since January of 2015.
   Michele introduced "Cyborg Gucci", the autumn/winter collection of 2018-2019.
   The Gucci event started on time – which is unheard of in the fashion industry. The show was at the Gucci Hub, which is the brand's Milan headquarters. Models walked on the runway under bright neon lights amidst operating tables, with the sound of a beeping heart monitor machine in the background.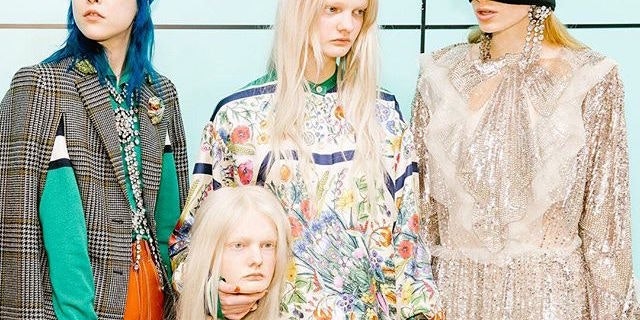 The Gucci showcase demanded attention as male and female models strutted the runway wearing outfits that represented a mix of cultures and symbols. Some models were carrying replicas of their own severed heads, which were replicated down to their hairstyle and looks on their faces.
   Some models even carried replicas of baby animals, such as dragons and snakes, while another model had a replicated third eye on her forehead.
   The collection derived its inspiration from many different cultures and ethnicities. There were turbans as well as South American patterns included in the outfits.
   There were many masks on the models, which was a representation of all the masks we seem to wear in our ordinary lives.
   Michele also made a subtle political statement regarding belonging, by adding sports logos such as the New York Yankees. According to Vogue, it took about 6 months to create the pieces.
   Michele commented that the heads were intended to represent the struggle of finding our identities and "looking after your own head and thoughts." He also said the show was exhausting to stage. He wanted to portray that although his job was chaotic, amongst the creativity there was an order and scientific clarity to his work.
   Guests at the Gucci showcase in Milan included rap artist A$AP Rocky, actress Selma Hayek and Vogue editor-in-chief Anna Wintour.
   "Our job is a surgical job: cutting and assembling and experimenting on the operating table" said Michele.
Kali Macklin
Reporter