Decision Day for Georgia high schoolers with plans to attend university just got a bit different. Georgia State University will no longer issue rejection letters to students who don't make the cut. Instead, students are encouraged to enroll in Perimeter College, a former Atlanta community college that was merged with GSU in 2016.
Similar to the recent initiative University of Dayton-Sinclair Academy, the transfer process for the schools has been streamlined. Students that enroll in the UD Sinclair Academy can transition into four year degree pathways for several fields.
The UD Sinclair Academy sets students up with both a Sinclair and UD advisor to aid in that process. Students in the Academy can also use resources at both campuses. Enrolled students will also have the tuition rate locked at the start of their years at Sinclair for their transfer to UD.
The merger of GSU and the community college may have factored into the doubled graduation rate for first-time, full-time students in two-year programs from 6 percent to 12 percent. Other states are looking into potential college mergers.
Changing demographics and economic climates have brought about challenges for educational institutions to adapt, particularly for public colleges which receive federal funds. Funding for community colleges is dependent upon their graduation rate.
Sinclair is a part of the Completion by Design program, which works "to create more targeted student success mechanisms and implement comprehensive changes to the student experience." The program also includes community colleges in Florida and North Carolina.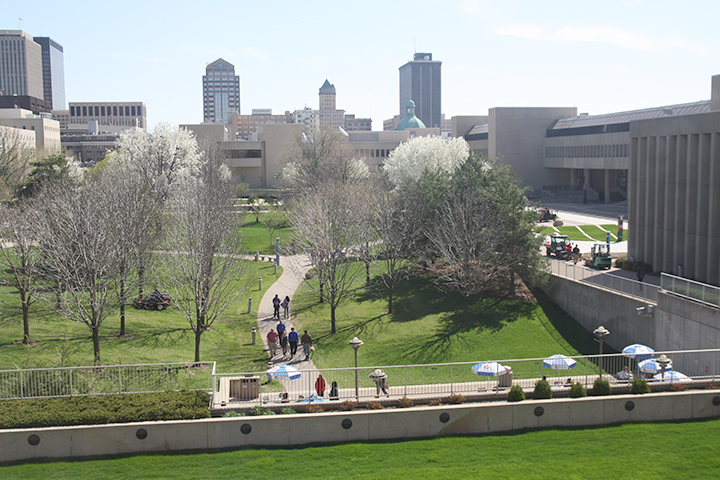 The Ohio group of community colleges also includes Lorain County Community College and Stark State College. Sinclair is the Managing Partner of the initiative.
Completion by Design contains four large strategies: redesigning academic programs of study, accelerating students through the pathway, integrating student services throughout the pathway and implementing policies to increase persistence and completion.
One part of these strategies involves K-12 outreach. The College Credit Plus program allows students in grades 7-12 to take Sinclair courses for full credit. The program also offers advising to help increase tracking and graduation.
Sinclair was also a part of Achieving the Dream, a comprehensive non-governmental reform movement for student success. More than 4 million community college students from 200 colleges are a part of the movement, which aims to advance student success through evidence based reforms.
Sinclair withdrew from the organization after many years of active involvement. Sinclair has cut several completion based programs in the past for lack of results.
Unlike other colleges, Sinclair is also funded by property taxes. Currently, Sinclair has two levies, the latest was approved on the ballot last November.
Colleges have taken to a variety of methodology that centers around increasing completion rates while minimizing costs, all the while aiming to answer to the changing demands of quality education.
Barton Kleen
Executive Editor