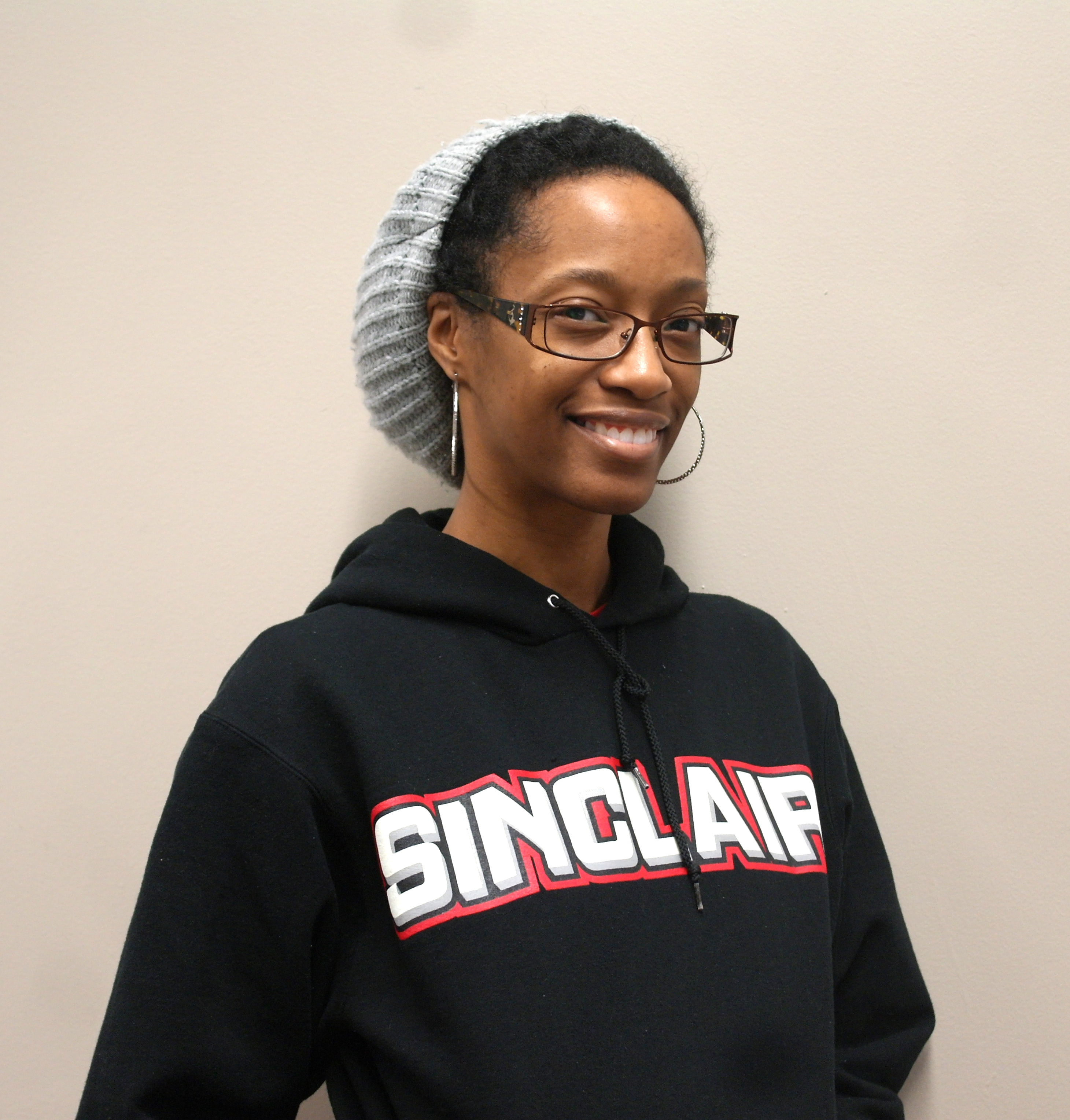 Caressa Brown, a student enrollment advisor on campus, who has taken on many roles in her life, including modeling, humanitarian, writer for Dayton Most Metro, producer for 91.3 FM WYSO's Community Voices and Owner of (DE-FI) Dayton Emerging Fashion Incubator.
What makes her interesting…
Brown began her modeling career when she was very young and was instantly coveted by modeling agencies, including Click and Elite.
Brown didn't start a modeling career because she felt she was beautiful, but instead, because she felt the complete opposite.
"I suffered from very low self-esteem and would get teased all of the time because I was so tall and thin," Brown said. "I used to go home crying almost every day because the kids at school teased me so badly. So my mom, who used to model, signed me up for modeling school in an effort to help me to walk and speak with more confidence.
"Her devotion to fashion wasn't an easy road, however, Brown had responsibilities the average twelve-year-old didn't, while she tried her best to build a modeling career.
"At the same time I was also taking care of a disabled mother since I was 12, so my career never really took off the way that I had wanted it to, but when opportunities knocked, I answered them," Brown said.
She said the fashion industry is very harsh so it's important to surround yourself with a strong support system.
"A strong support system is necessary to making it in the modeling and fashion industry. You have to have a support system in place, it's as plain and simple as that," Brown said. "This industry is very cut throat; I'm 6'0 tall, I've been between a size 00-2 all of my life, which is my natural build, but I've been told that I need to lose weight."
Brown said she comes from a diverse background.
"I come from a diverse family, so I've been told that my features aren't 'black enough' and that I would never be cast as a black model," Brown said. "But I also had parents who were very active in my life and they shielded me from a lot of that and made getting my education a priority. You have to have a plan B."
As a graduate of Wright State University, Brown has a degree in Organizational Leadership and is currently working towards a second degree in Non-Profit Management.
"It's very difficult to balance these things. This is where I struggled with my modeling career. Not only was I hundreds of miles away from the agencies that scouted and signed me, but I was working full time at General Motors, and I was trying to balance my classes, both at Wright State and Sinclair," she said. When
Brown's life became more focused in the Dayton area she felt like she had lost a part of herself because she loved the fashion world.
"I thought that that part of my life and career was over," Brown said.
Not letting this hinder her for long, Brown began to create the world she loved here.
"In staying active in the community, I've helped out with several other fashion events that took place here in Dayton. After a while, people started to take notice of what I was doing and how I operated," Brown said.
Keeping her dream alive in the face of adversity, she created a network of support in the fashion community and translated that same perseverance to organization (DE-FI) Dayton's Emerging Fashion Incubator. "Our mission is to serve as a support system whether it's providing a platform for them to showcase their work, build clientele, purchase fabric for their new lines, pay their admission into influential Fashion Weeks, or sponsor other fashion related events," Brown said.
Ever the fashion enthusiast, Brown, with her organization DE-FI, hopes to propel fashion forward in the Dayton area. "I currently work in the New Student Enrollment center and the testing center here at Sinclair, every week I have a student come in and say that they are interested in fashion design but nothing is offered in Dayton," Brown said.
Wanting to keep potential designers, models and fashion enthusiasts in the area, DE-FI plans on starting The Art of (DE-FI)ance Fashion Fund aimed at aiding local designers in reaching their dreams of making collections that could rival those in bigger cities. Alongside DE-FI, Brown has had the chance of working with the Midwest Fashion Week, The Alternative Fashion Mob, Great Lakes Fashion Week and many more fashion organizations across Ohio and the Midwest. "I've also had the honor of being selected to work on the volunteer team for the Council of Fashion Designers of America, headed by designer Diane Von Furstenberg, to get hands-on experience during Mercedes-Benz Fashion Week in NYC. I'll be serving my third season in February," she said. Building connections through volunteering and outreach are also two of her goals. "Just as my modeling career started at the age of 12, I also started volunteering in the community, and giving back has always been at the heart of what I do," she said.
Brown and her models have stepped outside the world of fashion to aid local organizations aimed at building a better community like Habitat for Humanity, Dayton Give's Back, and Mud Volleyball for Epilepsy. We also raised money for Clothes That Work, Hospice of Dayton, The Circle of Vision Keepers Re-Entry and Recovery Program.
"I want anything that has my name associated with it to be a reflection of who I am as a person, and being a part of positive change in our community is a priority for me," Brown said.
In 2013, Brown was nominated for the Leukemia and Lymphoma Society's Woman of the year for the Dayton area—a position that takes strong examples of leadership, ambition, dynamic character, humanitarianism and charisma. Brown's future goals, include earning her Masters in Higher Education Student Affairs, keeping her outreach into the community going with positive encouragement, and support of local organizations and continuing to build up Dayton's fashion community.
Jamez Duty
Reporter