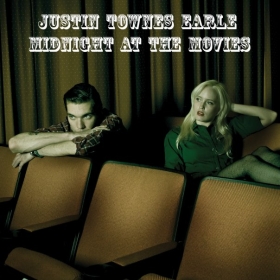 A pedigree can be hard to live with.
When your father is a music icon, avoiding the comparison often becomes an arduous task. People often bring a preconceived notion to your music before they hear one note.
Justin Townes Earle avoids those pitfalls by focusing on the song rather than his bloodline. The influence of his father – country music legend Steve Earle – cannot be denied, but the younger Earle knows the difference between influence and imitation. His heartfelt songs sound timeless not because they tread on familiar ground, but because good songs cause a certain kind of déjà vu.
Earle's newest album, "Midnight at the Movies," brings to mind the sound of an old AM radio. Earle's nicotine and bourbon-tinged vocals glide over painfully simple chord progressions with a wistful and earnest attitude.
The title track kicks the album off with a mellow sway. "What I Mean to You" would fit perfectly in some roadside, late night honky tonk.
"They Killed John Henry" jumps with an old-time folk gallop. "Mama's Eyes" serves as the album's emotional centerpiece and leads nicely into the 30-second instrumental "Dirty Rag."
"Can't Hardly Wait" sees Earle covering the Replacements classic with a Grand Ole Opry twang.
"Halfway to Jackson" moans like a train song, complete with a chugging harmonica and hopping guitar.
"Someday I'll be Forgiven For This," conveys the feeling of regret for mistakes made – something Earle knows well. Although the song deals with infidelity, he could just as easily be talking about his struggles with drugs that caused him to be fired from his father's band.
While this album lacks the type of crossover appeal that would draw in a larger audience, Earle has definitely crafted a tight, emotional piece of modern country music. Earle has written songs that fit more with the Willie Nelson and Johnny Cash model of country than the over-polished, over-produced Kenny Chesney-type of hillbilly music.
It is an album that does his bloodline proud.